Whiskey Wednesday – Black Butte Whiskey Cask Strength
|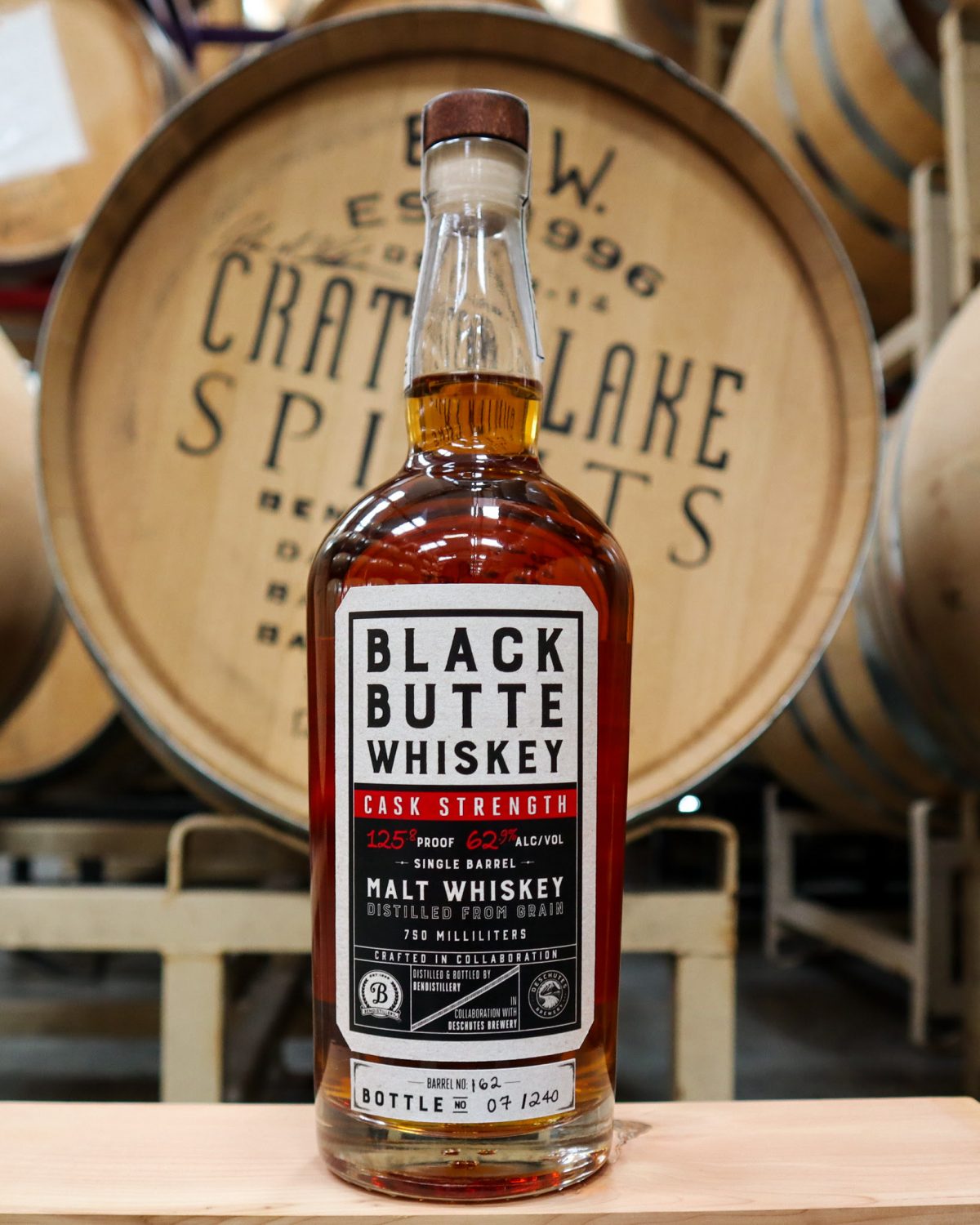 This past weekend, Bendistillery's Crater Lake Spirits released the limited single barrel Black Butte Whiskey – Cask Strength. This whiskey is produced in collaboration with Deschutes Brewery, who brews Black Butte Porter as the whiskey wash, just as it has done so for the past decade.
Black Butte Whiskey – Cask Strength is a stronger, barrel strength version of the more readily available Black Butte Whiskey that is also aged for five years. The new Cask Strength version is bottled at 125.8 proof, whereas the standard five year whiskey is  94 proof.
With only 1240 bottles available, Black Butte Whiskey – Cask Strength went on sale this past Friday in Bend, Oregon at the Crater Lakes Spirits Tasting Room that coincidentally is located next door to the Deschutes Brewery Bend Public House. We're told that the remaining bottles will begin to hit Oregon Liquor Stores at some point during the month of December 2022. Since the standard 5-year Black Butte Whiskey retails at $64.95, the new Cask Strength will likely be around the $100 mark.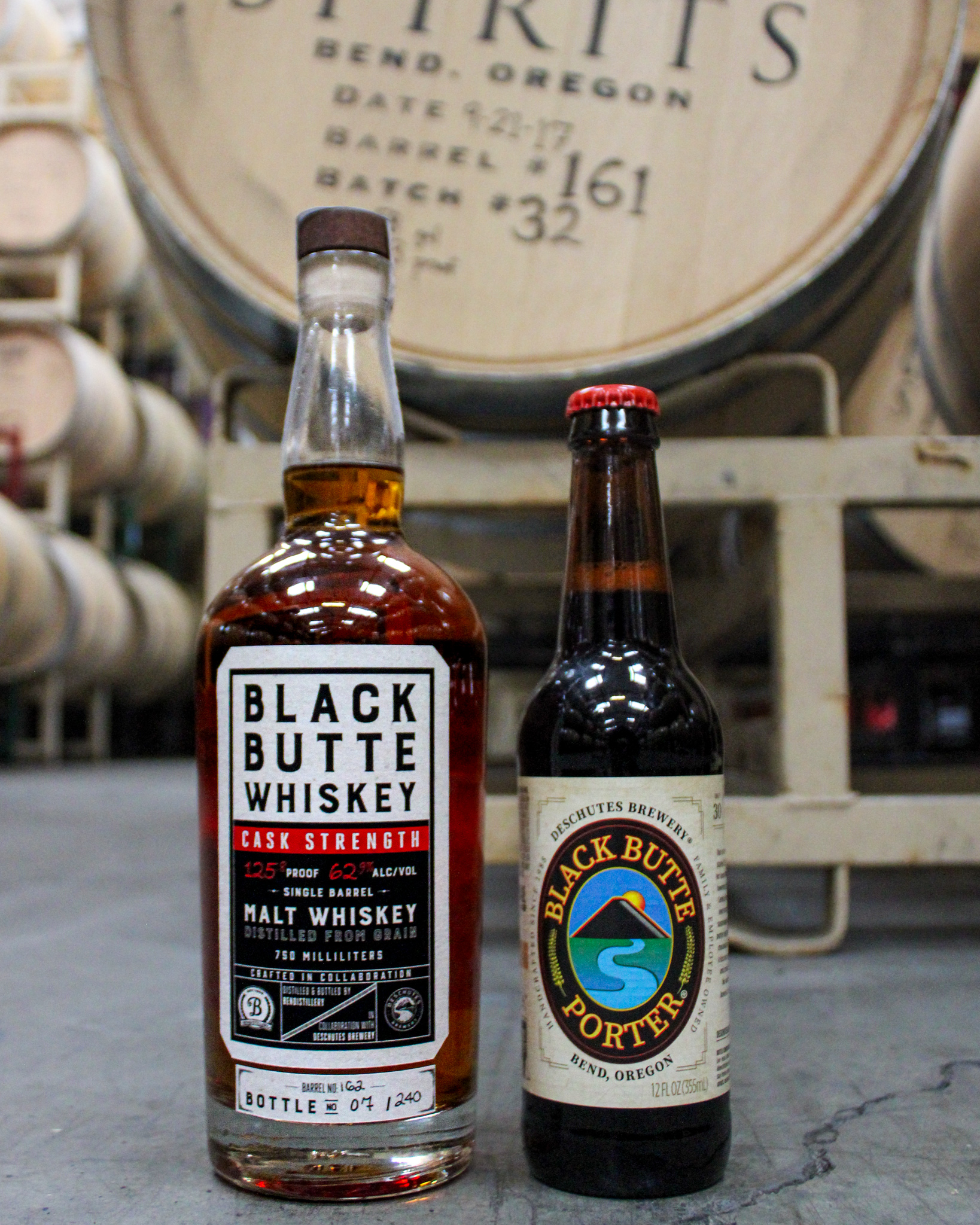 Black Butte Whiskey – Cask Strength begins its life as a Black Butte Porter that is created as the wash before Bendistillery double distills it. From there, Bendistillery adds this liquid to new char #4 American White Oak barrels where it rests for at least 5 years. This is the same process that the regular 94 proof version takes, but from there things are a bit different.
Without any dilution with water to bring this whiskey down to it normal 94 proof at bottling, Black Butte Whiskey – Cask Strength is bottles directly from the cask at its full strength of 125.8 proof.
Black Butte Whiskey – Cask Strength pours an amber color, a bit darker than its standard version. The nose is full of cherries, chocolate, and baking spice. This leads into full, complex flavors of chocolate, fruit, coffee, vanilla that overwhelms the senses. It finishes with a tad bit of warmth from the stronger proof that fades away leaving some oak dryness together with a touch of lingering spiciness. In all a very nice whiskey, especially one that's fully distilled within the state of Oregon!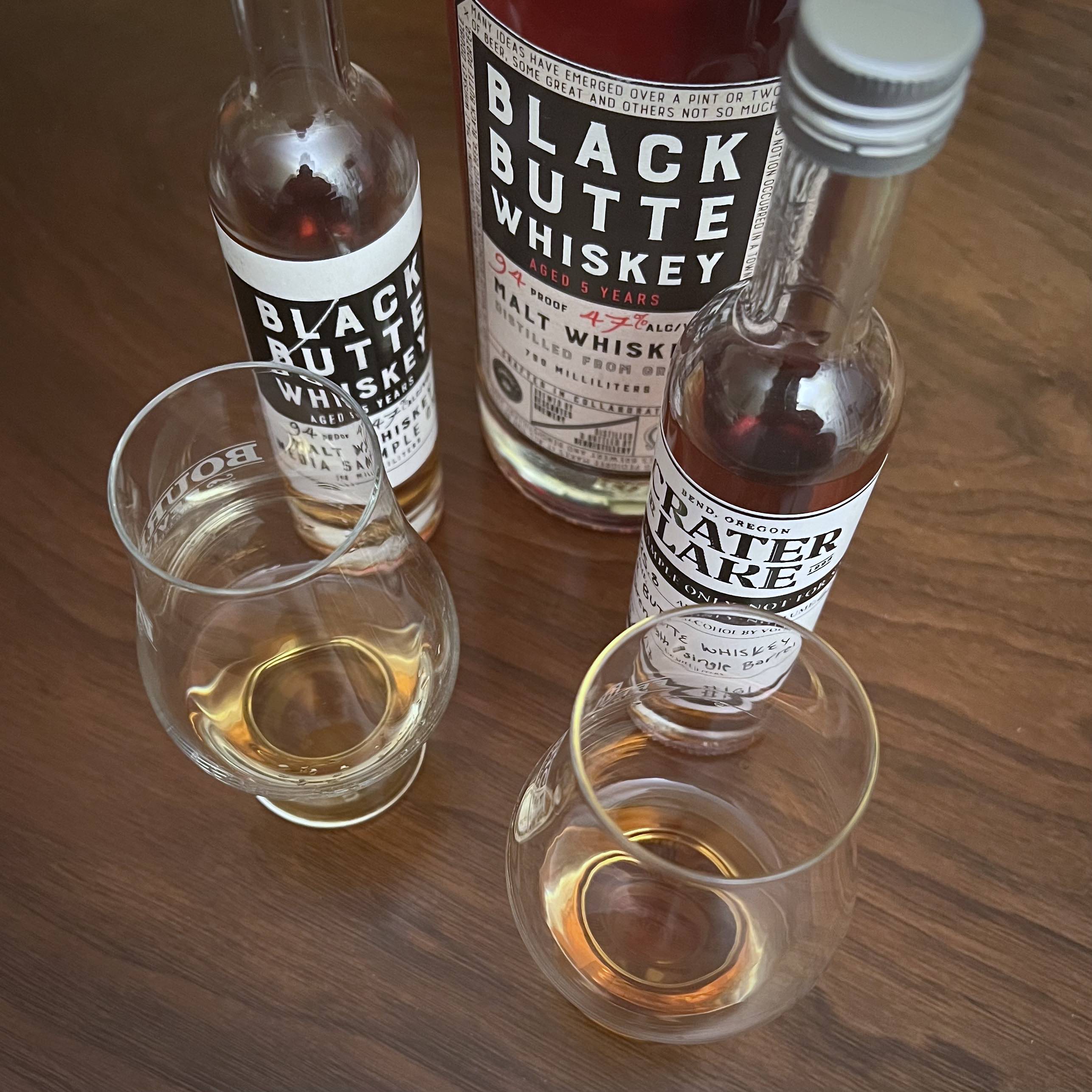 Since its debut in 2016, Black Butte Whiskey has received a few accolades. Most recently the Oregon crafted whiskey was Best of Show at Sunset Magazine's International Spirits Competition with 98 points, and was named Best American Craft Luxury Whiskey by Sunset. It has also received a Gold Medal and 92 points from the Beverage Tasting Institute and a Gold Medal at the Denver International Spirits Competition.
This cask strength debut is accompanied by the annual release of the original 5-year-old, 94-proof Black Butte Whiskey that is more widely available.
Black Butte Whiskey – Cask Strength will be available in limited quantities at select Oregon liquor stores starting at some point in December 2022. To locate a bottle come sometime in December, visit: http://www.oregonliquorsearch.com/.