Whiskey Wednesday – Davidson Reserve Tennessee Whiskey
|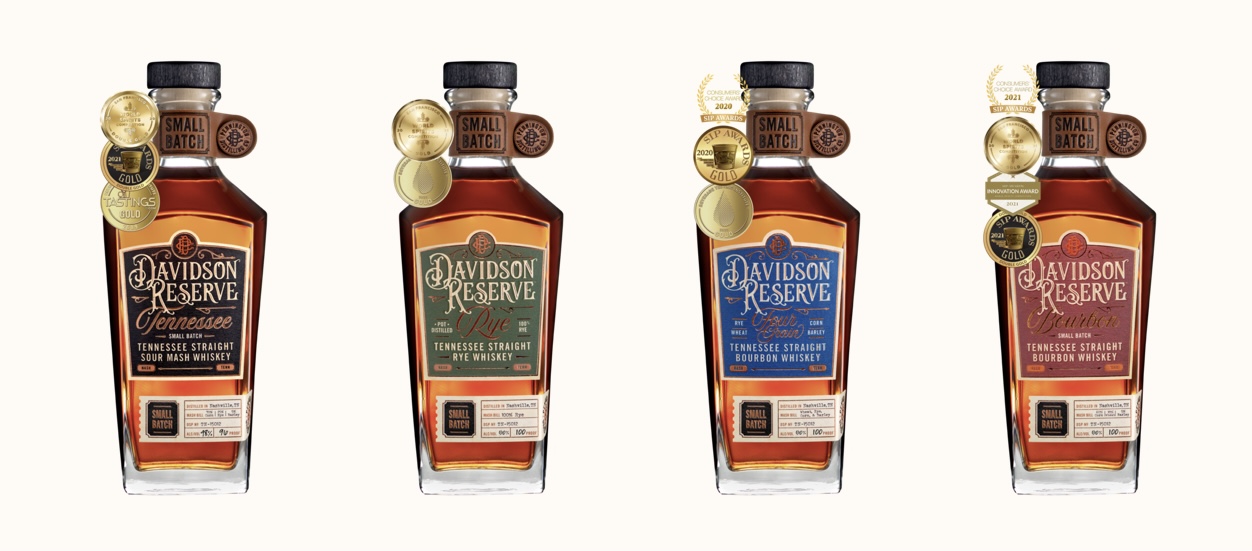 Entering ten years of distilling, Pennington Distilling Company produces an extensive lineup of Davidson Reserve Tennessee Whiskey in Nashville, Tennessee. Founded by the husband-and-wife team of Jeff and Jenny Pennington in 2011, the two have created a nice line of craft whiskey that rivals the two larger players in the state.
Tennessee Whiskey is specific kind of whiskey that is most notable from distillers such as Jack Daniels or George Dickel. Similar to a bourbon, both are distilled using at least 51% corn, not distilled over 160 proof, barreled at a proof level of 125 or below and aged in new charred oak barrels. Where the two differ is that to be considered a Tennessee Whiskey, it must be distilled within the state of Tennessee and filtered through layers of charcoal prior to barreling, a procedure known as the Lincoln County process.
The Pennington Distilling Company family of brands includes: three proprietary mash bills Davidson Reserve Tennessee Straight Sour Mash Whiskey, Davidson Reserve Straight Rye Whiskey, and Davidson Reserve Straight Bourbon Whiskey. Davidson Reserve Four Grain and Davidson Reserve Genesis are both Tennessee Straight Bourbon whiskeys created by blending small batches of these mash bills together.
These Davidson Reserve whiskeys are crafted from grain to bottle with locally sourced non-GMO grains from Renfroe Farms in Huntingdon, Tennessee. Davidson Reserve is the first bottled in bond distillery in the state to receive the sought-after designation since the 19th century. The brands have garnered over 40 awards to date in competitions such as the San Francisco World Spirits Competition, the International Wine and Spirits Competition, SIP Awards, Beverage Tasting Institute/Tastings.com, American Distilling Institute.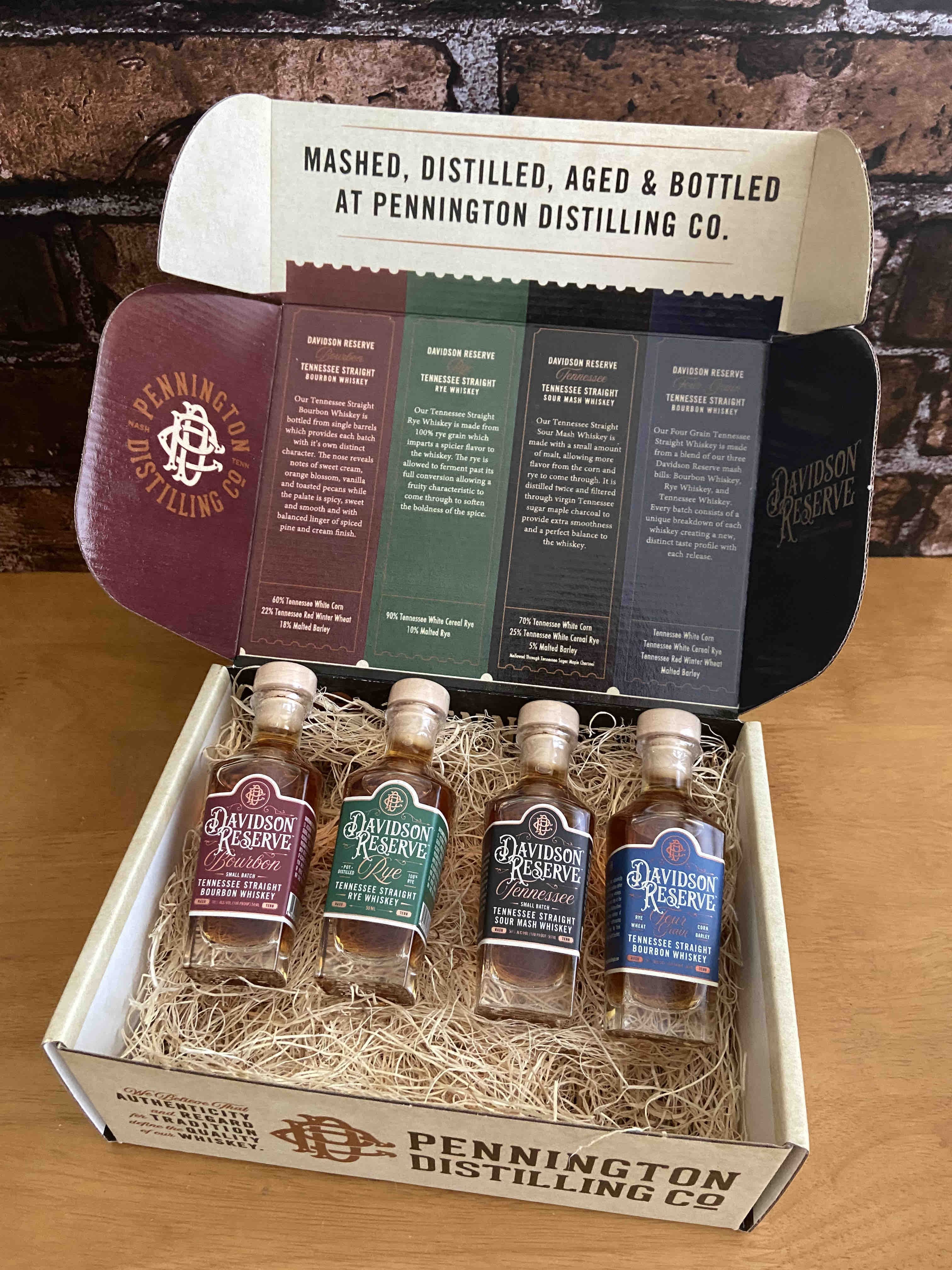 We sampled through four of the five whiskeys from Davidson Reserve with our take on each one below.
Davidson Reserve Tennessee Straight Sour Mash Whiskey
This high rye whiskey is made with a small amount of malt, allowing more flavor from the corn and rye to come through. It is then filtered through charcoal to provide extra smoothness before a minimum four-year aging in charred oak barrels that finishes at 96 proof.
Davidson Reserve's take on a standard Straight Sour Mash Whiskey, a style most know by Jack Daniel's Old No. 7, and one that is as good as its forefather. This one pours a light to medium amber color with a nose of corn, oak and rye spice. Flavors of cinnamon and toffee are evident with faint notes of oak. It finishes with a bit of sweet chocolate.
Davidson Reserve Straight Rye Whiskey
This Tennessee Straight Rye Whiskey is made from 100% rye grain from Renfroe Farms. The rye is allowed to ferment past its full conversion allowing a fruity characteristic to come through to soften the boldness of the spice before being aged in 53-gallon barrels until maturity and bottled in single barrel releases at 100 Proof.
The Straight Rye Whiskey pours a dark amber color. Its nose is full of baking spices and maple syrup. On the second sip we found a bit of vanilla that continues to the palate alongside flavors of toffee. This rye finishes with the spiciness associated with a rye whiskey along with a bit of spearmint. It's nice to have a rye whiskey that's not from MGP in Indiana.
Davidson Reserve Straight Bourbon Whiskey
A wheated bourbon that is a small batch blend of barrels aged 4 to 6 years at 100 Proof.
This Straight Bourbon Whiskey is the lightest in color of the ones sampled. There are lots going on in the nose will strong maple syrup, honey, vanilla and almonds. Sort of a strange mélange, but it works out well enough. Flavors of spices come through in the initial taste with a bit of dried fruit and sweetness on the finish. Overall, a decent whiskey that may vary over time as its blended.
Davidson Reserve Four Grain
Four Grain Tennessee Straight Bourbon Whiskey is made from a blend of three different Davidson Reserve whiskies: Tennessee Straight Rye Whiskey, Tennessee Straight Sour Mash Whiskey and Tennessee Straight Bourbon Whiskey. Every batch consists of a unique breakdown of each whiskey creating a new, distinct taste profile with each release, all at 100 proof.
Being that it was a blend we were a bit excited for this one. Unfortunately it was our least favorite of the bunch. The nose offers a bit vanilla that is overtaken by the strong presence of alcohol, similar to a white dog whiskey. Strong flavors of corn hit the palate up front that transitions into a spicy flavor, likely from the rye. Four Grain finishes a bit dry with a touch of herbal flavors and toffee.
The one whiskey from Davidson Reserve that we did not sample is the distillers' Davidson Reserve Genesis – Bottled in Bond. This whiskey is the first Bottled In Bond spirit from Tennessee in generations, Davidson Reserve Genesis is a specially-released bourbon whiskey available each October at the distillers' annual Hardest Harvest event. Since this one is Bottled in Bond, it is aged for at least four years and is 100 proof. This whiskey is only found at the distillery.
For more information about Davidson Reserve, please visit www.davidsonreserve.com.