Whiskey Wednesday – FEW SPIRITS & Black Rebel Motorcycle Club Motor Oil Whiskey
|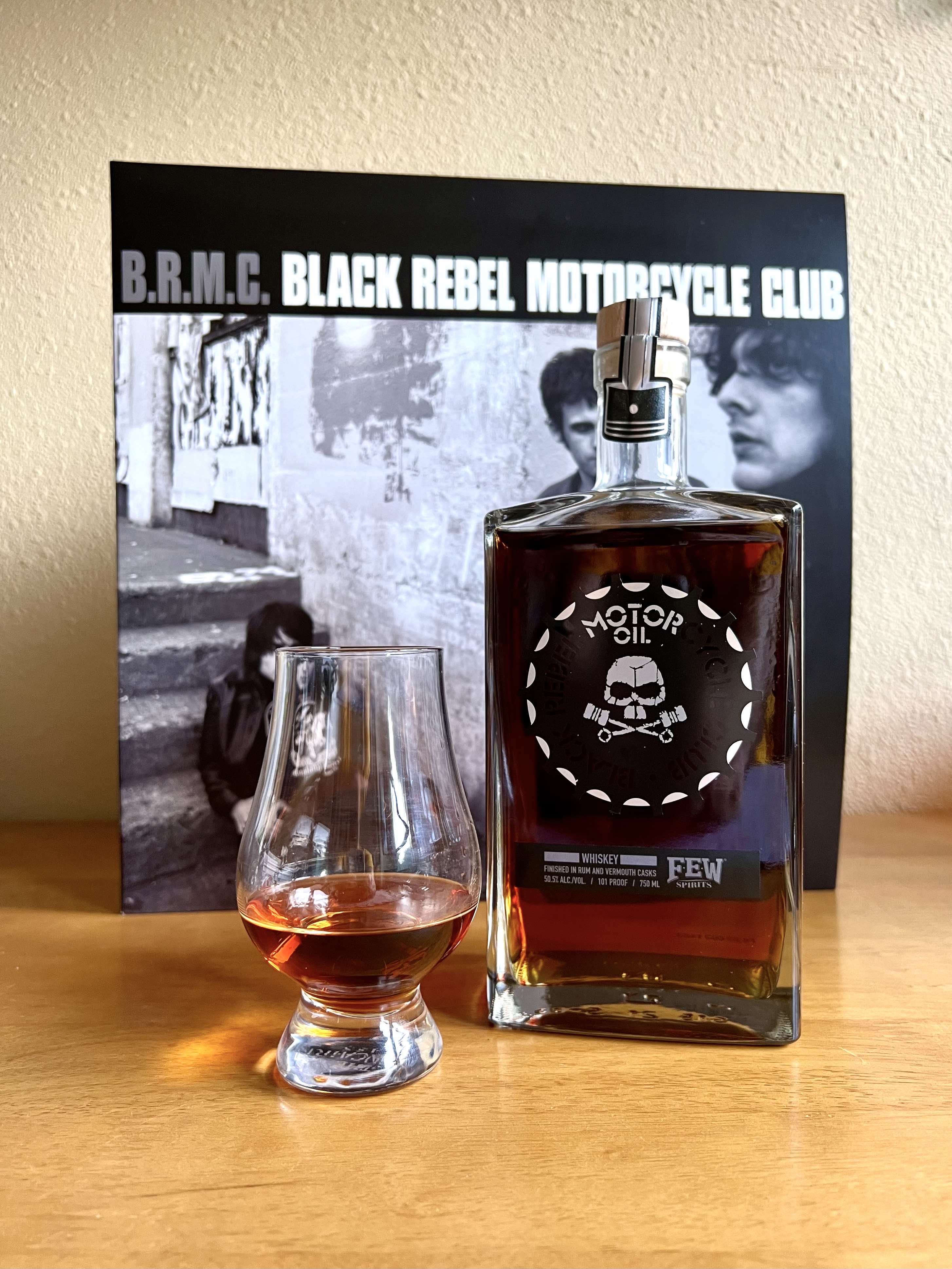 Since the debut album from Black Rebel Motorcycle Club came of legal drinking age this year, FEW Spirits partnered with the modern rock icons on a new whiskey. The result is the limited-release Motor Oil Whiskey that can be ordered online and shipped to your door.
We always get excited when a band works with a beverage maker and on this one the excitement is even greater! Black Rebel Motorcycle Club released their debut album, B.R.M.C. on April 3, 2001. Now in time for the album's 21st anniversary, a new whiskey has been released to honor this milestone!
"I've been a fan of Black Rebel since the debut album came out," said Paul Hletko, FEW Spirits Master Distiller. "When we heard they were looking for a distillery to work with, you better believe we jumped at that chance."
Fortunately for Hletko, the band had been searching for a distiller that could offer a final product that can be cutting edge, yet refined.
"We'd always joke around about how someday we should make our own whiskey called 'Motor Oil' that's so painful nobody would be able to actually drink it," said Black Rebel Motorcycle Club founding member and bassist Robert Levon Been. "It would basically be jet fuel in a bottle, just pure pain. But then we met Paul Hletko and he said, 'Yeah that's cool, but that's illegal'. So after brooding for a bit, Paul took the next year to properly school us in how it's really done, dialing in what somehow eventually became a legitimate incredible whiskey blend, which is crazy, and we're still mostly surprised we didn't blow up the barn."
Motor Oil Whiskey is packaged in a rectangular bottle with label art inspired by the band's logo. The whiskey itself is a blend of three whiskeys: FEW Bourbon finished in rum barrels, FEW Bourbon finished in vermouth barrels, and a mesquite-smoked wheat whiskey. That's quite the blend of some unique and distinct flavors.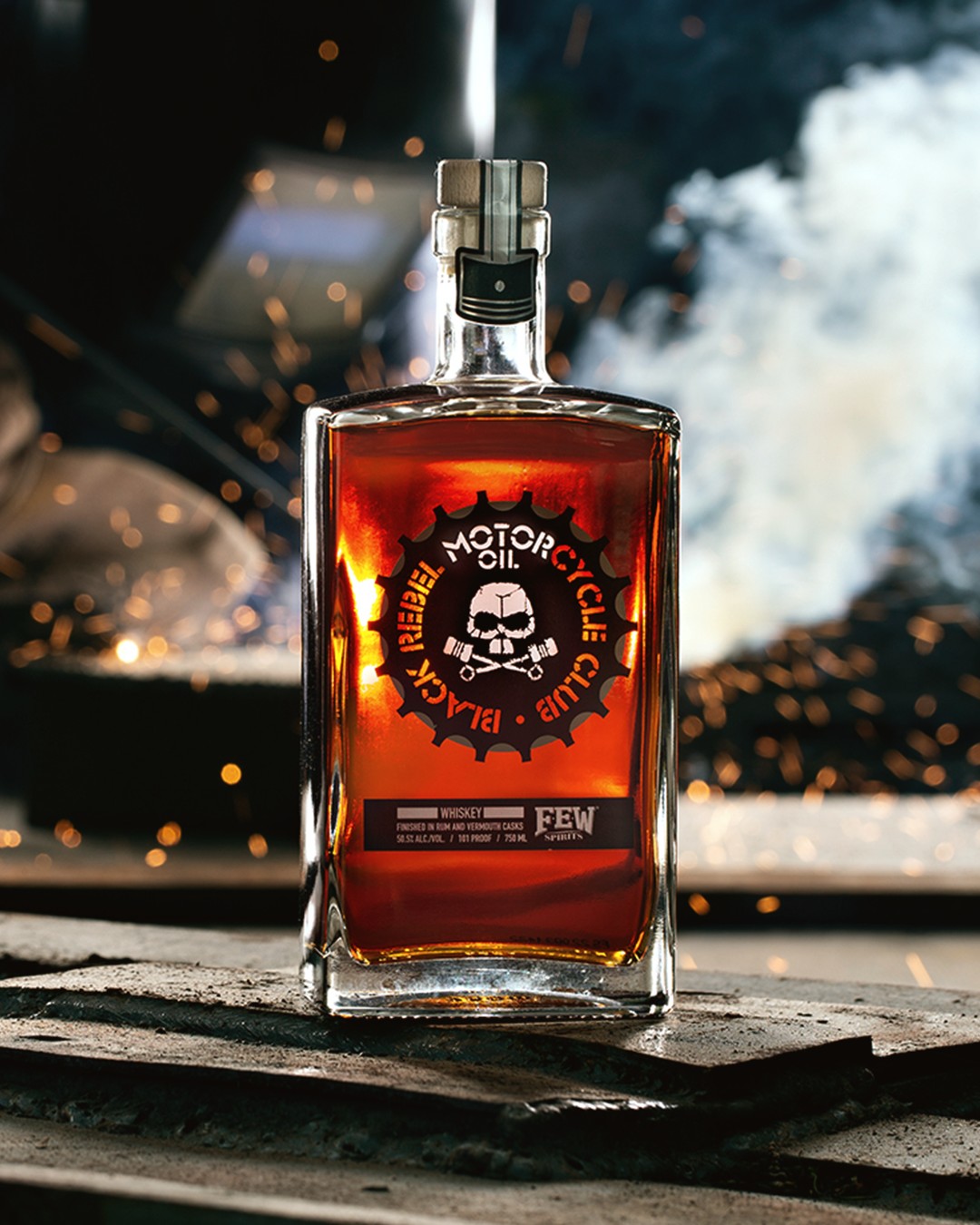 From sampling a healthy serving of Motor Oil Whiskey, the first thing that stands out is its vibrant dark mahogany color. Something rarely seen in a whiskey. Then with a few swirls, the whiskey leaves some nice legs in the Glencairn glass.
When it comes to the flavor, it's a bit multifaceted with pleasant sweetness from the rum barrel component and herbal from the vermouth barrel portion. There is definitely a bit of heat on the backend as Motor Oil sits at 101 proof, but as the warmth fades, flavors of smoke come forth. A nice whiskey to serve neat or with large cube that mellows out the warmth. We look forward to using it to make some cocktails!
Creating this collaborative whiskey during COVID proved to pose a few hurdles. It involved sending samples to band members in points around the world, conducting blind tastings over video calls, tweaking flavor profiles based on band feedback, regrouping, and starting the process all over again until just the right blend was achieved.
"Creating a new whiskey is a lot like working a song – what are you trying to say?" stated Hletko. "What do you want it to feel like? I was picturing riding on a motorcycle through backcountry roads and Route 66 – from one end of the 'Mother Road' in Chicago, to the California coast where the band began. But what does that sound like, and taste like, and what kind of feelings are evoked by that ride?"
FEW Spirits began distilling 11 years ago in Evanston, Illinois, a Chicago suburb on its northern border. Prohibition lasted in Evanston until 1972 and Hletko became the first legal alcohol-production facility of any kind to ever open in Evanston.
In addition to its award-winning whiskies and bourbons, FEW Spirits also distills a few varieties of gin, including a bourbon barrel-aged one. The distiller has also collaborated with a few other bands on a whiskey. In 2016, Hletko partnered with The Flaming Lips to create Brainville Rye Whiskey. Then three years later in 2019, All Secrets Known was a limited-edition bourbon created with Alice In Chains.
All 1,800 bottles of FEW Spirits Motor Oil Whiskey will be available exclusively through buyfewspirits.com at $59.99 a bottle plus shipping. As Paul said, just like a concert it's an ephemeral experience – once it's gone, it's gone!