Whiskey Wednesday – George Dickel Bourbon
|
As Cascade Hollow Distilling Co. expands its line of George Dickel Tennessee Whisky, it has now added George Dickel Bourbon to its award-winning portfolio.
Ever since Nicole Austin became the General Manager & Distiller for Cascade Hollow Distilling Co. in 2018, the Tullahoma, Tennessee distillery has been garnering some positive reception from the whiskey community. In 2020, the distiller was awarded the Whisky of the Year from Whisky Advocate for its George Dickel Bottled in Bond (Fall 2005). This 100 proof Tennessee Whisky was quite complex and affordable at its under $40.00 bottle price.
The latest offering from Austin is George Dickel Bourbon, an eight-year aged, 90 proof Tennessee matured Bourbon that is packaged in the iconic George Dickel long neck bottle. As with other George Dickel whisky, this Bourbon receives the Lincoln County charcoal filtration process.
Read More: An Interview with Nicole Austin – General Manager & Distiller for Cascade Hollow Distilling Co.
"At Cascade Hollow, we have a lot of whiskies that exemplify the Tennessee Whiskey style, but we also have inventory that has a lot more in common with bourbon as we understand it in America," Austin said in a prepared statement. "Dickel Bourbon is an opportunity for us to finally share this quality liquid with the rest of the world. I'm particularly proud that we have the kind of mature whisky inventory that can deliver an 8-year-old bourbon. As a style, bourbon is meant to be more approachable and balanced, and Dickel Bourbon is a great entry point into our whole portfolio."
Beginning with a mash bill of 84% corn, 8% rye and 8% malted barley, George Dickel Bourbon uses the exact same mash bill as other whiskies from George Dickel. From there it is aged for a minimum of eight years and blended to veer away from its Tennessee Whisky flavor profile to one that is a Bourbon profile. Here is where Austin has excelled in her efforts to expand the George Dickel portfolio.
George Dickel Bourbon pours an attractive dark caramel color in a Glencairn glass. The nose is quite expressive with notes of vanilla and spice up front that leads to a pleasant cinnamon scent. This leads to flavors of charred oak, vanilla, and caramel on the first sip. Then subtle cherry notes come forth as the Bourbon opens up. At eight years and a very appealing price point, George Dickel Bourbon is an exceptional buy next time that you're in the Bourbon aisle.
To coincide with the launch of the George Dickel Bourbon, the distiller has launched a large marketing campaign and Portland is one city that the distiller has its sights on. There's a new billboard at 700 East Burnside that was created by Jordan Wilson. You may know Wilson from his label artwork for Old Town Brewing, Lagunitas, 54°40′ Brewing and more. His talents are becoming more known and Cascade Hollow Distilling was fortunate to hire him to create this beautiful art piece that thousands of Portlanders see each day that is pictured below.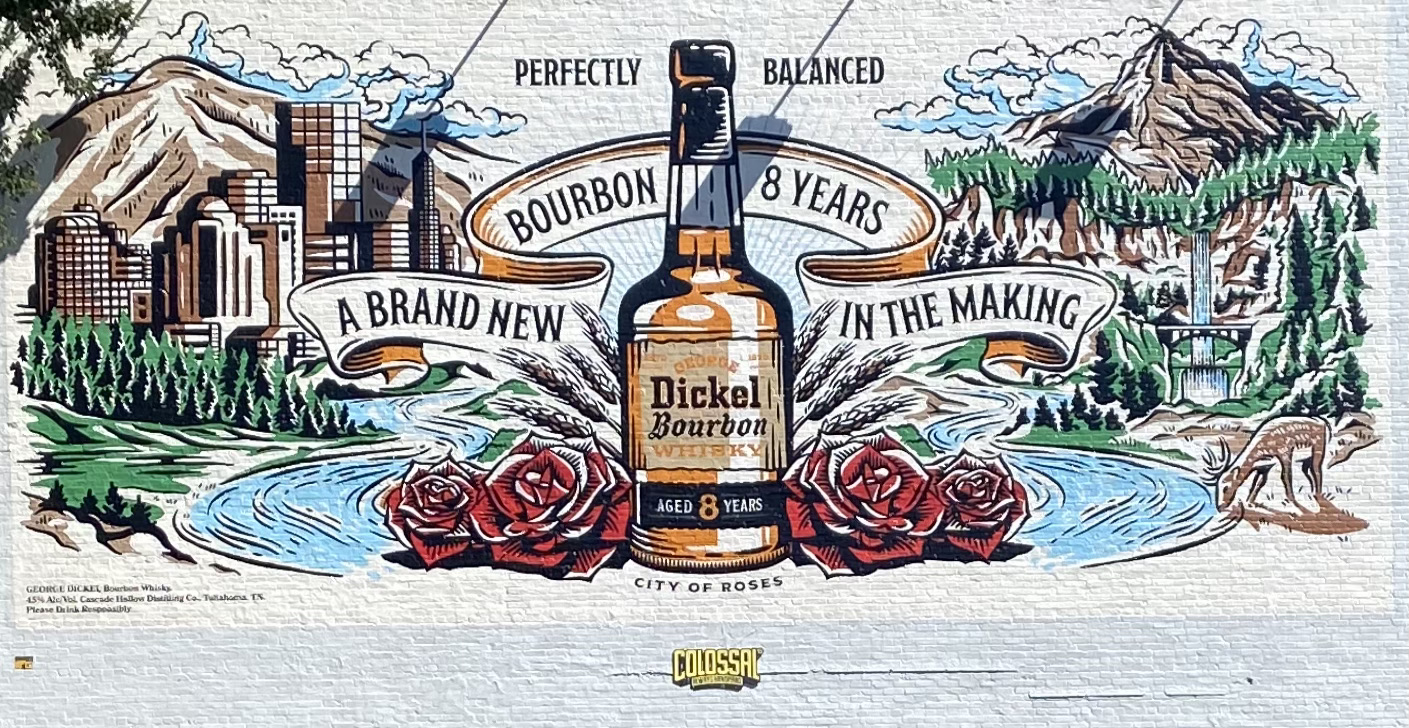 In Oregon, George Dickel Bourbon retails for $31.95 per 750mL bottle. To locate a bottle, which we recommend, use the OLCC Liquor Search. For those outside of Oregon, use the George Dickel Where To Buy locator.