Whiskey Wednesday – Mellow Corn Kentucky Straight Corn Whiskey
|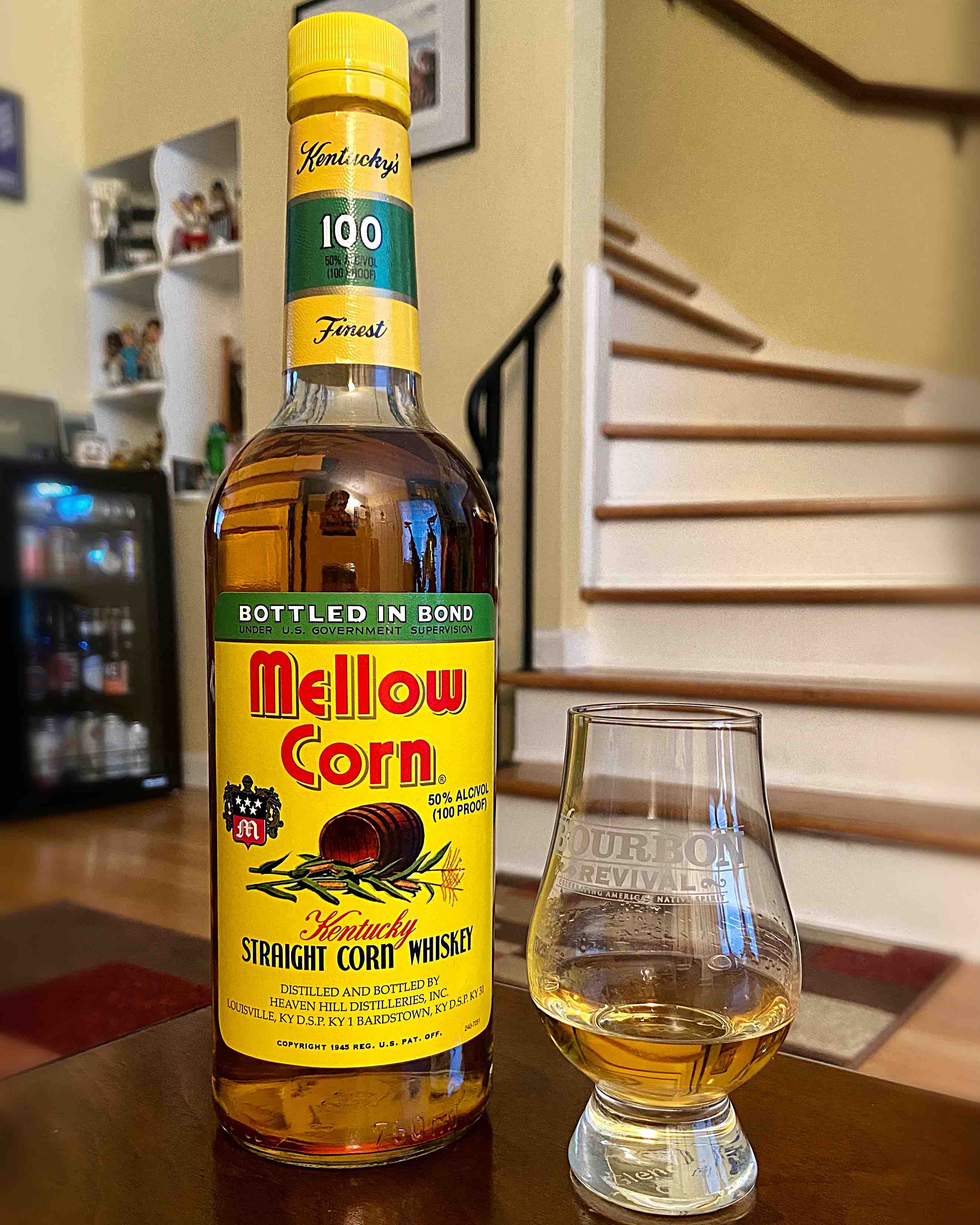 The packaging on this bottle of whiskey is definitely an eye catcher. The label for Mellow Corn – Kentucky Straight Corn Whiskey cannot get any more retro. It's bright yellow with green accents with a couple corn stalks in front of a whiskey barrel. It speaks volume as to what is in the bottle. And what's inside is a nice, low-price whiskey that is seeing a bit of revival these days.
Mellow Corn dates back to 1945 and is bottled and distilled by Heaven Hill in Bardstown, Kentucky, It is just one of a handful of whiskies from this distillery. Heaven Hill Brands features a lineup of well-known and highly respected whiskies including Elijah Craig Bourbons, Evan Williams Bourbons, Henry McKenna, and Larceny Bourbon to name a few. The distiller is also one that supplies breweries with its former barrels for barrel aging programs. Next time you're at a brewery and are near any barrels that are resting, look at the head of the barrel and there's an excellent chance that it will state Heaven Hill on it.
A corn whiskey varies from other whiskies by its mash bill. To be a corn whiskey, according to the Alcohol and Tobacco Tax & Trade Bureau (TTB), it is a whisky produced at not exceeding 80% alcohol by volume (160 proof) from a fermented mash of not less than 80% corn and if stored in oak containers stored at not more than 62.5% alcohol by volume (125 proof) in used or uncharred new oak containers and not subjected in any manner to treatment with charred wood
Then the TTB adds that for a Straight Corn Whiskey it must be a corn whisky that is stored in used or uncharred new oak containers for a minimum of 2 years. It may include a mixture of two or more straight corn whiskies provided all of the whiskies are produced in the same state.
When it comes to Mellow Corn, this corn whiskey is also Bottled in Bond, therefore it's aged for a minimum of four years and sits at 100 proof. Rumors on the internet state that Mellow Corn is distilled from a 90% corn mash bill with the remaining being rye and barley. Being that it's distilled by Heaven Hill, many of these barrels are likely from their family such as Evan Williams or Elijah Craig.
Mellow Corn is the most well-known American Corn Whiskey. It pours a beautiful dark golden-yellow color. This gives way to the nose that's full of you guessed it, corn, along with a bit of vanilla and brown sugar with a tinge of alcohol. The flavor gives way to more sweet corn, spices, and a bit of floral notes thrown in. Not a bad sipper and a drop or two of water opens it up a bit bringing forth more vanilla as it tames that alcohol a tad bit.
It's nothing that will be mind-blowing but Mellow Corn is a great addition to your whiskey collection, maybe just for the label alone as it's a great conversation starter. Plus, the price point is on target. Here in Oregon it retails on the higher end at $23.00 per 750mL, as in other states it may be found for as low as $13.00 a bottle.
You can follow Mellow Corn on Instagram for some fun, corny content!