Whiskey Wednesday – TINCUP Rye Whiskey
|
Colorado Whiskey and Jess Graber go hand in hand. This legend in the whiskey world launched TINCUP Whiskey in 2014 and six years later expanded the line to include TINCUP Rye Whiskey.
Prior to launching TINCUP, Graber co-founded Stranahan's Colorado Whiskey a decade earlier. He's been distilling for quite some time, nearly 50 years as he began this journey in distillation back in 1972. Now both brands are owned by Proximo Spirits.
TINCUP Rye Whiskey begins its life in Indiana at contract distiller Midwest Grain Products (MGP), the renowned distillery that produces a wide assortment of rye whiskey that many other major players also purchase.
This rye whiskey begins with a mash bill of 95% Rye and 5% Malted Barley, that also happens to be the standard mash bill from MGP. It's then aged for three years in No. 3 charred oak barrels at MGP prior to being transported to Colorado. Once in the Centennial State it is cut with clean, fresh Rocky Mountain water to reach its bottled 90 proof.
Read More: The Quest for TINCUP
After unscrewing the jigger and pulling out the bottle topper, we were able to pour a dram of TINCUP Rye Whiskey that's an attractive golden amber color. The nose on this rye is full of vanilla and oak with a touch of sweetness with a lingering spicy note. Typical of other rye whiskies that we've sampled.
The palate of TINCUP Rye Whiskey is full of flavor from baking spice and ginger to fruit that leads to a pleasant creaminess in the mouthfeel. It's very smooth for a rye, especially when compared to others from MGP. It then finishes with a peppery finish that ramps up a bit and then mellows out. It is a rye whiskey after all.
In all, TINCUP Rye Whiskey is a more mellow pour than other rye's, a more palatable way to venture into the category. That's not to say it will not ignite the tastes of a rye whiskey fan, but it is a bit more mellow and smoother, therefore more approachable. Perfect to serve neat or on a rock. Plus, it's a nice pour at a sub $30 price point.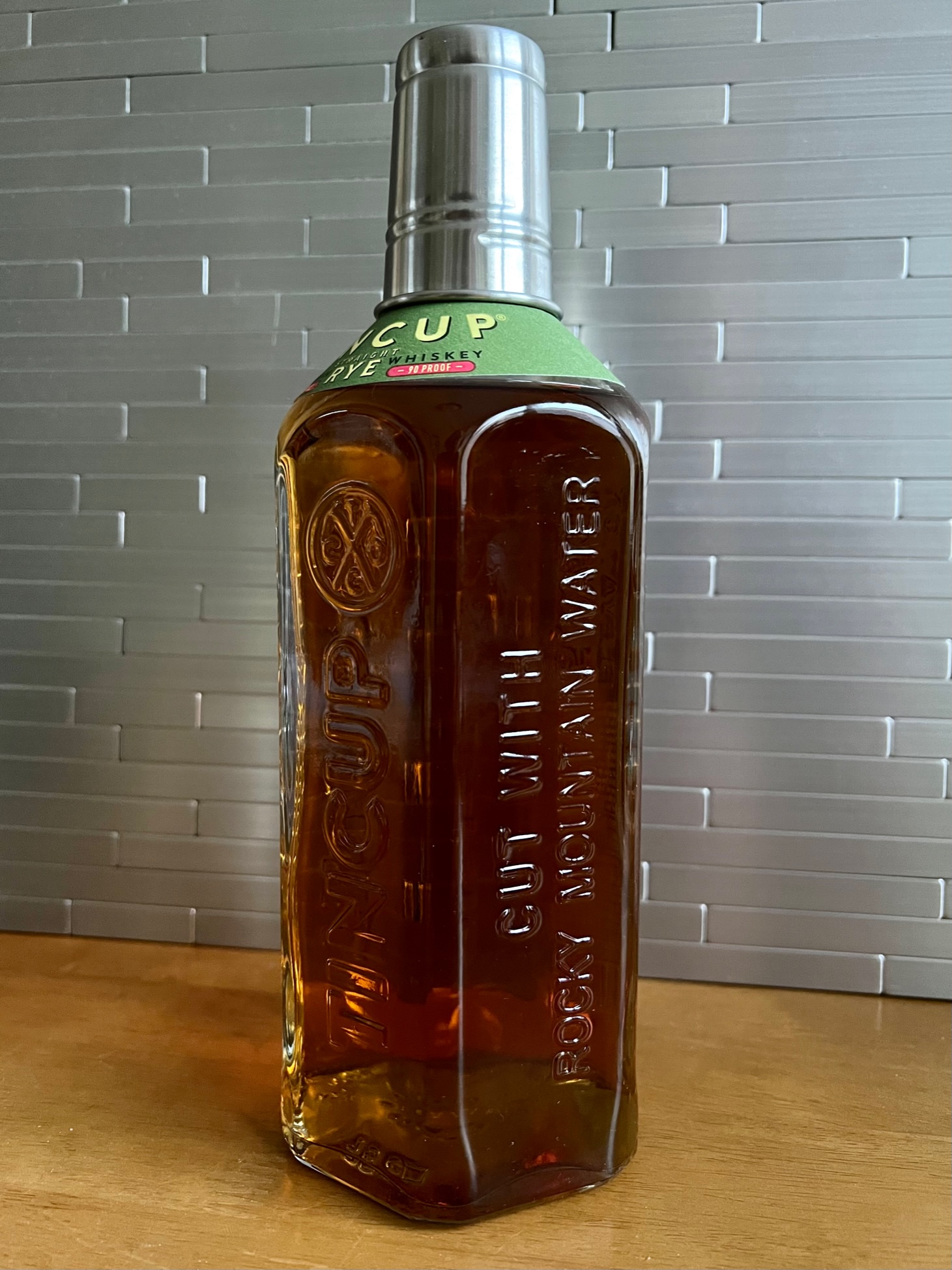 Beyond the liquid in the bottle, the packaging that TINCUP fills its lineup of whiskey in is impressive. Similar to that of a bottle of Stranahan's, TINCUP Rye Whiskey arrives with a jigger that screws to the top of the bottle that protects the cork, perfect for wherever you may take this bottle.
TINCUP Rye Whiskey is available throughout Oregon at a retail price of $27.95 per 750mL bottle and can be found on the Oregon Liquor Search by searching Tin Cup. Or use the TINCUP Buy-A-Bottle Finder by clicking here.