Wood Family Spirits Celebrates One Year in the Columbia River Gorge
|
Back in June 2022, Holly and Tom Wood founded Wood Family Spirits honoring five generations of their Oregon heritage in the Columbia River Gorge. Since the distillery's inception, the Wood's have been blending and bottling two spirits – Columbia Bourbon and O.G. Vodka. Both well made spirits are available across Oregon in 100 liquor stores and 200 restaurants.
The Wood Family Spirits founders are 5th generation Oregonians with a family history in the Columbia Gorge dating back to the mid 19th Century with Captain John H. Couch and landscape painter and Oregon pioneer, C.E.S. Wood. They have harnessed the family's long history of conservation and community stewardship in the region to define their brand.
"We both really have enjoyed working and owning food and beverage establishments and we love to create and enjoy premium spirits and cocktails in particular," stated Holly. "Tom is an engineer. He has been producing spirits and alcoholic beverages for the last 10 years in Oregon and Kentucky and has forever wanted to start a distillery in the Columbia River Gorge. We have been working up to a point to launch our own spirits brand for six years before we were finally able to bring it to life with Columbia Bourbon and OG Vodka."
Prior to launching their distillery, Holly and Tom have operated the Rivertap Pub in The Dalles since 2009. There they serve up plenty of rotating craft beer, including four house beers. And now with their Wood Family Spirits, they have created a variety of cocktails showcasing the Wood Family Spirits Columbia Bourbon and O.G. Vodka, spirit sampling, and bottle sales.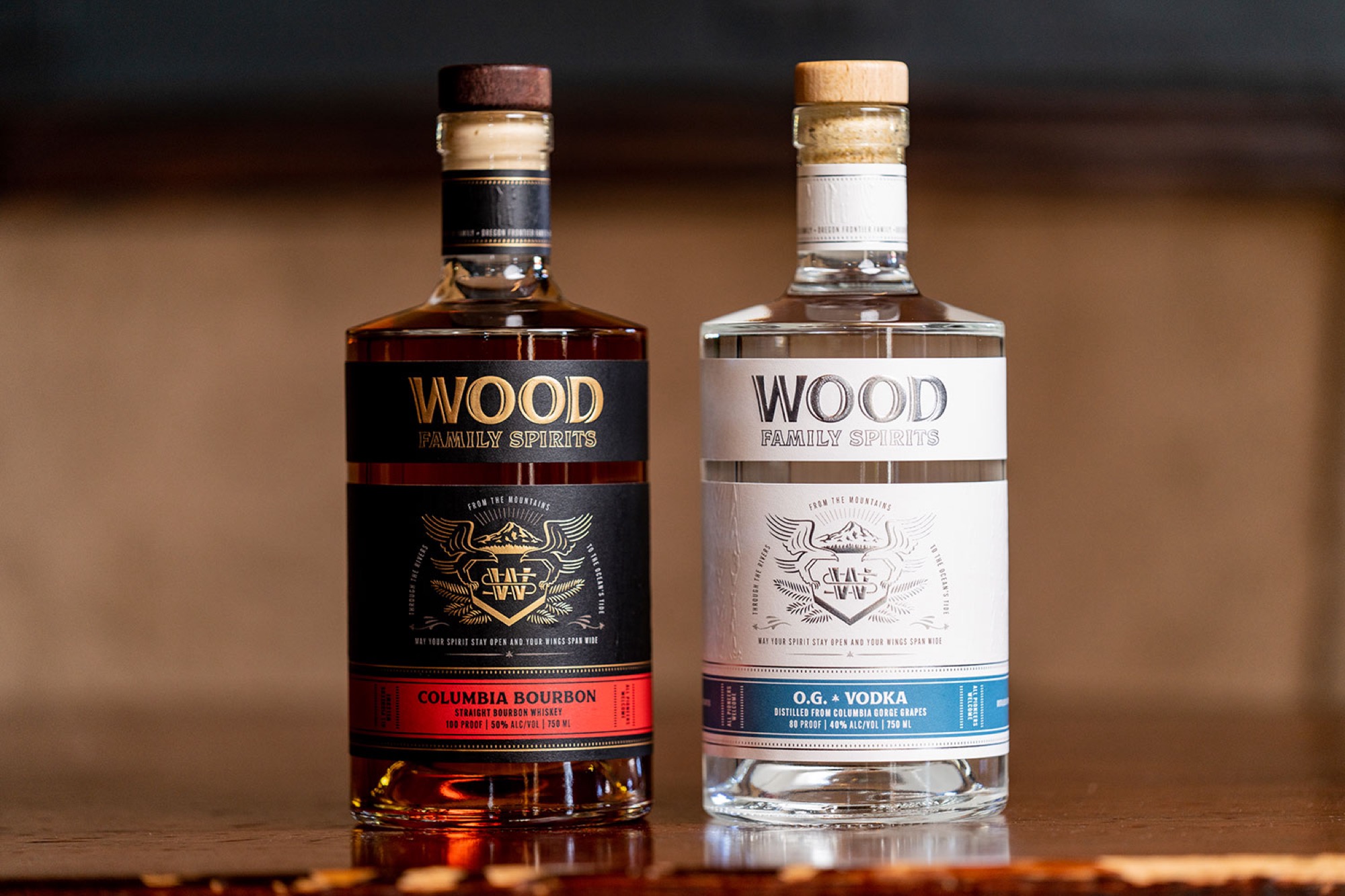 Columbia Bourbon is a 3-year aged straight bourbon whiskey that uses an 80% corn, 10% barley, and 10% rye malt bill that's aged in new #3 and #4 char oak barrels. The whiskey was blended to and bottled at 100 proof. Tom Wood, who built the recipe for cocktail enthusiasts, brews the wash and lays down barrels four times a year, with the oldest barrels of bourbon turning four years old this June.
"Tom took an opportunity to work in the Kentucky bourbon industry and truly fell in love with bourbon," stated Holly. "Understanding bourbon's roots in early America and the detail that goes into good bourbon was fascinating and compelling for him. Tom's time in Kentucky really allowed for a deeper development of the goals we have for Columbia Bourbon. The grain sourcing, sour mash fermentation, and a Vendome bourbon still were the core requirements we needed for Columbia Bourbon."
A good bourbon comes from two key starting points: Good grain and a good process. Just like any of your favorite recipes in the kitchen or at your bar: best to start with the finest ingredients and follow the recipe. Sure, the devil is in the details, but "good in, good out" really applies. – Holly Wood
The bourbon is distilled in Tennessee, but it is not a Tennessee whiskey, it is all bourbon!
"We partnered with an industry peer in Tennessee mostly because they are awesome people, with a new facility, using the right equipment, and willing to team with us on production runs with our mashbill," said Holly. "We have been laying down barrels now for four years on a quarterly basis in Tennessee, and then bringing barrels to Oregon to be able to compare aging conditions in Oregon with those of Tennessee."
The result is a satisfying bourbon that is bold in both flavor and in strength, perfect for being served neat, on the rocks or in a cocktail. Columbia Bourbon offers up flavors of vanilla, cinnamon and caramel as it finishes with a touch of sweet spice from the corn and the rye. Definitely a bottle that will be a splendid addition to any whiskey collection.
Wood Family's other spirit is its O.G. Vodka, distilled from Columbia River Cabernet Sauvignon grapes from the Upper Columbia River Valley. The vodka is distilled 24 times that sits at 80 proof.
"We are fermenting and distilling with our partner winery near Umatilla, OR, and then blending and bottling in The Dalles, OR," said Holly, "The OG Vodka is produced using an exemplary vodka still with 64 plates and three stages and after distillation we proof the spirit down and use carbon filtration to polish OG Vodka prior to bottling."
The result is a vodka that is quite smooth served neat that brings forth notes of stone fruit the leaves a pleasant buttery smooth finish. Essentially the essence of vineyard terroir.
And according to Holly, the O.G. Vodka is great for cocktails. "Makes super smooth martinis and, watch out, it makes amazing Bloody Marys!"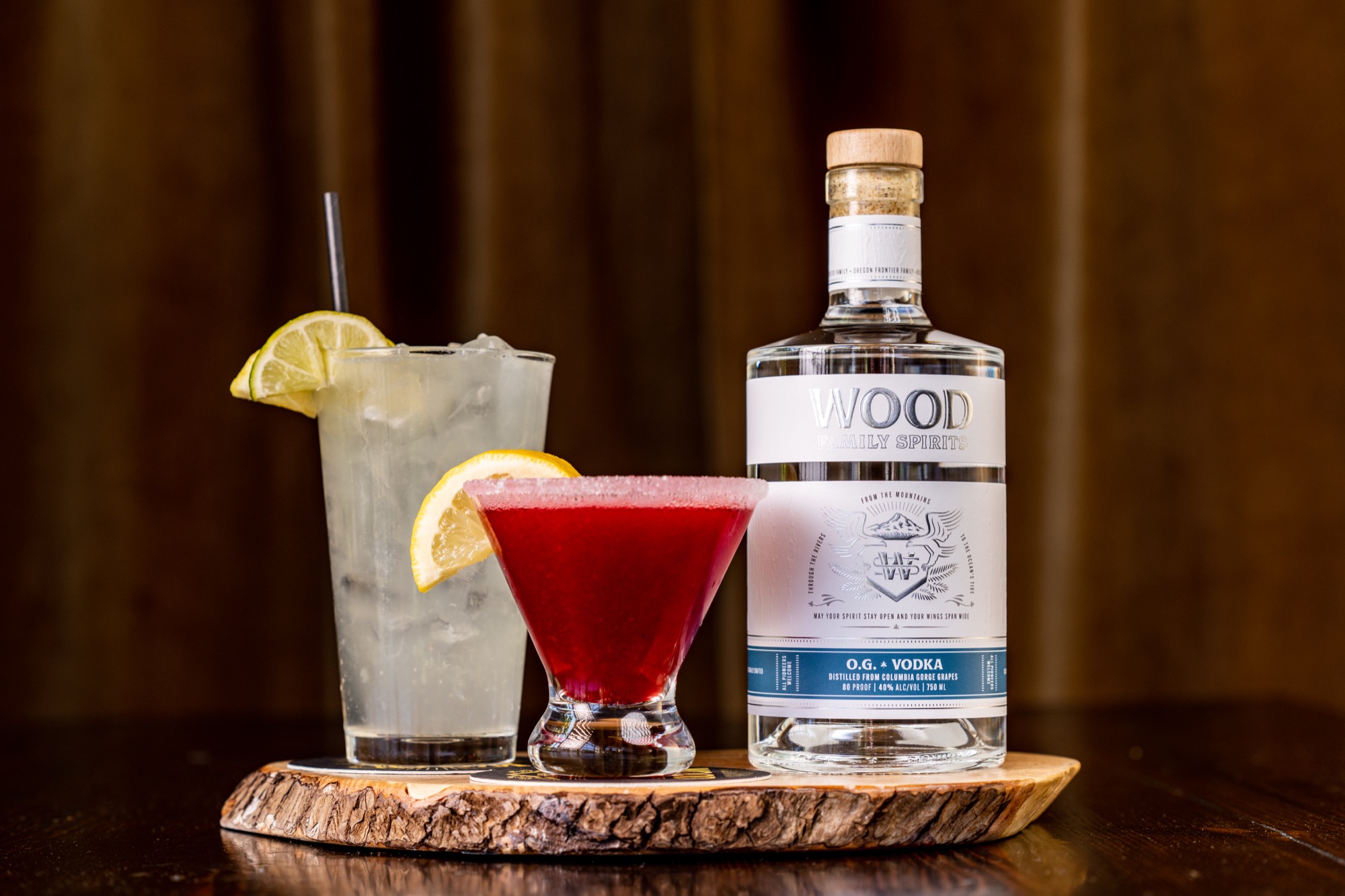 So what's next for Wood Family Spirits? Since they're a what Holly describes as a "do less, better" company, the two want to focus on its quality over output. But this is not to say that they will not be expanding its product offerings.
"We are planning on bottling some barrel strength/single barrel bourbon in Oregon for the holidays but we are waiting to see how well it ages this summer," stated Holly.
Then further on down the road they plan on releasing a rum. According to Holly, "We also have a really cool experiment with PNW distilled molasses-based rum that is barrel aging in our used Columbia Bourbon barrels. Those hit one year old in September 2023, so it should be ready to bottle in 2027 maybe sooner. We can truly say that we love aging!"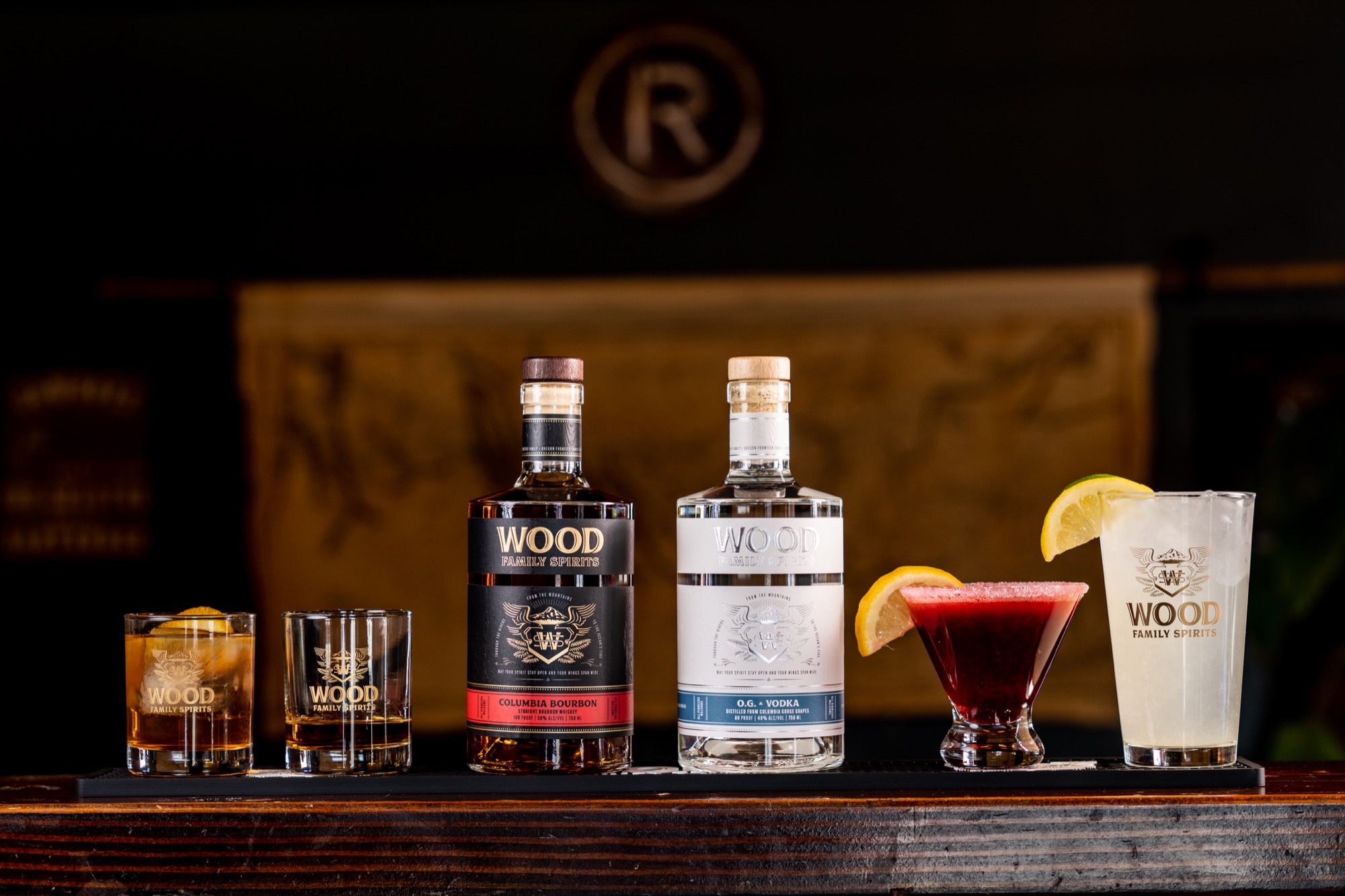 Outside of their businesses, Holly and Tom enjoy the outdoors, whether fishing the Deschutes or hiking trails up Mt. Hood. Holly is on the board of Arts in Education of the Gorge and Tom is a former board member of the Columbia Riverkeeper.
"When looking for the perfect way to enjoy Oregon's magnificent mountains, rivers, and oceans, there's nothing like unwinding with a little whiskey while the sun sets, or a vodka-based cocktail to end a day at the campsite," said co-founder Tom Wood. "Holly and I are honored to enjoy this great place, and we invite you to enjoy it with us, with a smooth sip in hand. Cheers!"
To purchase bottles of either Columbia Bourbon at $44.95 or O.G. Vodka at $34.95 visit OLCC Liquor Search. Bottles can also be picked up at the Rivertap Pub located at 703 East 2nd Street in The Dalles, Oregon. For more information about Wood Family Spirits please visit https://woodspirits.com/.