Gigantic Brewing Ume Umai Label Artist Art Show + Beer Release
July 9, 2015 @ 5:00 pm

-

9:00 pm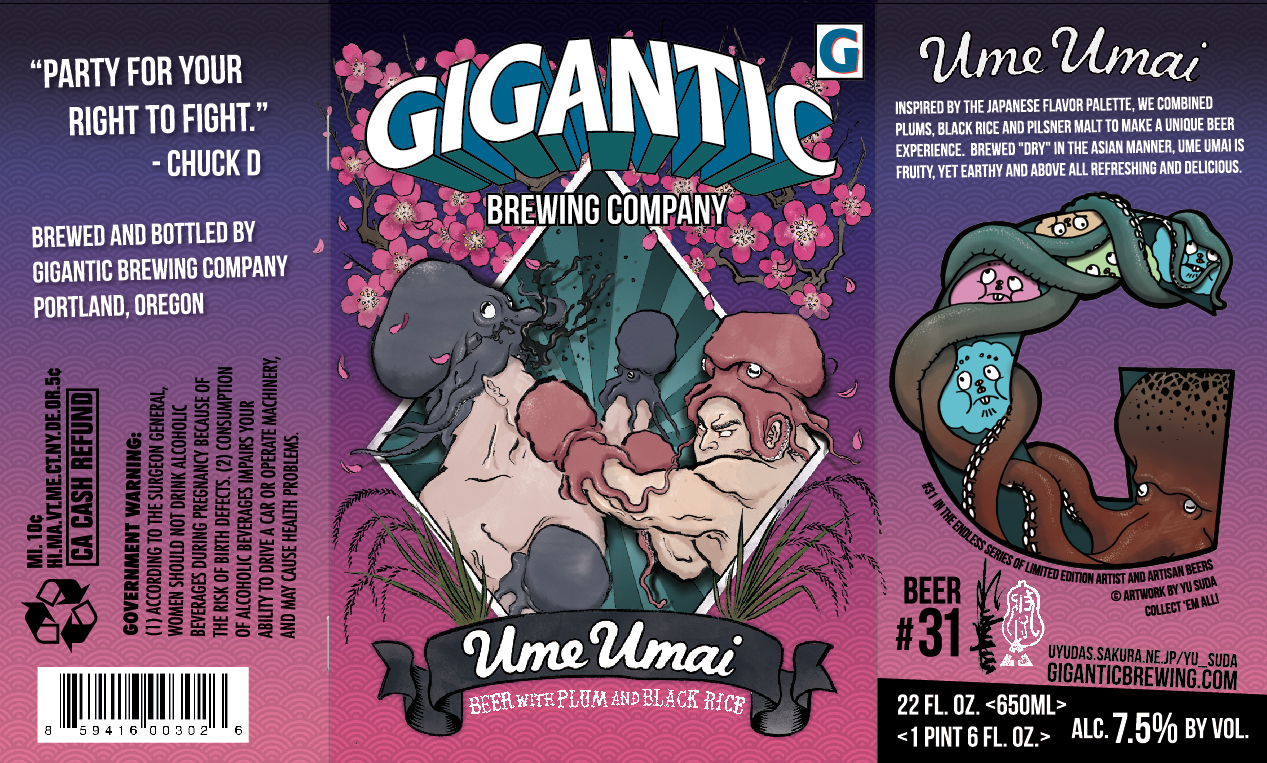 Hellion Gallery and Gigantic Brewing Company invite you to the Ume Umai beer release and art show featuring new work and label art from Yu Suda on Thursday July 9. Yu and a bunch of other folks from Tokyo are flying in for the event. Stop by the Gigantic Taproom 5-9pm to meet Yu, check out the art and enjoy Gigantic's latest beer.
Description:
Inspired by the Japanese flavor palette, we combined plums, black rice, and pilsner malt to make a unique beer experience. Brewed "dry" in the Asian manner, Ume Umai is fruity, yet earthy and above all refreshing and delicious.
Alc by Vol: 7.5%
IBUs:  18
Color: Hazy Gold with slight pink color
Ideal Serving Temp: 45-50F
Suggested Glassware: Tulip Glass
Ingredients:
Local Bull Run water, barley, rice, plum, raw sugar, hops, yeast.
Fermentables
German Pilsner Malt, Black Rice, Plum Puree, Raw Sugar
Hops
Simcoe (bittering)
Tasting Notes:
Sweet juicy plum, with light floral and earthy notes from the black rice. There's a touch of tart acidity which adds to the beers drinkability.
History & Style:
The beer recipe is based on the Helles style. We added the black rice for aroma, flavor and fermentable sugars. The raw sugar increases abv, while keeping the beer dry. Originally we were inspired to brew this beer for a Japanese Izakaya festival in Portland.
Artist:
Yu Suda is a native of Tokyo, who mixes the cultural influences of the Edo period with very modern touches and objects, creating some funny and twisted anachronisms.  A graduate from The Department of Design / Tokyo Polytechnic University, Yu Suda also works with Japan Airlines, SAGLiFE, Journal Standard and other brands both Japanese and international. He is also enthusiastic about displaying his work at private exhibitions.

Food Pairings:
Japanese Izakaya food: yakitori, gyoza, karaage, tonkatsu, onigiri, somen, korokke
Otsumami
Biwa Miso Yakitori
Boneless chicken thigh (4)
Yellow miso (.5 cup)
Sake (2oz)
Honey (1 T)
Green onions:  2 bunches (whites cut into ¾ inch lengths)
Heat the honey up a little (so it melts) and combine it with the sake. Mix this into the miso and mix well in a small bowl with the chicken thighs. Cover this now-marinating chicken with plastic wrap and refrigerate it for as little as 6 and as much as 18 hours. Take the chicken out of the marinade (rinse briefly to remove any extra miso) and cut it into ¾ inch cubes and skewer on bamboo skewers (that you soaked in water for an hour or so) alternating chicken and green onion on the skewer. Over a hot charcoal fire (or under your broiler) cook the skewers until they are cooked through (but still pink and juicy in the middle!)(maybe 2.5 minutes on each side?)
Enjoy with Gigantic Ume Umai and some good friends!
Gigantic Brewing
5224 SE 26th Ave.
Portland, OR