Sierra Nevada and Chico Fermentation Project release Strainge Beast Hard Kombucha
|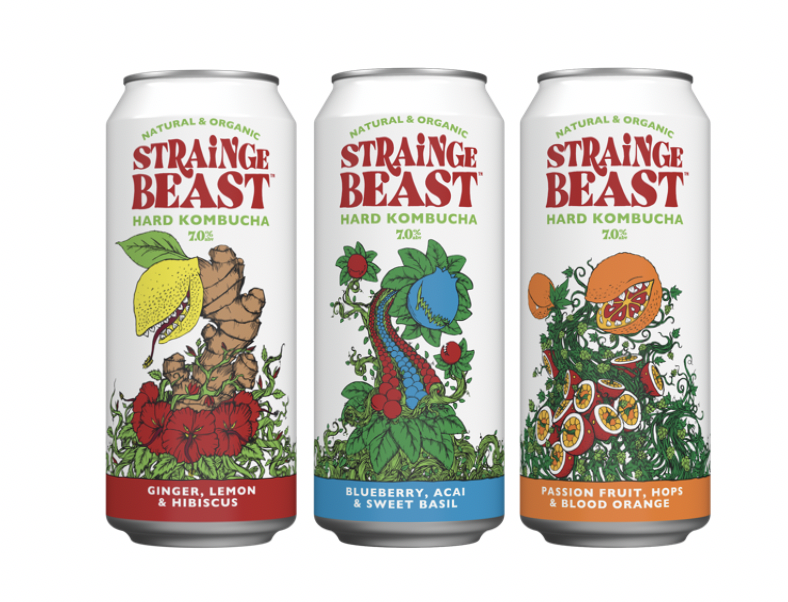 Forty years in and Sierra Nevada Brewing has launched its first non-beer release with its new lineup of Strainge Beast Hard Kombucha from the brewery's new offshoot, Chico Fermentation Project. This new offshoot will be where the California brewery will experiment with beverages that are not beer.
Strainge Beast will take on the growing category of alcoholic kombucha, or what's better known as Hard Kombucha. Part of the better for you or lifestyle category of alcoholic drinks, this fermented Kombucha brings together probiotic bacteria and antioxidants. One of the largest Hard Kombucha brands out there, KYLA Hard Kombucha that's produced by Full Sail Brewing, comes in at a more manageable 4.5% ABV. However, Strainge Beast will follow suit with another California based Hard Kombucha producer, Boochcraft, and produce a bolder 7% ABV version.
This new Hard Kombucha will launch during the month of March in select markets across the U.S. and Portland is one of them. Strainge Beast will produce an unpasteurized, USDA Certified Organic hard kombucha that will be available in three flavors that includes Ginger, Lemon & Hibiscus that will be followed by Blueberry, Acai & Sweet Basil and Passion Fruit, Hops & Blood Orange. After its initial launch only on draft, the lineup will be released nationwide in cans in all three flavors later this year.
"I love it," said Sierra Nevada Founder and President Ken Grossman, in a statment. "I've been drinking kombucha for some time, and the team has done a fantastic job of coming up with really nice flavor and balance." His thoughts on creating the company's first non-beer beverage? "As long as the product has providence and soul, I'm good with it. Like beer, kombucha allows you to become an alchemist, morphing natural, raw ingredients into something amazing to drink."
Ginger, Lemon & Hibiscus combines a blend of organic black and green tea with organic lemon, ginger and hibiscus. "The tea flavor comes through, as does a nice clean acidity," said Sean Lavery, Director of Technical Brewing and Innovation for Sierra Nevada and Chico Fermentation Project, in a statement. "The lemon adds a refreshing burst of citrus, the ginger is bright with some heat, and the hibiscus lends a floral flavor and a brilliant magenta color."
When developing this new lineup of Strainge Beast, Lavery and his team reached out to Oregon State University to develop a completely unique SCOBY (Symbiotic Culture of Bacteria & Yeast) from the ground up, sourcing yeasts and ingredients from around the globe.
"We researched hundreds of cultures and brewed more than 50 batches to get the flavor just right," explained Lavery, in a statement. The challenges of creating the perfect hard kombucha even showed up in the product name. "It really was a strainge beast to brew. But in the end, the team was so excited and absolutely rose to the occasion."
In addition to being launched in Portland in the month of March, other markets that will be part of this initial launch includes San Francisco, Sacramento, San Diego and Santa Cruz in California; Phoenix, AZ; Asheville and Raleigh in North Carolina; Knoxville, TN; and Tampa, FL. Additional cities will follow in May, followed by a nationwide can release of Strainge Beast in August.