Pabst Blue Ribbon Releases Four Flavors of Hard Tea Seltzer
|
One brewery that continues to innovate and stay contemporary with current consumer drinking trends has been Pabst Brewing Company. In recent years, the gypsy brewer consistently released new alcoholic beverages that speak to the fickle trends in the brewing world. Many of these beverages such as Pabst Stronger Seltzer, Pabst Blue Ribbon Whiskey, Pabst Hard Coffee, Pabst Hard Cold Brew, and Pabst Blue Ribbon Canned Cocktails do not necessarily speak to the disseminating beer drinker. However, one thing these beverages do accomplish is creating buzz in a category of flavored malt beverages that continues to increase much more rapidly than that of craft beer.
The latest in these beverage developments from Pabst officially launches today with four flavors of Pabst Blue Ribbon Hard Tea Seltzer. This new lineup of flavored malt beverages will feature three new flavors of Pineapple-Passionfruit Black Tea, Raspberry Black Tea, and Lemon Black Tea. The fourth flavor, Peach Black Tea, is one that Pabst test marketed last summer in 26 states, but was not available in the Pacific Northwest.
These four flavors are now hitting the marketplace in a Hard Tea Seltzer Variety Pack. Each variety case will include all four, natural flavors featured in a 12-pack of 12oz slim cans. Each flavor of PBR Hard Tea Seltzer is gluten-free and comes in at a mere 4% ABV, 100 calories, 5 grams of carbs, and 4 grams of sugar. Perfect for those looking at an alternative to calorie laden craft beers while keeping one's alcohol intake in check.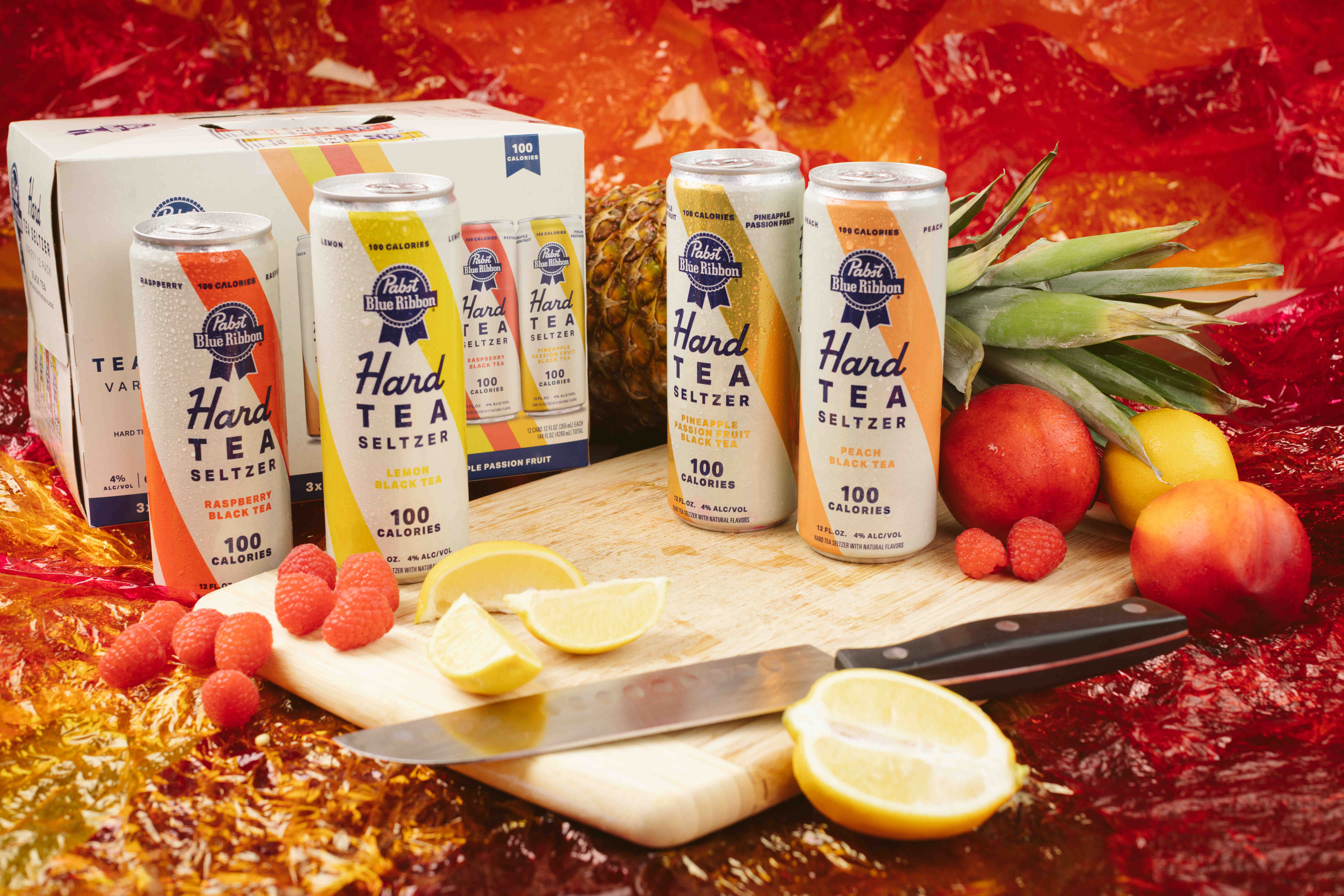 From sampling through the lineup we have a few flavors that we preferred over others, but in all nothing was blatantly unenjoyable. Unlike many other hard seltzers in the marketplace, these PBR Hard Tea Seltzer's feel as if their carbonation level is a bit more refined as this allows the four flavor varieties of the black tea to shine through alongside each bold fruit profile. The most enjoyed flavor is Pineapple-Passionfruit and is closely followed by the OG, Peach as Raspberry and Lemon finish out the flavors in preference.
"We want to continue offering people fun, differentiated drinks that are shareable and surprising; drinks that make them say 'Woah, PBR did that?'," said Nick Reely, VP of Marketing – Pabst Blue Ribbon, in a statement. "Our brand might be over 175 years old, but we're still young at heart and getting creative with how we range across the beverage category, as well as how we can bring some form of value to those that shop it, is something we're relentless about."
This new lineup of Pabst Blue Ribbon Hard Tea Seltzer continues to take Pabst Brewing Co. on a trajectory where it produces beverages for the evolving drinking trends and brings them to market with a quick turnaround.