Mead Market Grand Opening To Take Place October 1-2
|
Eight years ago Matt Reed and Jill McKenna co-founded Bee Thinking, an online global resource for beekeepers as the two were also raising bees on their own. To keep up with this growing venture the two began to produce foundationless beehives for their own apiaries (the place where bee hives are kept). As their new beehive drew interest from across the globe this business took off to now selling thousands of hives throughout the U.S. and around the world from right here in Portland, Oregon.
Then back in June, Reed and McKenna expanded the retail space in Bee Thinking to include Mead Market, the first mead-only bottle shop and tasting room in the Pacific Northwest. After all of this hard work, Mead Market will host its Grand Opening on Saturday, October 1st and Sunday, October 2nd from 1:00 to 4:00pm each day. For the celebration Mead Market will host tastings from local meaderies that include Nectar Creek, Oregon Mead & Cider Co. (formerly known as Stung Fermented), Ethereal and Fringe. There will also be giveaways of branded growlers, t-shirts, a mason bee house and more.
Though mead is the world's oldest fermented beverage, it is now seeing a resurgence. "Mead is the fastest growing segment of America's alcoholic beverage industry," stated Reed in a release. "With the rising global concern about colony collapse, more and more people are becoming amateur beekeepers and interested in handcrafted honey products such as mead."
And the numbers prove this as the American Mead Makers Association reports that the number of mead producers in the U.S. has increased by over 150% in the past five years. With the increased number of mead producers, mead production more than doubled between 2012 and 2014 from 62,000 to 144,000 gallons annually.
"Mead is the oldest, recorded fermented beverage in the world and is seeing a resurgence with the rise of backyard beekeepers, and the ever-growing interest in artfully crafted alcoholic beverage," said McKenna in a release. "I see modern mead makers applying a craft beverage and boutique wine mentality to mead making, and consumers are responding." The American Mead Association estimates that there are currently 350-400 meaderies in the U.S. versus roughly 50-75 just five years ago. These meaderies produce a wide range of honey-based beverages. "The current mead landscape finds honey wines ranging from sparkling made in the Champagne style to session-style, to dry, to sticky sweet and more," says McKenna.
On our recent visit to Mead Market we were impressed with the open space and well designed layout that was handled by Fieldwork Design. Upon entering, the front space is dedicated to bottles of mead. Then a bit farther back is a bar area that features a few selections of mead on tap for on premise consumption or to fill a growler to take home. The bottle shop itself features well over 100 different bottles of mead from Oregon and across the globe.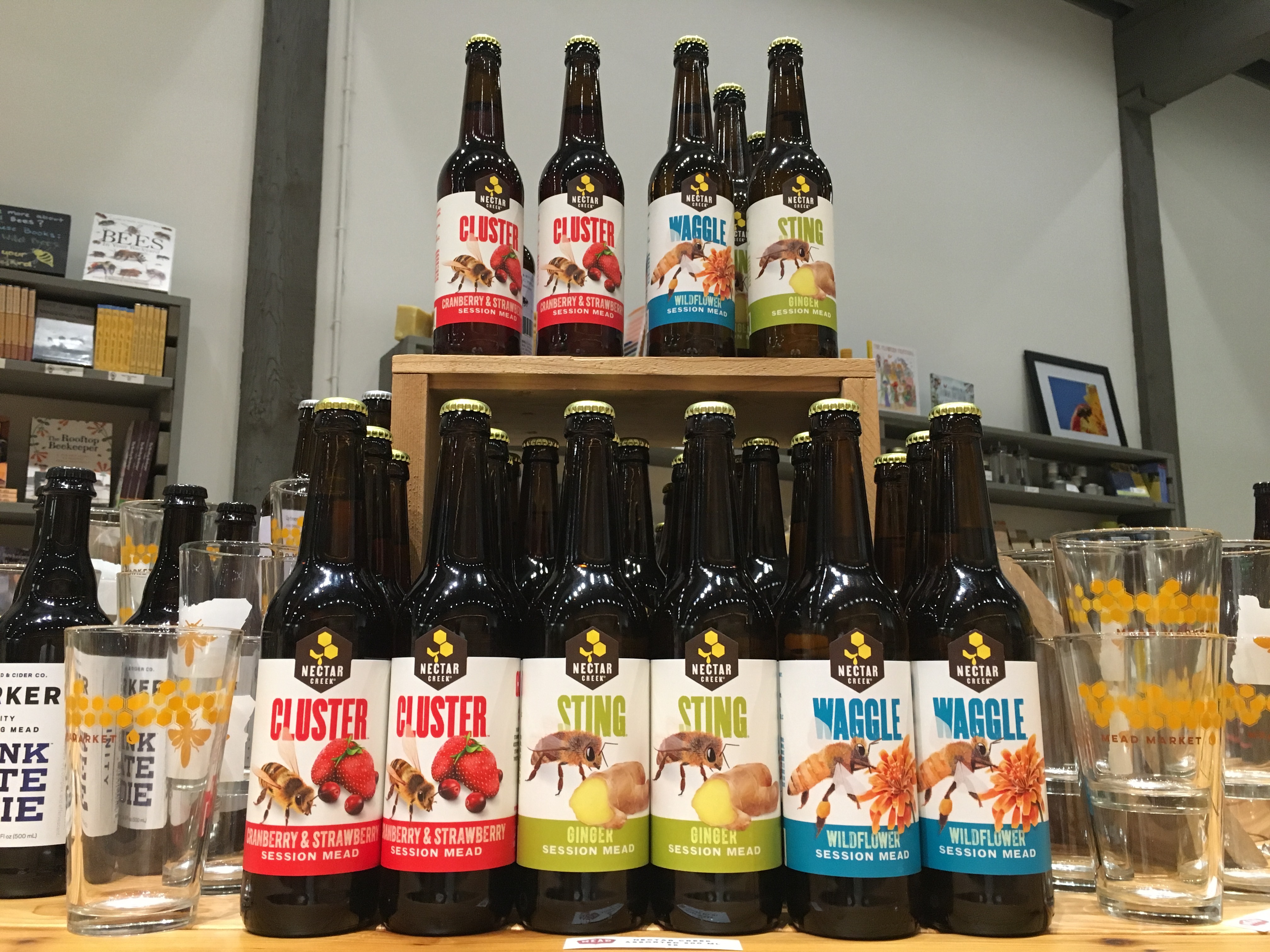 Mead is also a fine beverage to pair with foods and cheese. Mead Market recently hosted a Mead and Cheese Tasting that left us with a very positive impression on both modern day meads and its ability to meld together so well. Phillip Lorenz, founder of Nectar Creek and Gabe Quitslund, Sales Manager at Bee Thinking, led the tasting. Quitslund is a former cheesemonger and he used this experience to highlight the pairings.
"I think the meads being made now are ones that people want to drink. Mead covers the entire palate, as there are no overt tannins," stated Quitslund.
And the spectrum of meads is immense. Gone are the days when there were only 10% ABV and above meads. Nectar Creek produces session meads. "Mead as a category is such a large thing," stated Lorenz.
Since both Mead Market and Bee Thinking are dedicated to mead and beekeeping it makes sense that there are mead making classes that are offered. In its mead making class expect to learn the history of mead, meads of the modern world, and an overview of a typical brewing session and recipes. For reservations and a complete class list, please visit www.beethinking.com and click on class schedule under the education tab. Students will leave with their own personal batch of mead. Sounds fun!
Both Mead Market and Bee Thinking are open Monday through Saturday from 10:00am to 6:00pm and then on Sunday from Noon to 5:00pm.
Mead Market
1744 SE Hawthorne Blvd
Portland, OR 97214