Alesong Brewing & Blending Launches Winery with Pinot Gris
|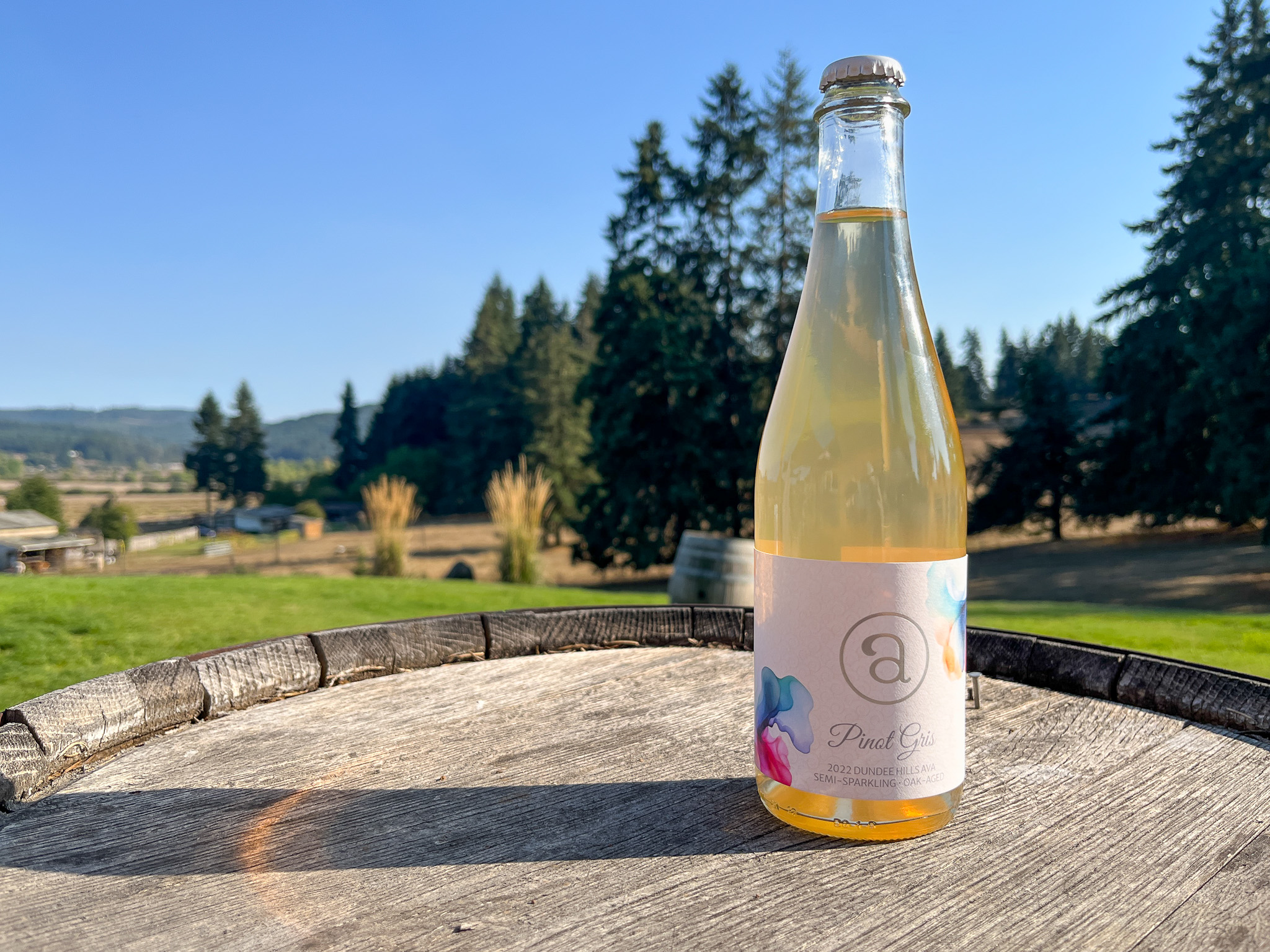 FOR IMMEDIATE RELEASE: 09/21/2023 – After seven years of crafting award-winning barrel-aged beers, Eugene's Alesong Brewing & Blending is launching a wine program. Its first release is an effervescent and refreshing, oak-aged, Pinot Gris. Sourcing incredible fruit from the Dundee Hills AVA, and aging the wine in French oak barrels, Alesong maintains its artisan approach and high standards of quality and complexity with this new offering. The finished wine is dry and lightly acidic with a beautiful fruit character, mild oak flavor, and spritzy carbonation, making it exceedingly food friendly.
Alesong will officially release its Pinot Gris at 5pm on Friday, September 29th at its tasting room in the 5th Street Public Market with an introduction by production manager Brian Coombs. And on Saturday, September 30 at its wine country tasting room, Alesong will debut the new wine alongside its full menu of seasonal kitchen offerings and a curated lineup of award-winning, barrel-aged beers. The production team will be on site at both events to answer questions and present the new wine.
"We've got a handful of team members with winery roots and have been dreaming of debuting wine for a few years now," says founder and production manager, Brian Coombs. "After the success of our wine-beer hybrids, making wine was a natural extension for us. We're excited to build on our collaboration with regional vineyards and continue to expand our offerings in ways that match our brand and mission to create elevated beverages and experiences."
Alesong is currently taking online pre-orders for its Pinot Gris (www.alesongbrewing.com/2022-pinot-gris). Anyone who pre-purchases 3 bottles or more will receive a complimentary stemless logo wine flute. Alesong wine will be available in Alesong's tasting rooms and for online purchase, eventually with nationwide direct-to-consumer shipping. Wholesale distribution is not currently planned, but may be added in the future.
What:   Alesong debuts its first wine, an oak-aged, sparkling Pinot Gris from the Dundee Hills AVA
When: Friday, September 29 at 5pm at Alesong on 5th (248 E 5th Ave #25) and Saturday, September 30 from 1pm – 8pm at its wine country tasting room (80848 Territorial Hwy)
Details: Alesong production staff will present the wine and share in the celebration. The events are open to all, with no reservations required (or accepted) to attend.
ABOUT ALESONG BREWING AND BLENDING: Alesong Brewing and Blending is a small artisan producer of barrel-aged beer, wine, and cider based in the heart of Southern Willamette Valley wine country with a second tasting room in downtown Eugene. With 100% of production spending time in oak, Alesong crafts unique and small-batch beverages that span the flavor spectrum. Paying homage to old-world Lambic blenders and artisan winemakers, the team samples and selects casks individually, striving to achieve complexity and balance in final blends that are much more interesting and complete than any individual barrel by itself. For more information, visit www.alesongbrewing.com.