Beers Made By Walking Taps 8 Beers Inspired By Eugene's Willamette Valley
|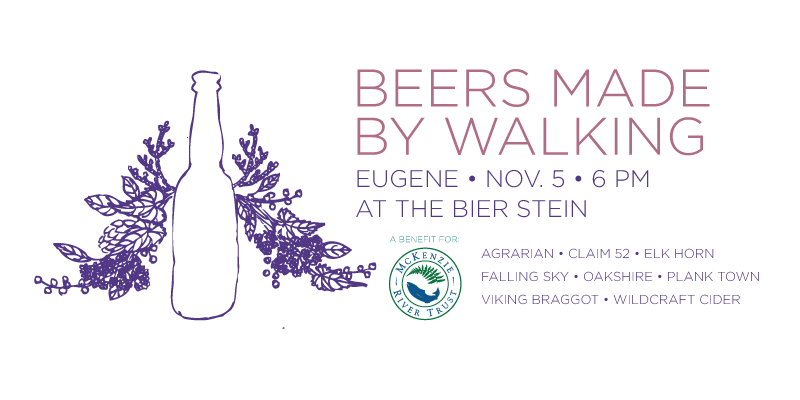 EUGENE, OR – Beers Made By Walking (BMBW) invites brewers to create place-based beers inspired by plants found on nature walks. Today, BMBW announces the first ever Eugene-focused BMBW beer tapping event featuring 8 beers/ciders that were inspired by natural areas in the Eugene/Springfield area. The event takes place on November 5, beginning at 6pm, at The Bier Stein in Eugene.
The hike-inspired beers and cider come directly from a collaboration with the McKenzie River Trust, which sent experts to lead public, summer hikes with brewers on three conservation areas in the southern Willamette Valley. Brewers learned about private land conservation and water resources in the area, in addition to native and invasive plants. The brewers have been challenged to create a beer or cider that represents the trails they walked.
The beers for the November 5 tapping will be revealed as the date gets closer. A number of the brewers have created beer for BMBW in year's past and have chosen to use ingredients including rose hips, juniper, yarrow, lemon balm, chamomile, oxalis, spruce tips, porcini mushrooms (!!!), and many other wild ingredients. For Nov. 5, visitors can expect similarly experimental beers, brewed exclusively for the event at the Bier Stein.
Each brewery is donating their unique beer and cider for this event. The proceeds will support the McKenzie River Trust's work to help people protect and care for the lands and rivers they cherish in western Oregon.
Participating breweries and cidery include:
Agrarian Ales, Claim 52 Brewing, Elk Horn Brewery, Falling Sky Brewing, Oakshire Brewing, Plank Town Brewing, Viking Braggot Co., and Wildcraft Cider Works.
The Bier Stein is located at 1591 Willamette St, Eugene, OR 97401.
About McKenzie River Trust:
Since 1989, The McKenzie River Trust has worked collaboratively with willing landowners to protect clean, free-flowing rivers, plentiful salmon runs, and vibrant farms and forests that provide livelihoods and habitat. Our conservation portfolio includes over 4,000 acres of floodplains, wetlands, oak woodlands, and working farms and forests in eight different watersheds across our region. Using a non-regulatory approach to land conservation, we take on the responsibility of ensuring that the land and its conservation values will be protected forever. For more information about the McKenzie River Trust, visit mckenzieriver.org.
About Beers Made By Walking:
Beers Made By Walking is a program that invites people to step outside and see the place they live in a new light. We invite brewers to take nature walks and make beer inspired by the plants identified on the trail. Since 2011, we have worked with over 100 breweries in Oregon, California, Colorado, North Carolina, and Washington. Our hiking and tasting events act as educational experiences and fundraising programs for environmental organizations in the regions we serve. beersmadebywalking.com