Smoke and Beer–Part Three
|
By Ezra "Samurai Artist" Johnson-Greenough and Jimmy Blum

Alaskan Smoked Porter
Alaskan Smoked Porter is the prototype for US craft smoked beers. Many still consider this smoked ale the best of its kind, and the numerous medals it has won at the Great American Beer Festival certainly justify this belief. Geoff and Marcy Larson, owners of Alaskan Brewing Company in Juneau, Alaska, created the beer in 1988. Marcy's research into traditional smoky beers brewed during the Alaskan gold rush at the turn of 20th century provided a launch point for the project.
The Taku Smokery, neighbors of Alaskan Brewing Company, added another impetus for this smoky creation. The folks at Taku would often visit the brewery, bringing smoked fish to enjoy with some Alaskan beer. The Larson's repeatedly noticed that the flavor of their amber ale was overtaken by the smokiness of the fish. They decided that something bigger and bolder was in order; Alaskan Smoked Porter was the beer to fit the bill. And, the Taku Smokery even lent a hand, allowing the Larsons to use their facility to smoke the malt for this porter.
Today, the malt for Alaskan Smoked Porter is smoked in-house over alder. The smoking regimen entails both hot and cold smoking, a method originally developed by John Maier, a prior brewer for Alaskan who now works as brewmaster at Rogue.
Each and ever year, this beer delivers a robust and roasty smooth body that backs up its pronounced smokiness. The beer pairs wonderfully with a wide range of foods, particularly smoked fish and blue cheeses. In addition, the smoke acts as a natural preservative, which makes Alaskan Smoked Porter ideal for cellaring and vertical arrangements. Look for this beer when it is released once annually in the autumn.
Roots Epic Ale
Roots Epic Ale is, perhaps, the world's biggest organic beer. This astonishingly complex ale, which clocks in at 13.5% alcohol by volume, is produced just once each year on the Winter Solstice by Roots Organic Brewery out of Portland, Oregon.
The brewers begin this brew by soaking cherry wood in Cognac, Glenlivit and cherry juice. Then, they hand smoke sixty-five pounds of malt over this infused wood at the home of Craig Nicholls, owner of Roots, using his home smoker. Once the brew is finished fermenting, it is conditioned for about one year before its release, allowing the brew to fully attenuate and giving the alcohol and intense flavors a chance to mellow.
Roots releases this beer on draft at the brewery and in a very limited number of hand numbered waxed bottles in magnums (1.5lt) and bombers (22oz). The brew has become a cult favorite of local beer drinkers and collectors all around the US.
Once Epic Ale reaches the glass, it proves the ultimate sipper. Notes of chocolate, cherry, toasted malt and alcohol warmth unite in each sip, all punctuated by an underlying smokiness. The beer is comparable to chocolate and cherry pie; paired with a cigar it is a contender for the ultimate winter dessert beer.
Draft Epic Ale does not travel outside of Portland, and bottles rarely make it much further. Beer hunters living outside the city may find it worthwhile to visit Portland in the winter and visit one of the few specialty bottle shops that sells the brew to go.
Aecht Schlenkerla Rauchbiers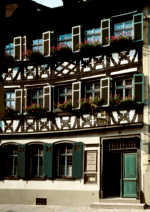 Aecht Schlenkerla smoked beers iconic classic German rauchbiers. Although there are many smoked beers produced in Schlenkerla's home city of Bamburg, this brewery's products have earned a place of prominence owing to quality and export efforts.
The Schlenkerla takes its name from the Frankish vernacular in which "Schlenkern" means to walk crookedly, like an intoxicated individual. Popular history holds that the name refers to a local brewer who had an odd manner of walking, owing either to an accident or overindulging in beer, perhaps even both! Locals began calling him "Schlenkerla" and the name soon spread to the nearby tavern and brewery.
Although the brewery originally resided at the heart of Bamburg, in the 1930's it relocated about one mile south to the Stephansberg section atop one of the town's "seven hills." Today, this facility manages to malt and smoke their own malts in order to produce all of their own beer for both local and international consumers. Because the smoked malts and wood must be aged a considerable amount of time, a huge portion of the brewery is dedicated to storage space; Schlenkerla sometimes seasons its locally harvest beech for up to two years before it is ready for smoking!
Most of Schlenkerla's rauchbiers are lagers and must be cold aged. In order to accomplish this task, the brewery conditions their beer in deep sandstone caves below the brewery. At one time, in fact, similar caverns extended throughout much of the underbelly of Bamberg. Although Schlenkerla is the only brewery in Bamberg to utilize these caves for lagering, many local breweries did use the caves for a similar purpose in ages past.
A finished Schlenkerla rauchbier is truly unique, be it the urbock, weizen or märzen. Many first-time drinkers are overcome by its powerful smokiness, which is reminiscent of smoked bacon, or any one of a number of smoked meats. The seasoned rauchbier drinker craves this smoke intensity, which Schlenkerla delivers in spades.
Schlenkerla rauchbiers are compelling compliments to baked beans and barbeque. Some even claim these beers work wonderfully as a breakfast drink, right beside some eggs and, of course, bacon. Many good beer bars and restaurants, along with most specialty bottle shops, carry Schlenkerla's line of rauchbiers in 16.9oz bottles.