North 45 Presents 11th Annual Brew Hog Blowout
|
With the 2018-2019 season of Brew Hog now behind them, North 45 will host its 11th Annual Brew Hog Blowout on its back covered patio on Thursday, April 4th. From 5:00-10:00pm, 20 of the breweries that were featured this past winter will return to North 45.
This past fall and winter, from October through March, North 45 hosted a different brewery each week on its back patio that featured a pint special and a free beer tasting. Thursday will be your chance to sample beers from over 20 breweries serving a variety of limited release and unique brews. Here's a preview of the participating breweries and cideries.
Brew Hog Blowout Participating Breweries:
Ordnance Brewing
10 Barrel Brewing
Deschutes Brewing
Ninkasi Brewing
2 Towns Ciderhouse
New Belgium Brewing
Culmination Brewing
Oakshire Brewing
Modern Times Beer
Base Camp Brewing
Three Creeks Brewing
Silver Moon Brewing
Crux Fermentation Project
Rogue Ales
Migration Brewing
Cascade Lakes Brewing
Pelican Brewing
Georgetown Brewing
Upright Brewing
Breakside Brewing
Backwoods Brewing
Coalition Brewing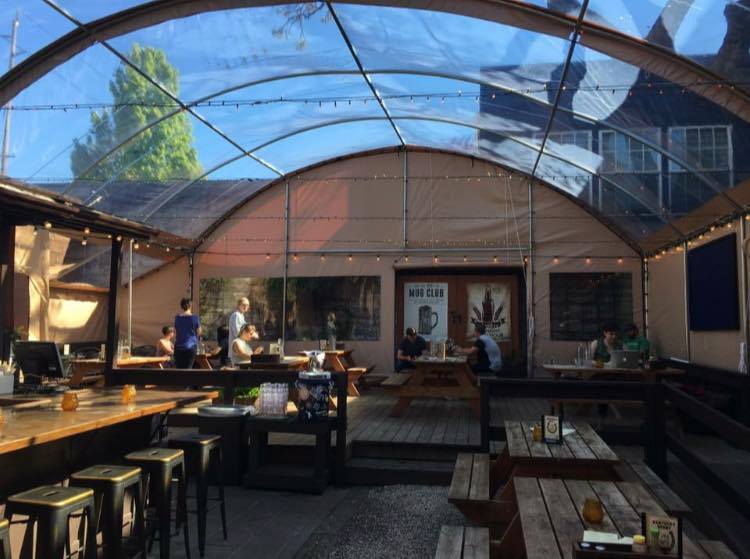 Enjoy mug and token style tastings from all brewers; $10 includes souvenir mug, 3 tokens for 3-ounce tastings, and one raffle ticket to enter to win some great brewery prizes! Additional taste tokens are $2 each. Thursday's event is also your last chance of the year to get North 45's famous house smoked ribs until next fall.
North 45
517 NW 21st Ave.
Portland, OR 97209