Crux Fermentation Project Portland Pop-Up at Function
|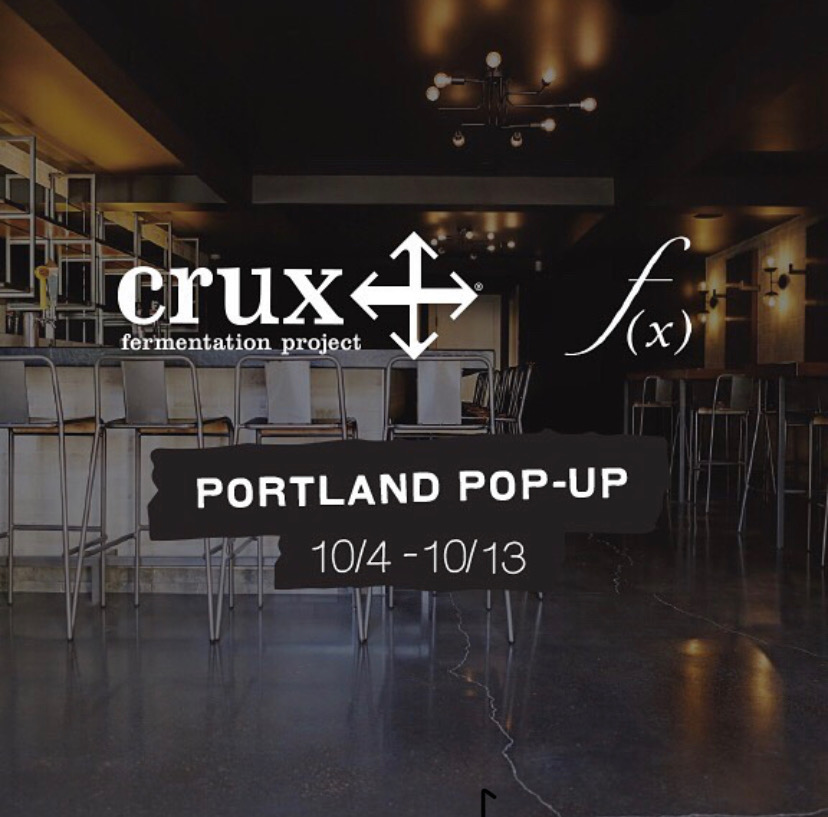 The next brewery pop-up at Function in Northwest Portland will be with Crux Fermentation Project. Just as the current pop-up with Wolves & People Farmhouse Brewery ends later this week, Crux Fermentation Project will take over the space from October 4-13, 2019.
Crux will bring its Bend experience to Function for ten days in October with six rotating taps, 24 different bottles/cans, and multiple beer releases throughout the week. Plus, each day it'll offer its fun Sundowner Happy Hour where there are specials a half hour before and after sunset.
Here's what to expect during the ten days when Function opens each day at 2:00pm.
FRIDAY  10/4  Kick-Off Party – Fresh Hop Madness
We'll be starting the week off with a fresh hop party featuring all 4 of our fresh hop beers on tap. Crux founder and brewmaster, Larry Sidor, will be hanging out alongside some of our hop farmer friends to chat and answer any questions you might have.
TUESDAY  10/8  New Beer Release – Vicky's Gone Troppo IPA
New seasonal release, available on draft and in 6-packs for the first time.
FRIDAY  10/11  [BANISHED] Flight Night
Enjoy a snifter or flight of 4 barrel-aged beers with Crux head brewer, Cam O'Connor. You'll also be able to shop Larry's library for hard-to-find vintages of [BANISHED] beers. Beers will include In the Pocket (Barrel-Aged Rustic Saison); Better off Red (Barrel-Aged Flanders-Style Red Ale); Tough Love (Barrel-Aged Imperial Stout); and Freak Cake (Barrel-Aged Oud Bruin w/Brettanomyces).
SATURDAY  10/12  New Beer Release – Mountain Traffic Hoppy Red Ale
Launching our latest limited release beer, available on draft and in 16 oz cans.
EVERY DAY – Sundowner Hour
Just like at our tasting room in Bend, our happy hour will revolve around the sun with specials a half hour before and after sunset.
To stay up to date on the Crux Portland Pop-Up follow the Facebook Event Page to learn what is taking place each day from October 4-13, 2019.
https://www.facebook.com/events/732901680508956/
Function PDX
919 NW 23rd Ave.
Portland, OR 97210