Portland Cider to host its 8th Annual Fruit Forward Drive
|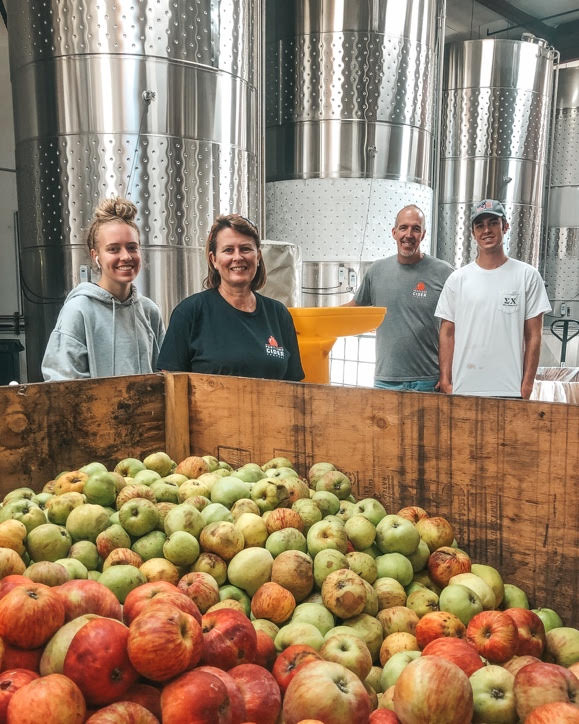 CLACKAMAS, Ore. — August 30, 2023 — Portland Cider Co. is upcycling unwanted local apples and pears into hyper-local cider for the eighth consecutive year. The company's annual Fruit Forward Drive receives donations of edible-quality apples and pears from neighborhoods throughout the Portland Metro Area and turns them into a Community Cider to raise funds for hungry children.
Portland Cider Co. is collecting bushels (40 lbs or more) of unwanted fresh and fallen apples and pears for the first four Saturdays in September, with no-contact fruit drop-off at its Clackamas Taproom at 8925 SE Jannsen Rd, Bldg. F. Drop-off hours are Saturday, September 2, 9, 16 and 23, from 9 a.m. to 3 p.m. only. For every bushel of edible quality apples or pears, donors will receive a voucher for a pint of the resulting "Community Cider" when it is released later this fall, redeemable at any of Portland Cider Co.'s three taprooms while supplies last.
The Fruit Forward donation drive will culminate in a pressing party on Saturday, September 30, from noon to 3:00 p.m. at the Clackamas location. The family-friendly event is open to all ages, and will feature fresh apples, face painters, and cider slushies, plus food and drink specials.
"This is one of our favorite times of year at Portland Cider, because we get to see our longtime donors and meet new ones, all excited to see their own fruit become delicious cider for a great cause," said Lynda Parrish, co-owner at Portland Cider Co. "Making Community Cider is the ultimate collaboration. We connect with people from across the metro area, combine their fruit with our labor, and create a really unique annual cider that raises funds for the vital work of Partners For a Hunger-Free Oregon. Everyone wins!"
Portland Cider will donate a portion of the cider's sales to Hunger-Free Schools, a program of Partners for a Hunger-Free Oregon that is working to implement free meals in Oregon's K-12 schools, connecting people to food and nutrition programs, raising awareness about hunger, and advocating for systemic changes.
The 2023 Community Cider will be released in October and available on draft and in 19.2-ounce "proper pint" single cans at Portland Cider's three locations, and at retailers throughout Oregon and Southwest Washington.
Portland Cider Co. asks that all donated fruit is of edible quality; the company will not accept rotten or moldy fruit. Ugly fruit, however, is welcome, including apples or pears with cracks, scarring, indentations, dimples, scabs, holes or brown spots. Use of disposable boxes or containers is highly recommended. Learn more at PortlandCider.com/drive and follow Portland Cider on social media at @PortlandCider.
About Portland Cider Company
Portland Cider Company was founded in 2013 to bring hand-crafted, award winning cider to the Northwest. The company recognizes Portland and her bold spirit as the inspiration behind their innovative ciders, and promises the cleanest, tastiest, and most enjoyable cider-drinking experience the city has to offer. Portland Cider has three taproom locations in the Portland metro area, where they encourage all to visit, sample, and expect more from the cider they drink.