Pabst Returns with the Pabst Blue Ribbon Art Can Contest
|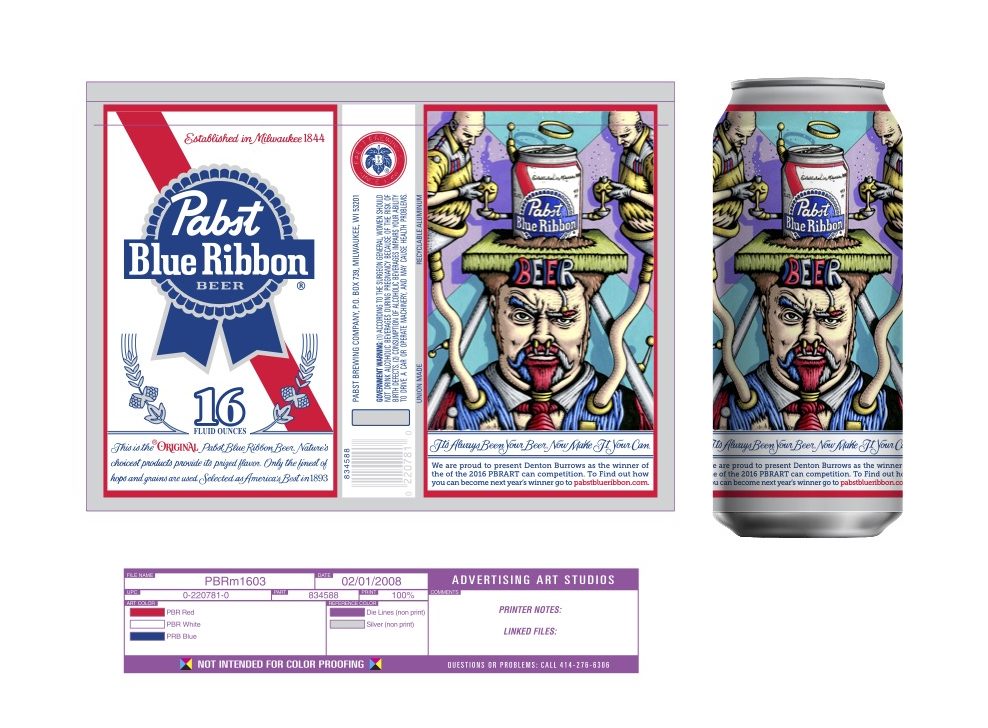 October 8, 2021 – Pabst Blue Ribbon is synonymous with the creative community; the beer of choice in scrappy recording studios, DIY art spaces and off-the-wall parties across America. Nothing speaks louder to this commitment than its pioneering move to give up its cans to its creative community in the Pabst Blue Ribbon Art Can Contest.
When the Pabst Blue Ribbon Art Can Contest was conceived, can art was almost unheard of. Ten editions and 400 million art cans later, Pabst Blue Ribbon is celebrating its tenth Art Can Contest by 10x its creative commitment, upping the winners' prize money to $100k and expanding the contest to entrants across the globe. The contest's mantra has never been screamed louder:
 "It's Always Been Your Beer, Now Make It Your Can." – Pabst Blue Ribbon
Pabst Blue Ribbon is committed to expanding upon the four thousand entrants it received last year, and has set an appropriate goal of 10,000 entrants this year. Partnering with Talenthouse to host the contest, and opening up submissions to their global pool of artists and creatives. 
"The Art Can Contest from its inception has always been a really amazing way to connect with our community of amazingly talented creators," says Seamus Gallagher, Senior PBR Brand Manager "For the 10th Art Can Contest, we knew we had to do something even more special than we had done in the past, so we decided to choose 10 winners and give out $100k in prizes." 
Juxtapoz Art & Culture Magazine will again be invited to help judge the process. As the underground art authority that for over 25 years has supported and documented emerging artists and communities that have been overlooked by the mainstream and commercial art industry, Juxtapoz is a kindred spirit of Pabst Blue Ribbon, and will support the winning artists with exclusive editorial profiles. 
"The Pabst Blue Ribbon Art Can Contest truly helped give my art exposure to a larger audience nationwide, making it possible for me to run my small business full time," says Ashley Dreyfus, the 2021 Art Can Contest Winner.
The Art Can Contest has continued to push the boundaries of can design, both creatively and technically, for ten years. This year's contest will leverage a special new printing technology to show off the unique detail and color in Dreyfus' design.
The Art Can Contest is accepting entrants starting October 1, 2021 and will close submissions on December 31, 2021. Throughout this time, the winning 2021 Art Can created by Boise mixed media artist Ashley Drefyfus will be seen on over 30 million cans in stores across America. There will be ten Art Can Contest winners in 2022, each of whom will receive a cash prize of $10k.
By the end of 2021 the Pabst Blue Ribbon Art Can Contest will have awarded over $100,000 to emerging artists and designers, and placed original artwork on over 400 million cans. Winning art can designs have come from all corners of the country, and Pabst Blue Ribbon has furthered the contest's creative impact by inviting entrants to create capsule merch collections, original artwork and media, and in 2021 commissioned work from all 25 of the top contestants.
About Pabst Blue Ribbon
Since its founding in 1844, Pabst Blue Ribbon, the original American lager beer, has been connecting with local communities across America. Pabst Blue Ribbon engages and supports individuals who are passionate about forging their own path in life, and will continue to empower new generations who believe in the future of America.

Pabst Blue Ribbon is owned by Pabst Brewing Company.  American-owned and operated since its founding in Milwaukee in 1844, Pabst Brewing Company is America's largest privately held brewing company.