30 Years of Pike Brewing – An Interview with Charles Finkel
|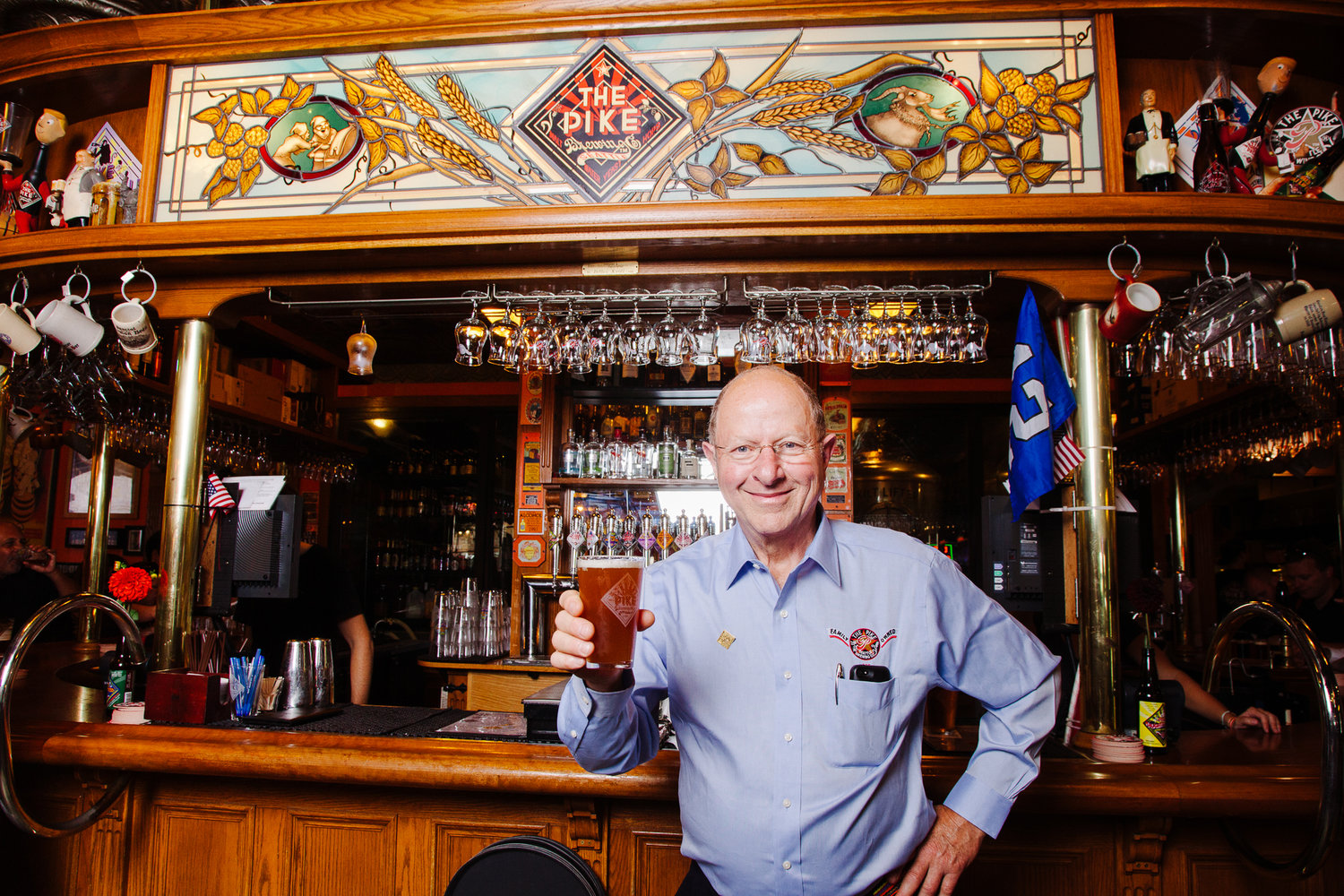 Nearly thirty years ago Charles and Rose Ann Finkel opened what was then known as Pike Place Brewery, now known a Pike Brewing Company. When the couple opened the brewery there were only 247 operating breweries in the United States.
The Finkel's began their life in brewing when the couple opened Merchant du Vin, an importer of European beers from breweries such as Samuel Smith, Ayinger, Orval and many others. They knew that there was a market for flavorful beer and decided to join the two other Seattle microbreweries and open the third microbrewery in the Emerald City on October 17, 1989 with its Pike Place Brewery and Liberty Malt Supply. This new brewery was originally located along Western Avenue below the La Salle Hotel in Pike Place Market. When the Finkel's opened their brewery they purchased Liberty Malt Supply from John Farias where they added their small brewery.
Then seven years later in 1996, Pike Brewing moved to is current home at 1415 First Avenue inside Pike Place Market. There the brewery added a three-story gravity-flow 30-barrel brewhouse to meet demand of its beer. At the same time the Finkel's opened up The Pike Pub and Microbrewery Museum. This museum located adjacent to the Pub features a vast collection of breweriana – rare bottles, beer signage and other artifacts from beer history.
However, the following year in 1997, the Finkel's sold Pike Brewing Company, The Pike Pub and Liberty Malt Supply. As a result of this sale, Liberty Malt Supply, the homebrew store, was closed down but Pike Brewing continued on as did Merchant du Vin all under new ownership.
But after nine years away, the Finkel's reacquired the brewery on May 1, 2006 and they once again were at the helm of Pike Brewing. With the excitement of getting back into the growing beer industry where the number of breweries in the U.S. grew 6 times to a brewery count of 1,460 proved to be a reason to be back in the industry.
Since then the brewery has grown in both capacity and footprint. In 2017 the couple added its sister restaurant, Tankard & Tun, that's located directly above the brewery on the south end of Pike Place Market. This seafood and oyster bar that's led by Head Chef Tim Taggart is an excellent place to eat fresh seafood while in downtown Seattle.
But like with any business a succession plan is necessary and both Charles and Rose Ann realized to keep the business going far into the future it needed to develop its future managers from within the organization. Less than one year ago in December 2018, the brewery promoted a 20-year employee, Drew Gillespie to become Pike Brewing's new President. Gillespie grew up through the ranks at Pike Brewing when he started his career there in 1988 in the kitchen. When the Finkel's reacquired the brewery in 2006 the couple promoted Gillespie to become the General Manager. In 2015 he was once again promoted to become the VP of Operations along with being one of five co-owners of the brewery.
On Thursday, October 17th, Pike Brewing will celebrate 30 years in brewing at The Pike Pub in Seattle. We recently interviewed the brewery's co-founder, Charles Finkel to learn more about how Pike Brewing became a prominent brewer in America's brewing history.
What made you decide to own and open Pike Brewing in 1989?
Charles Finkel: I have long been interested in beer, brewing, wine, and hand-crafted food and drink products. I was interested in the beverages because of the varied taste characteristics. I had been on a team that built the most successful local winery. As a result, Rose Ann Finkel and I started MdV in 1978. From then until we opened the Pike Brewery in 1989, we worked with family-owned breweries supporting them as exclusive sales agents. Since most were small, family-owned breweries selling through their own tied estates, they were better brewers than marketers. We acted as the de-facto marketing agents creating labels, new products, point of sale advertising material, handled public relations and took ownership in their success, first in the U.S. and ultimately in their own markets, then world-wide. We learned about brewing from masters and succeeded in marketing their beer, never before offered in the US in what was at the time the World's largest beer market. We encouraged and inspired local craft breweries who, rather than brewing more light lagers, choose more flavorful styles like those we were marketing, and significantly, at much higher prices than the mass market beers! Given our success with the MdV beers and the reception that local "microbreweries were receiving, we felt that we could be both importers and brewers. We felt that the Pike Place Market was the ideal location.
You were a pioneer when you opened Pike Brewing. How did you decide which beers to brew and how to sell what was then known as microbrew beer to an audience that was new to this concept of locally brewed and flavorful beer?
Charles: At first, we visited all of the independent American craft breweries with the idea of specializing in their beers just as we had with independent "boutique" wines in the previous decade. Most were brewing light lagers similar to the beers of mass market brewing giants. We wanted beers, like the wines that we had sold, with different tastes.  It was Michael Jackson's book, The World Guide to Beer that educated me about the world's classic brewing styles that inspired us to offer authentic beers from as many of these styles as we could. We recognize that educating an unaware consumer about the pleasure of these different and delicious tastes was the key.
How do you feel that your ownership of Merchant du Vin assisted you in opening Pike Brewing?
Charles: MdV gave us the infrastructure and financial resources to open Pike. They were the same company at the start.
Nearly 10 years in you sold the brewery in 1997. You then reacquired it nine years later in 2006. What made you two decide to sell it in the 1997 and then purchase the brewery back in 2006?
Charles: We sold MdV and with it our little baby, Pike Brewing because I had worked like a Trojan since beginning my career. The sale gave us some financial security, the ability to spend more time as a family, to travel, and to pursue my art and design. Our sabbatical lasted 8 years, from the time I was 44 to 52 years old. We missed Pike and the beer business but not the extensive travel that I had done at MdV. When the opportunity to buy the brewery alone back, not requiring that travel, we jumped at it and have not looked back since.
How did Pike Brewing change during your nine years away from it?
Charles: Fortunately, Pike did not change the core mission, to brew beers of integrity. Michael Jackson described Pike as "a shrine to beer" we operated the brewery, Liberty Malt (one of the oldest Homebrew suppliers in the U.S.), and The Pike Pub. During our absence Liberty was closed and the pub introduced smoking, something we restricted with the exception of a highly ventilated and segregated cigar room where we had Pike Microbrewery Museum pool tables along with video games were installed Coca Cola was introduced and the wine list was eliminated in favor of boxed wines. Home Brew U, an annual seminar featuring speakers including Charlie Papazian, Michael Jackson, Randy Mosher, Dr. Lewis from UC DAVIS, and many others was stopped and so was our informative brewspaper, Alephenalia Beer News. Fortunately, under our executive chef Gary Marx our food remained top quality.
Today's beer scene is much more competitive than it was when you opened 30 years ago. What changes in the industry do you enjoy the most and the least?
Charles: I enjoy the level of awareness, acceptance of craft beer as the mainstream beer for many people and the wide interest and knowledge of beer not only in the U.S., but all over the world. I appreciate the Association of Brewers and their advocacy of craft beer including the independent seal that we proudly display on our cans and restaurants. The completion for shelf space and on-premise placements presents a challenge but the awareness of good beer on the part of the trade and consumers alike outweighs that!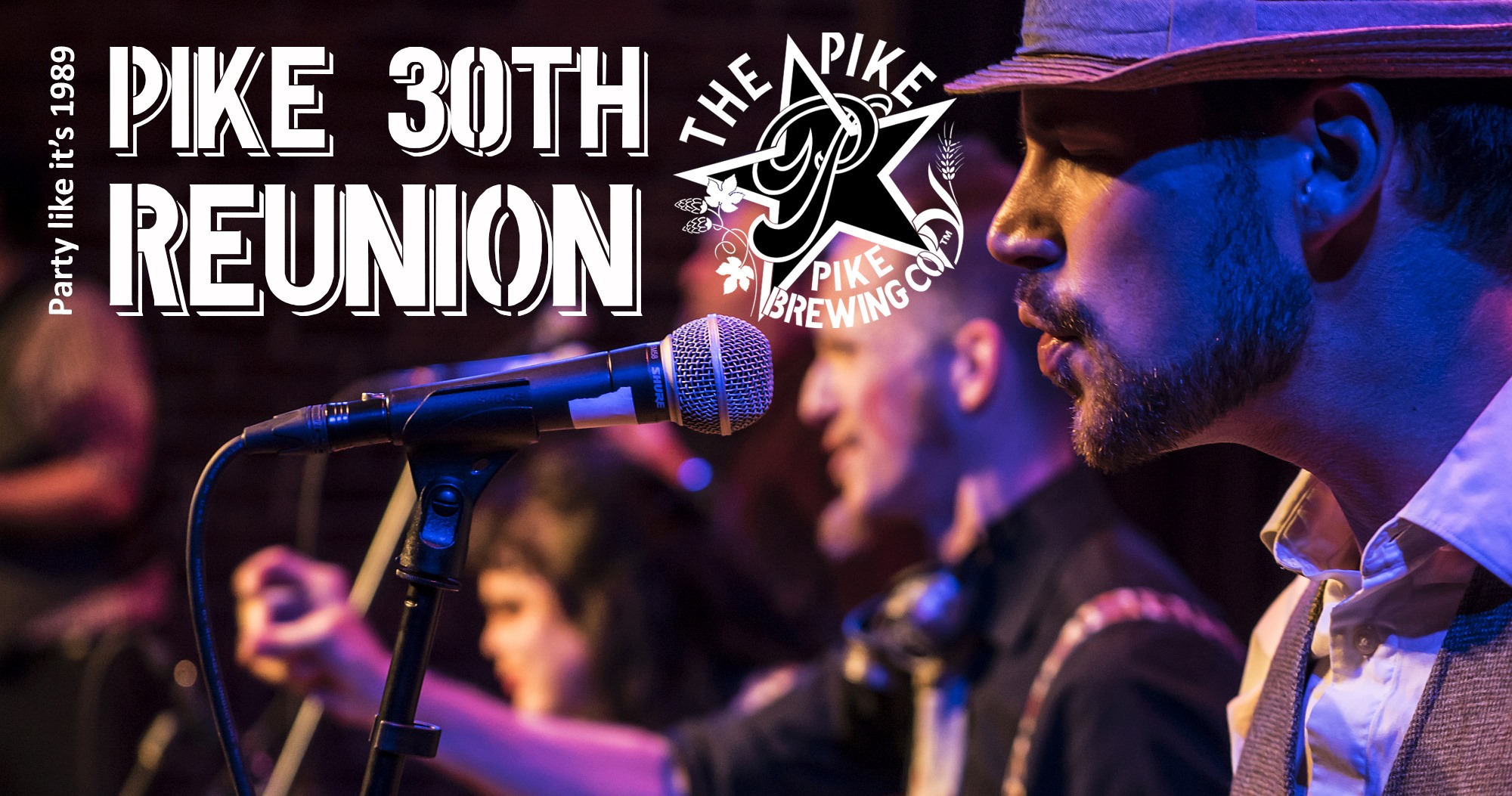 Make sure to visit Pike Brewing for its 30th Anniversary Celebration that takes place on Thursday, October 17th. The Pike Pub along with its Tankard & Tun Restaurant will be offering $2.50 pints of Pike Place Ale, Pike XXXXX Stout, Pike IPA, and the new limited-release Pike Reunion IPA from open until close.
Then from 6:30-8:30pm on Thursday, enjoy live music from a six-piece, horn-heavy local band, The Fabulous Butt Dial Party Band, featuring a member of the Pike crew, Sunny Radford, on the trumpet and hosting as MC. And those $2.50 pints will be pouring during this time!
Reunion IPA was brewed to honor Pike Brewing's 30 years in brewing and is a collaboration with Pike Brewing's brewers both past and present. This list of brewers consists of Art Dixon, Jan Balcom, John Hall, and Alejandro Garcia of Pike Brewing. Joining these current Pike brewers are some of Pike Brewing's alumni including Jason Parker (Copperworks Distilling), Fal Allen (Anderson Valley), Dick Cantwell (Magnolia), Kevin Forhan (Flying Bike), Bill Jenkins (RAM), Drew Cluley (Beardslee Public House), Adam Orick (Flying Lion), Shawn Loring (Lazy Boy), Dean Mochizuki (Reuben's), Meg Bragg (Stoup), Manny Chao (Georgetown), Skip Madsen (La Quinta), Frank Helderman (Terminal Gravity), Larry Rock, Janelle Prichard, Kim Brusco, and Adam Palmer.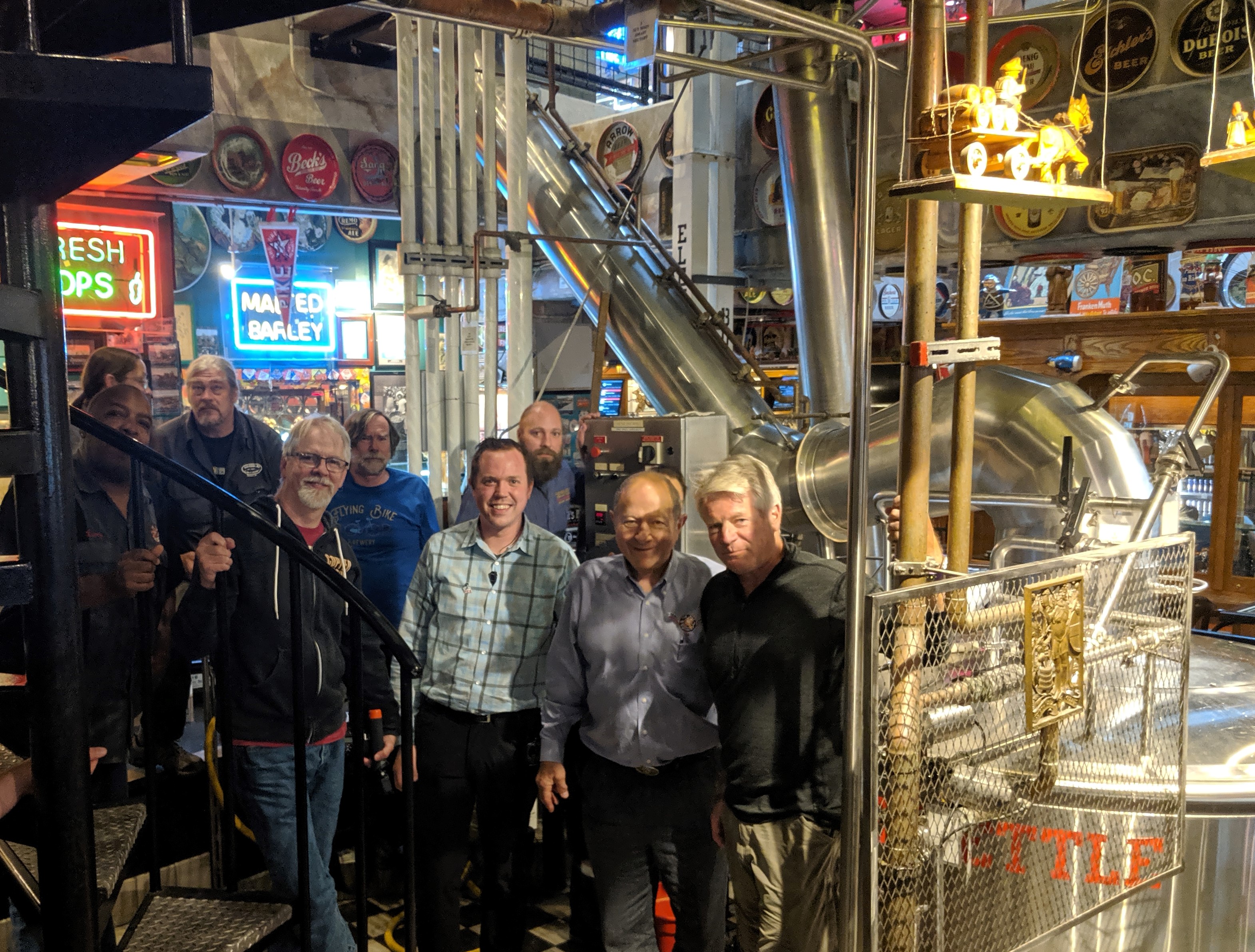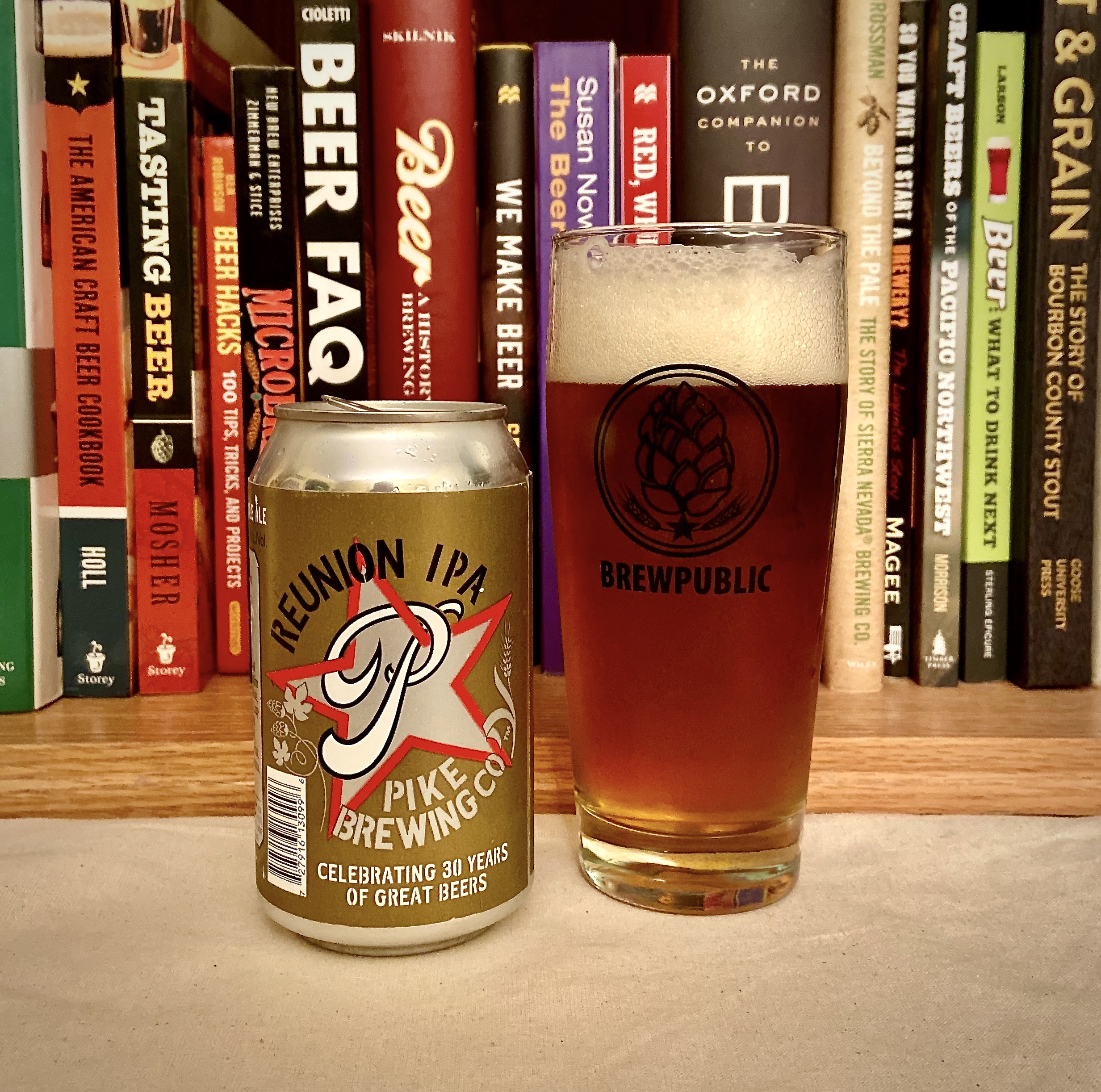 Featuring Pilsner malt from Skagit Valley Malting, Pike Reunion IPA is brewed with Centennial and dry-hopped with El Dorado and Warrior hops. The beer is fermented with Charlie's First Bump yeast, a hybrid strain developed in honor of industry legend and Pike beer friend, Charlie Papazian. At 6.8% ABV, Pike Reunion IPA offers notes of pineapple and grapefruit.
Congratulations to Charles and Rose Ann Finkel and their team at Pike Brewing on 30 years!
Pike Brewing Company
1415 1st Avenue
Seattle, WA 98101