One Year Later: How Buoy Beer Company Stayed Afloat
|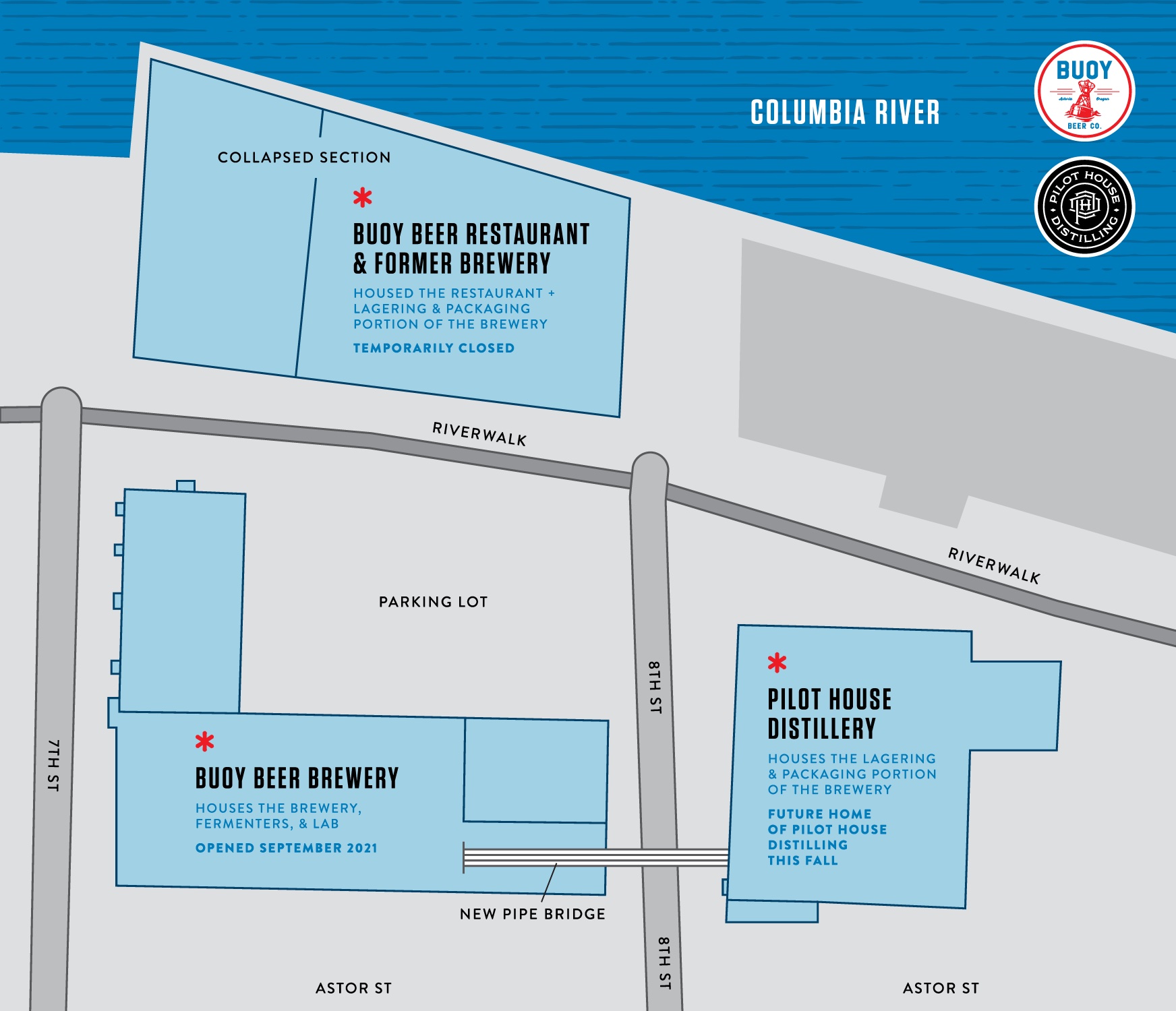 Press Release: After a partial building collapse into the Columbia River, Buoy Beer had to change everything.  Astoria, Oregon is a small coastal town at the confluence of the Columbia River and the Pacific Ocean. It's a town fueled by community. A town where small businesses flourish. A town where locals see someone they know almost everywhere they go. At the river's edge of this town is Buoy Beer Company, a brewery and restaurant on the Columbia River with a sweeping view of passing ships, shimmering waters, and in the distance, the Pacific Ocean.
On June 14, 2022, part of a building on the brewery's campus collapsed into the river after the pilings underneath gave way. Word moved quickly through town of the brewery's damage. "Almost immediately I got a text from my friend Lisa," says Dolores Matthys, Buoy's HR Manager. "It said: 'Thinking of you and all your staff. Hoping all are okay.'" 
Management's first priority was to make sure everyone was accounted for and safe, which was quickly verified. The second priority was to shut down the natural gas and CO2 so emergency services could secure the building. The next few days were a blur, with every department working on how they could keep Buoy running while coping with the functional and symbolic loss of the building. "When the collapse happened, the reaction was so visceral, it made me realize just how important Buoy is to many in our community," says Matt Jones, Head Brewer.
In September 2021, Buoy finished a much-anticipated brewery expansion into the Astor Street building (formerly home to Video Horizons) across the Riverwalk and immediately south of the original building. Since then, all brewing and fermentation processes have taken place in that building.
The partially collapsed building contained the second part of the beer-making process – bright tanks, lager tanks, kegging, packaging materials, and a new high-speed canning line – as well as the restaurant. Those tanks were full of beer and a plan was needed to not only salvage what we could, but to also replace that capacity (which had been cut in half) in time for the big beer months of the summer. "Pretty much the first few days were salvage-and-plan mode," says Matt Jones.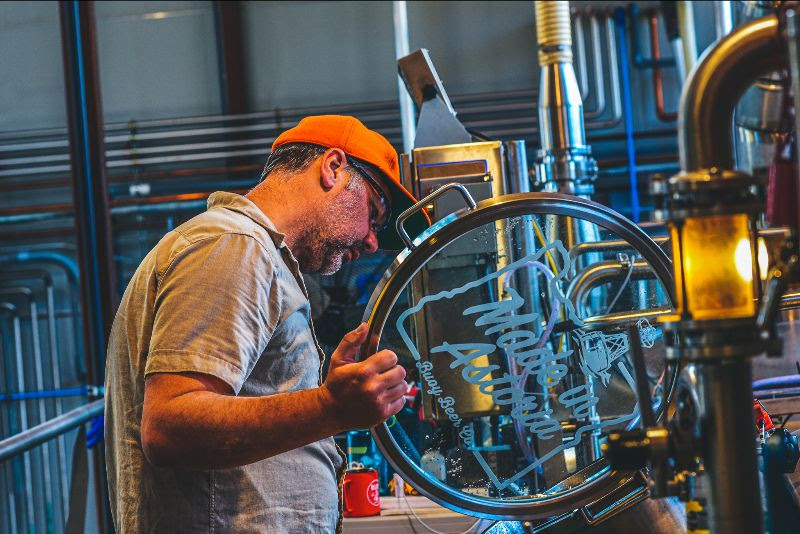 The team banded together and moved quickly. Usable fermenters were set up as bright tanks, a canning line was rented, brewing schedules were altered, and Buoy was back to producing beer in less than one week – in half the space and with half the equipment.
"It's amazing, what we were able to accomplish," says Dave Kroening, Co-founder. "The quick shift was a testament to our incredible staff and their flexibility and dedication." 
The outreach from the brewing community poured in from all over the Pacific Northwest. "We knew we couldn't keep the shelves stocked with our now-limited capacity," says Dave Kroening. "The great people of Ninkasi and Sin Marca quickly worked with us to set up contract brewing, which helped us figure out how we were going to keep our production numbers up."  Brewers had long conversations about malt bills and yeast strains, and made trips to Eugene and Portland to sample batches and hone recipes with the same flavor profiles.
But while the brewery staff was busy pivoting, the restaurant staff was unfortunately displaced. They dedicated their time to cleaning up what they could from the riverbank while the management staff jumped into finding a new space to maintain their livelihoods and continue to serve the community.
By the end of week two, the team had found a temporary home in the Astoria Food Hub at 1152 Marine Dr, just a few blocks away.
Though things were moving forward, it was hard not to experience the lingering feeling of loss and the worry of uncertainty. "We went from serving fish and chips and beer on the water one day to the restaurant being closed and our team's employment future being in jeopardy the next," says Bob Voss, Restaurant Manager.  Getting used to logistics, forecasting, scheduling, packaging, and balancing the needs and capabilities of altered operations was also a struggle.
"It felt like the COVID-19 shut-down all over again," says Dolores Matthys.
In addition, the environmental impact and powerlessness associated with not being able to clear out the building, clean up remaining debris, or start the recovery process was tough. We did what we could to clear the river of scattered packaging materials. The community pitched in to help, and we began offering a free pint of Buoy beer to those who brought in lost beer labels. Yet Buoy's brewing equipment sat amidst the wreckage for nine long months until initial insurance, engineering, permitting and planning processes were able to be completed.
In an effort to keep things positive, Hospitality Director Katie Shaw and Kevin Shaw, Director of Production, hosted a team-wide BBQ at their home.
"This company is so much more than a place, it's family," Katie wrote in her invitation. "While we do not know for certain what the future holds, we do know we will always have each other. So let's drink some beer, eat some food, and have a few laughs together." 
Pressing On
For the last year, we have all pressed on at Buoy, brewing as much beer as possible, organizing cleanups for lingering debris, hosting local events, and settling into our new restaurant location.
But with such a large portion of the building still out of commission, pivoting has become a daily task. The brewery was forced to quickly master a new set of skills. To keep beer at full capacity in Astoria, they needed to execute same-day tank turnarounds for cleaning. This meant regularly sending beer back into a tank the same day it was emptied in order to keep the few available tanks full.
Packaging also became less efficient on the smaller, rented canning line that was shoehorned into an open area on the brewing floor. The packaging crew went from a smooth, efficient operation to long, challenging days. Stressors of constant maintenance, minimal space, and the inability to package enough beer to meet demand compounded often. The bright side, however, is that with fewer tanks there was less simultaneous brewing. This allowed our dedicated brewing and packaging staff to help wherever needed to keep products moving.
"I think for many of us the biggest day-to-day struggle since the collapse (aside from capacity) has just been space," says Michael Duron, Lead Brewer. "…space to walk through the brewery, move pallets through the brewery, store things safely and properly, etc. The struggle of fitting two buildings' worth of work into one is constant and real."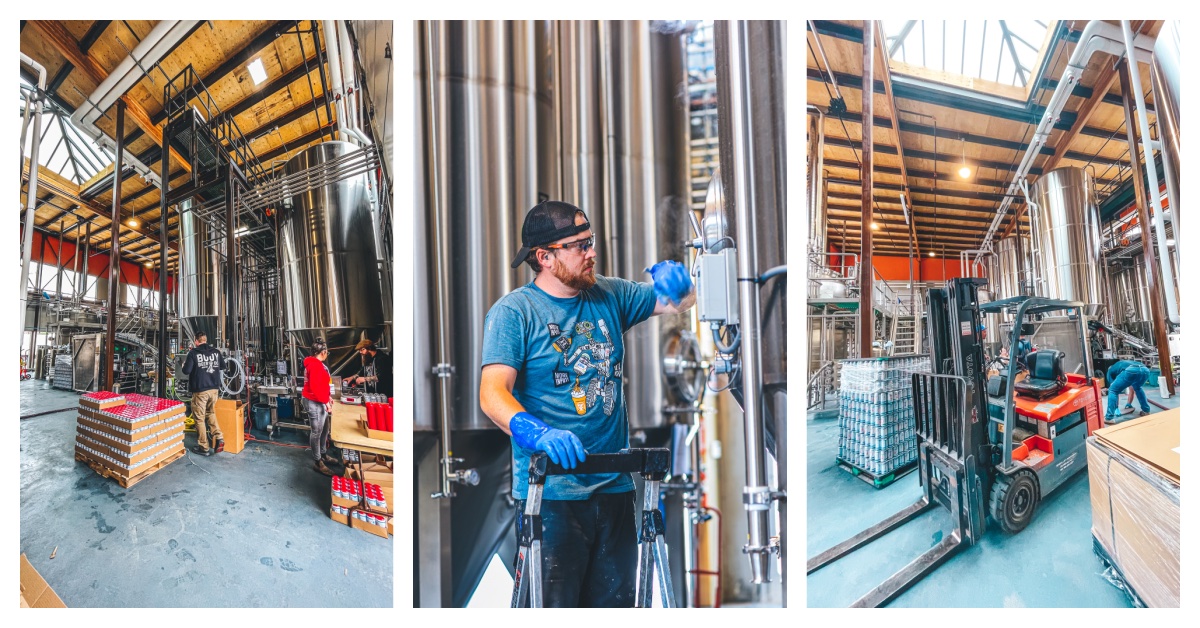 "We just got done with the expansion and we had so much more space [with the new building]," says Kevin Shaw. "Finally, we were able to spread out a bit. But after the collapse everyone had to cram back into the same space. Folks are ready for more space again." 
However, things are starting to look up as the team finishes the logistics of expanding brewing operations into a third building that will be shared by Buoy's sister company, Pilot House Distilling. This building has been part of the distillery expansion plan for the past couple of years but has been delayed by the pandemic and permitting. But Pilot House continues to grow, and has recently expanded their offerings into Idaho. They have also turned their Portland tasting room into a full-service bar and secured a presence at Portland International Airport for 2025. The company plans to move their distilling operations into the building this fall as production of their canned cocktail line and Painted Lady gin ramps up.
Buoy's high-speed canning line just began operation again and favorites like the Czech-style Pilsner, IPA, Helles, and Dunkel Lager (previously contract-brewed by Ninkasi and Sin Marca) will be brewed in house again. Czech-style Pilsner will be packaged at Buoy this week for the first time (and almost exactly one year to date) since the collapse.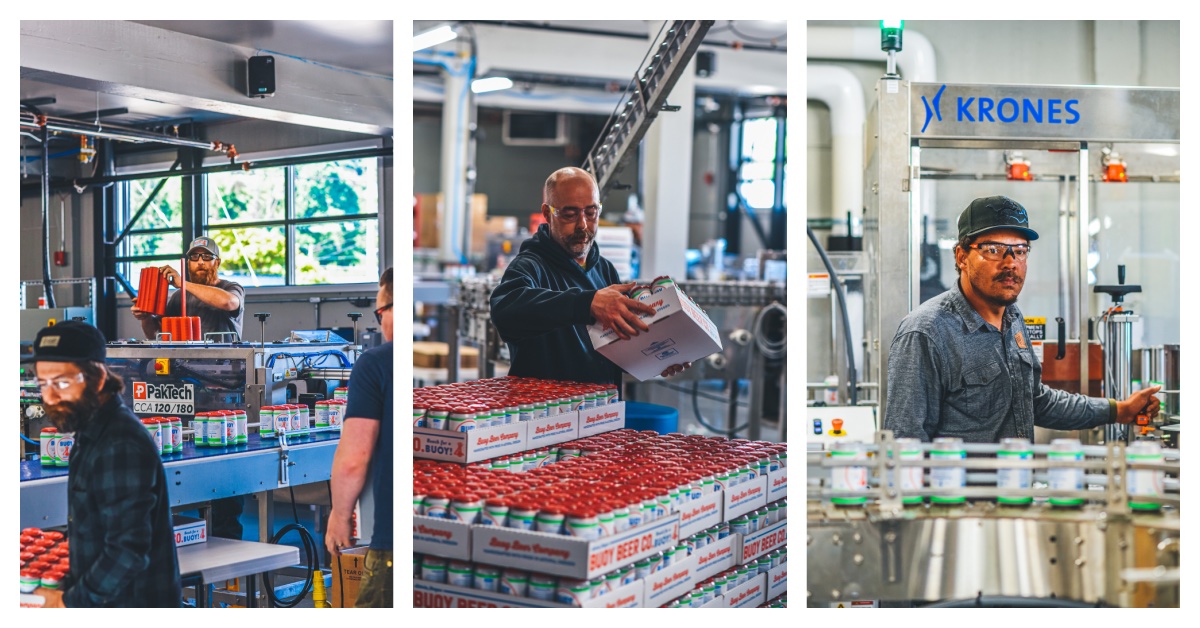 Looking to the Future
The future of the collapsed building is still unknown, but our first step is to work with the Army Core of Engineers, who permit all Columbia River work, to clean up the damage. Not only is the building missed dearly by our staff members, but it's also missed by the community and Astoria's many visitors.
"The customers that come in and expect an amazing view, beer, and the glass floor we were known for become disappointed, and we have to share in their disappointment and be reminded of it constantly," says Bob Voss. "Seeing the building in disrepair is also a hard one, as it is for everyone, I'm sure."   
"I've spent a lot of time in that building and saw it transform from a complete dump to something that was treasured by many and made people happy," says Kevin Shaw. "Hopefully it can return in some capacity.  It is one of the coolest and most unique brewery locations there is." 
It has been an incredibly hard year for our entire Buoy team – the extent of which goes unrecognized by many. "This event was something that usually destroys a business, but most consumers didn't notice anything because our staff worked so hard to keep beer on the shelves," says Jessyka Dart-Mclean, Marketing Manager. Yet hardships often bring people together and create new appreciations for the future. After the incident, staff from all departments worked with each other to pivot, revise, adapt, and persevere in order to keep Buoy afloat. The result has been a strengthened company culture, a shared appreciation of our ability to adapt to change, and an affirmation of Buoy's connection with our local and regional brewing community.
"Our team is stronger than ever," says Katie Shaw. "The collapse affected us all and that has brought us all closer together. After dealing with that, there isn't anything we can't do."  
For now, the Astoria Food Hub (1152 Marine Dr.) will continue to be the home of Buoy Beer's restaurant and the team is currently hiring for the summer season. The location now features an expansive menu, complete with our famous fish & chips and other favorites, fresh Buoy beers, a full bar, and donuts made by Jambot Donuts. The brewery will continue to brew flagship recipes and popular varieties as well as expand rotating lines to increase Buoy beer offerings in 2024. Our planned events will also continue, with Buoy's second annual Oktoberfest this September 22 & 23 and the annual Lager Fest in Spring 2024, when the company will celebrate its 10th birthday!
We are grateful the community and the many visitors who have joined us at the Hub over the past year and to the team members who made it possible to continue to do what we love. We look forward to making even more memories with great people, great food, and great beer – no matter where we are.