Ecliptic Brewing Partners with Stoup Brewing on Cosmic Collaboration Pineapple Gose
|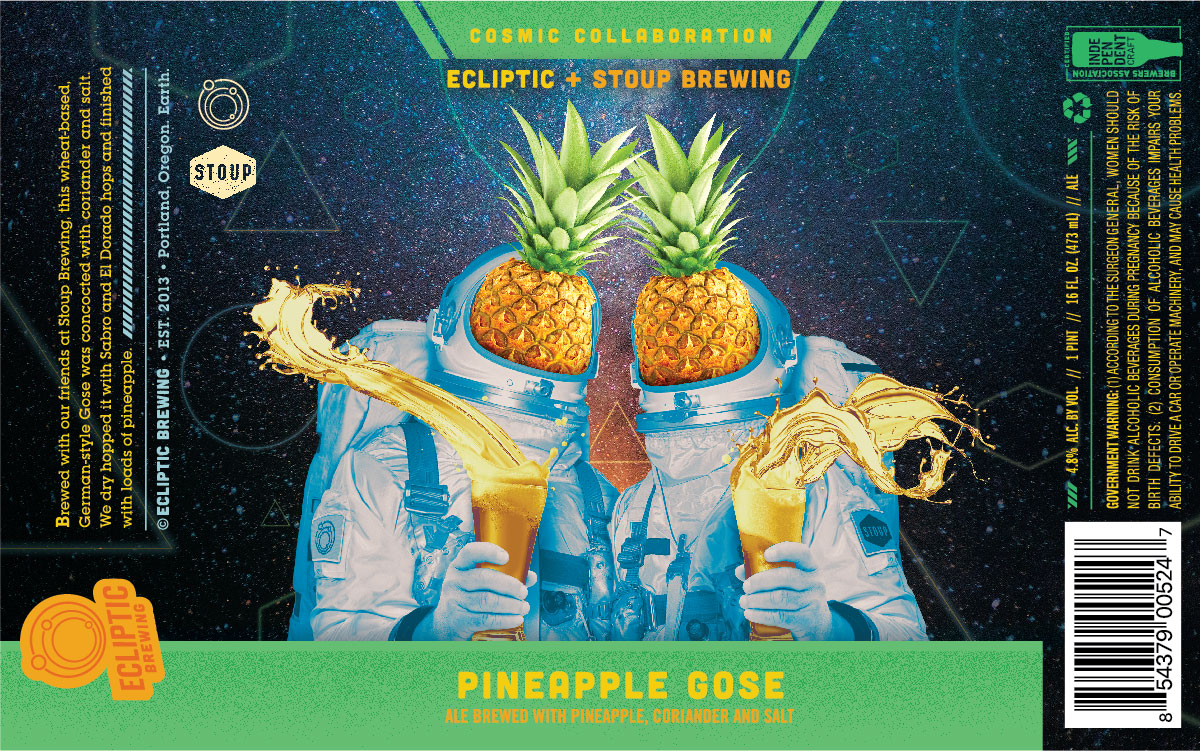 Portland, Oregon. Earth. (August 11, 2021)- Ecliptic Brewing has teamed up with Seattle area Stoup Brewing to release a Pineapple Gose. Shipping August 18th in 16-ounce cans and draft, this will mark another Pacific Northwest Cosmic Collaboration for the company in 2021.
Ecliptic + Stoup Pineapple Gose is brewed with Pale and Wheat Malt. The beer is dry hopped with Sabro and El Dorado, and contains both coriander and salt, as is traditional with goses. A heavy dose of pineapple brings loads of fruity flavor to this late summer refresher, clocking in at 4.8% ABV.
"As part of our 2021 plan to work with Washington breweries, we asked Stoup to collaborate with us, and we're stoked they did", says Ecliptic's Owner and Brewmaster, John Harris. "Lara, Brad and Robyn opened up Stoup in 2013- the same year Ecliptic opened. They have just been crushing it up in Seattle making great beer!"
Ecliptic + Stoup Pineapple Gose will be released in 16-ounce cans and draft throughout Ecliptic Brewing's distribution network on August 18th. A release event is planned for August 30th at Stoup. Visit Ecliptic's website for up-to-date details on this event.
Ecliptic + Stoup Pineapple Gose
Brewed with our friends at Stoup Brewing, this wheat-based, German-style Gose was concocted with coriander and salt. We dry hopped it with Sabro and El Dorado hops and finished with loads of pineapple.
ABV: 4.8%