Earn A Free Hydro Flask True Pint As A Designated Driver on the Bend Ale Trail
|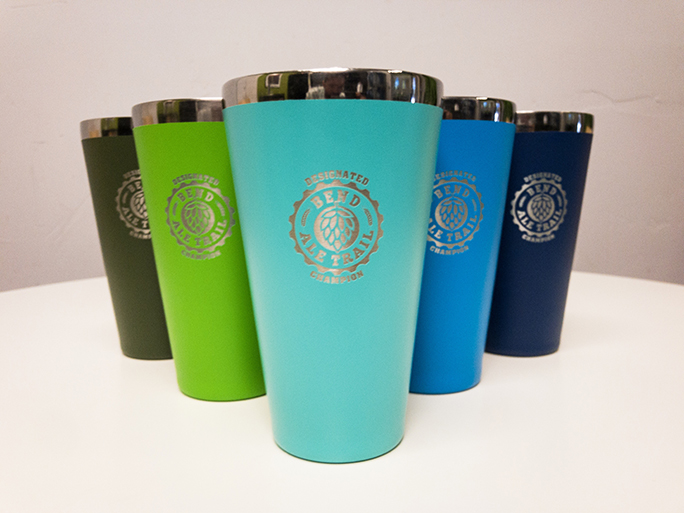 (BEND, Ore.)—Participants on the Bend Ale Trail have long been urged to walk, arrange a guided tour, take a cab, or appoint a designated driver before tackling Bend's legendary craft beer scene. But starting this week, they have an extra incentive to don the DD superhero cape.
Visit Bend, the non-profit tourism marketing agency behind the Bend Ale Trail, along with Bend-based Hydro Flask, purveyor of steel-walled beverage vessels, have partnered with Bend breweries to create a unique new designated driver program.
"Bend is famous for producing some of the country's best craft beer, but we're also known as a community that takes care of the people and places we care about," explained Visit Bend CEO Kevney Dugan. "The DD program is our way of combining those things in a way that keeps everyone safe and having fun."
Beer fans embarking on the Bend Ale Trail will pick one designated driver who agrees not to consume ANY alcohol for the entire day, and who carries a standard Bend Ale Trail atlas. The DD is responsible for driving his/her group safely to and from all breweries that day, and must declare him or herself as the DD at each brewery. Not only will breweries add a special stamp to the DD's passport, but each brewery on the Bend Ale Trail has agreed to provide the DD with one complimentary non-alcoholic beverage. Once 10 DD passport stamps have been collected, the DD can bring it to the Bend Visitor Center to earn a free 16-ounce Hydro Flask True Pint.
The prize is a premium one, and that's intentional. "We want to recognize and reward the commitment being made by responsible designated drivers," explained Lucas Alberg, PR and Communications Manager for Hydro Flask. "It's fun to have a day out sampling some of Bend's best craft brews, but in the end, the most important thing is everyone's safety. We're proud to support this initiative by Visit Bend and strongly believe in the goals of the program."
Bend Ale Trail participants who choose to imbibe can still fill up a standard passport and receive a Silipint pint glass for gathering 10 passport stamps, plus a bottle opener for visiting all 18 stops. While no purchase is necessary to take part in the Bend Ale Trail, the new DD program makes a distinction between participants opting not to drink versus those committing to transport others safely from brewery to brewery.
"It's a choice we want to reward and honor," Dugan added. "This ties to our Visit Like a Local program and our desire to encourage Bend visitors to honor our community culture and make conscious decisions to leave Bend a little better than they found it."
About Visit Bend:
Visit Bend is a non-membership, non-profit economic development organization dedicated to promoting tourism on behalf of the City of Bend.  We're a leading provider of information on Bend, Oregon hotels, restaurants, activities, and Oregon vacation planning. To learn more or to order a complimentary Official Visitor Guide to Bend, contact Visit Bend at 1-800-949-6086 or visit www.visitbend.com.
About Hydro Flask
Hydro Flask, a Helen of Troy Limited (NASDAQ, NM: HELE) company, is the award-winning leader in high-performance insulated products ranging from beverage and food flasks to the new Unbound Series™ soft coolers. Inspiring an active and joyful life on the go, Hydro Flask innovations showcase TempShield™ double-wall vacuum insulation to lock in temperature, 18/8 stainless steel ensuring pure taste and durable, ergonomic design for the ultimate trusted sidekick. Founded in 2009 in Bend, Oregon, Hydro Flask is committed to making tomorrow better – from using BPA-free, recyclable materials to its charitable giving program Parks For All, which supports the development, maintenance and accessibility of public green spaces so people everywhere can live healthier, happier and more fulfilled lives. Learn more about Hydro Flask, Parks for All, and our mission to save the world from lukewarm at www.hydroflask.com.