3rd Annual Orval Day Returns March 24, 2018
|
One of the world's finest ales will once again have an entire day dedicated to it when Orval Day 2018 returns for the third consecutive year on March 24th. Orval Day is a celebration of Orval Trappist Ale.
Orval was the first brettanomyces beer to land on the United States shores. Brettanomyces is a yeast variety that adds appetizing, sharp acidity and dryness to the beer. Imported by Seattle, Washington based Merchant du Vin, the importer continues to expand Orval Day each year since its inception in 2016.
Brewed by one of the only 11 Trappist breweries in the world, Orval sells one and only one beer that is brewed within the walls of Notre Dame d'Orval Monastery in Belgium. Orval is delicious when it leaves the brewery, but also evolves in the bottle for five years or more.
For every bottle of Orval sold during the month of March in the USA, Merchant du Vin will donate fifty cents to its charity partner, MAP International, to help them in their mission of bringing medicine and supplies to people in need. Every dollar donated in cash provides $80 worth of medicine: our goal is a $1,000,000 benefit!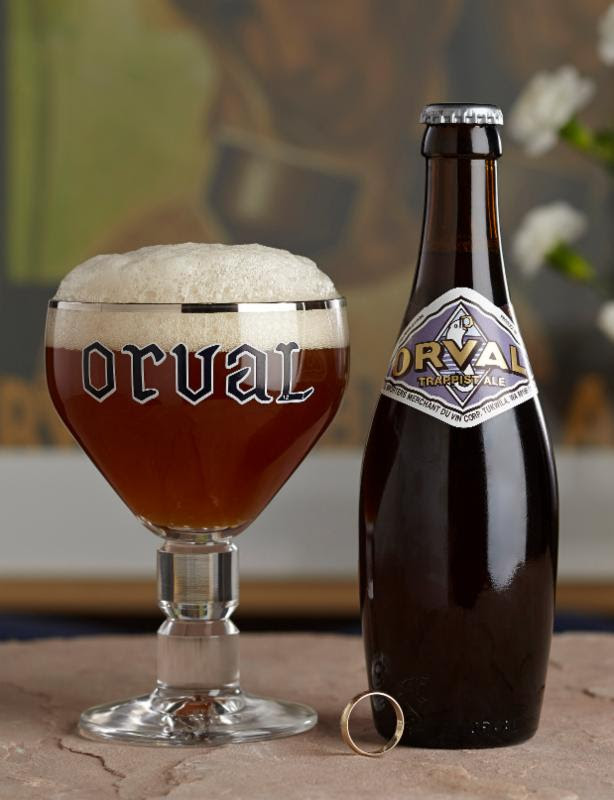 In 2018, Merchant du Vin has 400 bars participating in Orval Day. Here's a list of all of the 2018 Orval Day participating beer bars.
ALASKA:
Anchorage, AK
Anchorage Brewing, at 148 W. 91st Ave.
La Bodega – "Mini Bo", at 1200 W. Northern Lights Blvd.
La Bodega – Flagship Store, in the Metro Mall at 530 E. Benson Blvd.
Girdwood, AK
La Bodega – Girdwood, at 194 Olympic Mountain Loop
IDAHO:
Nampa, ID; Saturday, March 24, 2018: Prefunk Beer Bar, 1214 1st St. S.
OREGON:
Corvallis OR
Caves Bier & Kitchen, at 308 SW 3rd St.
Cottage Grove, OR
The Brew Station, at 106 S 6th St.
Eugene, OR
16 Tons, at 256 E 13th Ave.
The Bier Stein, at 1591 Willamette St.
Hillsboro, OR
ABV Public House, at 23588 NW Clara Ln.
McNally's Tap Room, at 370 E Main St.
Oregon City, OR
Arch Bridge Taphouse, at 205 7th St.
Portland, OR
23rd Avenue Bottleshop, at 2290 NW Thurman St.
Bazi Brasserie, at 1522 SE 32nd Ave.
The Beer Mongers, at 1125 SE Division
Belmont Station, at 4500 Stark St.
Cheese Bar, at 6031 SE Belmont St.
Concordia Alehouse, 3276 NE Killingsworth
Corkscrew Wine Bar, at 1665 SE Bybee Blvd.
Higgin's, at 1239 SW Broadway
John's Marketplace, at 3535 SW Multnomah Blvd
Moon and Sixpence, at 2014 NE 42nd Ave.
North 45, at 517 NW 21st
Pix Patisserie, at 2225 E. Burnside St.
Raven and Rose, at 1331 SW Broadway
Saraveza, 1004 N. Killingsworth
The Abbey Bar, at 1650 NW 23rd Ave.
Toffee Club, at 1006 SE Hawthorne Blvd.
Willow Restaurant, 2005 SE 11th
WASHINGTON
Auburn, WA
CRFT Beers, at 110 Auburn Way
Bellingham, WA
Aslan Depot, 1322 N. State Street
Bothell, WA
The Bine Beer & Food, at 10127 Main Street Suite A
Camas, WA
Caps n' Taps, at 337 NW 4th Ave
Camano Island, WA
Naked City – Camano Island , at 848 N. Sunrise Blvd. E101-102
Edmonds, WA
Brigid's Bottleshop, 190 Sunset Ave. S – Suite C
Lynnwood, WA
Zeek's Pizza – Lynnwood, at 4309 196th St. SW
Mount Vernon, WA
Trumpeter Public House, 416 Myrtle Street
Oak Harbor, WA
Whidbey Beer Works, at 710 SE Fidalgo Ave. – Suite 103
Seattle, WA
Beer Junction, at 4511 California Ave. SW
Beveridge Place Pub, at 6413 California Ave. SW
Bottleworks, at 1710 N. 45th St. #3
Brouwer's Cafe, at 400 N. 35th St.
Burgundian, at 2253 N. 56th St.
Coindexter's, at 8556 Greenwood Ave. N.
Double J Saloon, at 12534 Lake City Way
Full Throttle Bottles, at 5909 Airport Way S.
The Masonry – Fremont, at 730 N. 34th
Naked City Brewery and Taphouse – Greenwood, at 8564 Greenwood Ave N.
No Anchor, at 2505 2nd Avenue
Rhein Haus Seattle, at 912 12th Ave.
The Shambles, at 7777 15th Ave NE
The Stumbling Monk, at 1635 E. Olive Way
Teku Tavern, at 552 Denny Way
Toronado Seattle, at 1205 NE 65th St.
Zeek's Pizza – Belltown, at 419 Denny Way
Zeek's Pizza – Phinney Ridge, at 6000 Phinney Ave. N.
Zeek's Pizza – Queen Anne, at 1915 Queen Anne Ave. N.
Zeek's Pizza – Ravenna, at 2108 NE 65th St
Zeek's Pizza – West Seattle, at 6459 California Ave. SW
Spokane, WA
The Blackbird, at 905 N. Washington St.
Nectar Wine & Beer Kendall Yards, at 1331 W. Summit Parkway
Tacoma, WA
Engine House Number 9 – "E9", at 611 N. Pine St.
Peaks & Pints, at 3816 N. 26th St.
Rhein Haus Tacoma, at 649 Division Ave.
Vancouver, WA
Ben's Bottle Shop, at 8052 E Mill Plain Blvd.
The Thirsty Sasquatch, at 2110 Main St.
Orval Day 2019 will take place on Saturday, March 23, 2019.