Beyond The Darkness – Southwest Washington Celebrates Dark Beers
|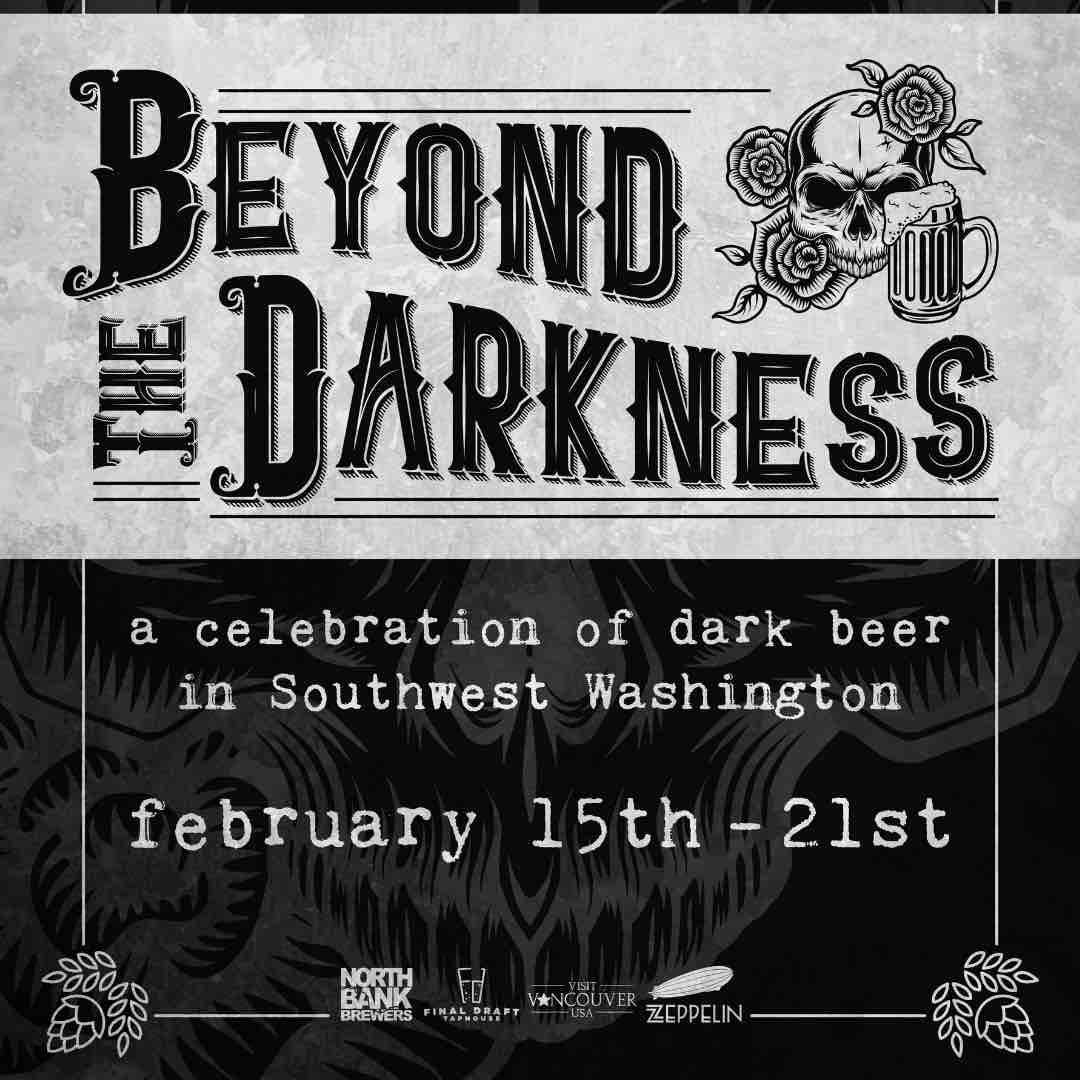 To assist with the doldrums of winter, breweries and taprooms of Southwest Washington will host Beyond The Darkness, a week of dark beers. Presented by Northbank Brewers Alliance, Final Draft Taphouse, Visit Vancouver USA and ZZeppelin, Beyond the Darkness will take place from February 15 – 21, 2021 for a celebration of dark beers.
Participating in Beyond the Darkness is pretty easy. Just pick up a passport at any participating SW Washington brewery or taproom (full list is below). Then visit your favorite breweries and pubs for their dark beers and get a stamp or sign-off on your card! You'll earn entries for some amazing prizes with exponential multipliers for the more venues you visit! Keep reading for all the prizes and info on how to enter!
Visit 4 = 4 entries
Visit 8 = 16 entries
Visit 12 = 48 entries
Here's the lineup of participating breweries and taprooms!
Participating Breweries:
54-40 Brewing
Backwoods Brewing Company
Barlow's Brewery
Barrel Mountain Brewing
Brother Ass Brewing
Brothers Cascadia Brewing
Dick's Brewing
Everybody's Brewing
Fortside Brewing
Grains of Wrath Brewing
Heathen Brewing
Logsdon Farmhouse Ales
Loowit Brewing
North Jetty Brewing
Northwood Brewery
Old Ivy Brewing
Railside Brewing
Ridgefield Craft Brewing
The Heavy Metal Brewing Co.
Trap Door Brewing
Trusty Brewing Co.
Victor-23 Craft Brewery
Walking Man Brewing
Wild Man Brewing
Participating Taphouses:
3Peaks Public House
Ben's Bottle Shop
Caps N' Taps
Double Barrel Taproom
Final Draft Taphouse
Gossip In The Grain
Grapes & Hops
Hockinson Market
NW Liquid Gold
Tapped Roots
Taps Beer Reserve
Taps Growler House
Willie Dick's First Street Taphouse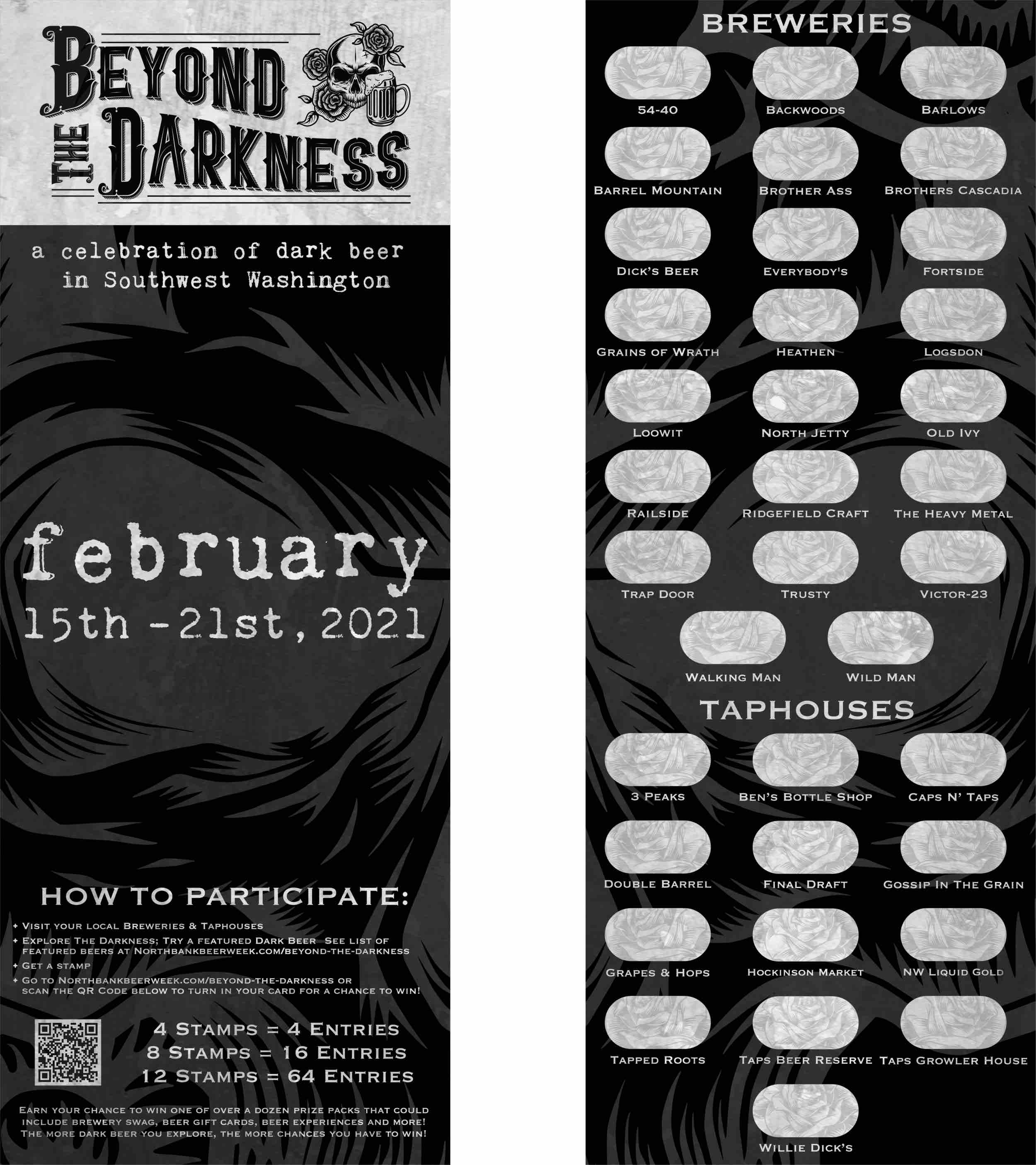 Final Draft Taphouse, one of the event's sponsors, will be serving up the following dark beers – Barrel Mountain Winch It Out Bourbon Barrel Aged Stout (2020), Everybody's Uncle Step Dad Bourbon Barrel Aged Stout (2019), Loowit's Drowned God Baltic Porter and Fremont's Bourbon Barrel-Aged Dark Star (2020).
For those that complete their Beyond the Darkness card, there will be a dozen or more prize packs that include brew experiences, overnight getaways, beer swag, gift cards to your favorite breweries and taprooms and more! The week's recap event will be a livestream featuring brewers and taproom owners talking about their favorite dark beers and drawing names for prizes!
Prizes will be drawn at 6:00pm on February 22 via Facebook and Instagram Live at @northbankbrewers.