McMenamins Celebrates 40 Years with 1983 Lager
|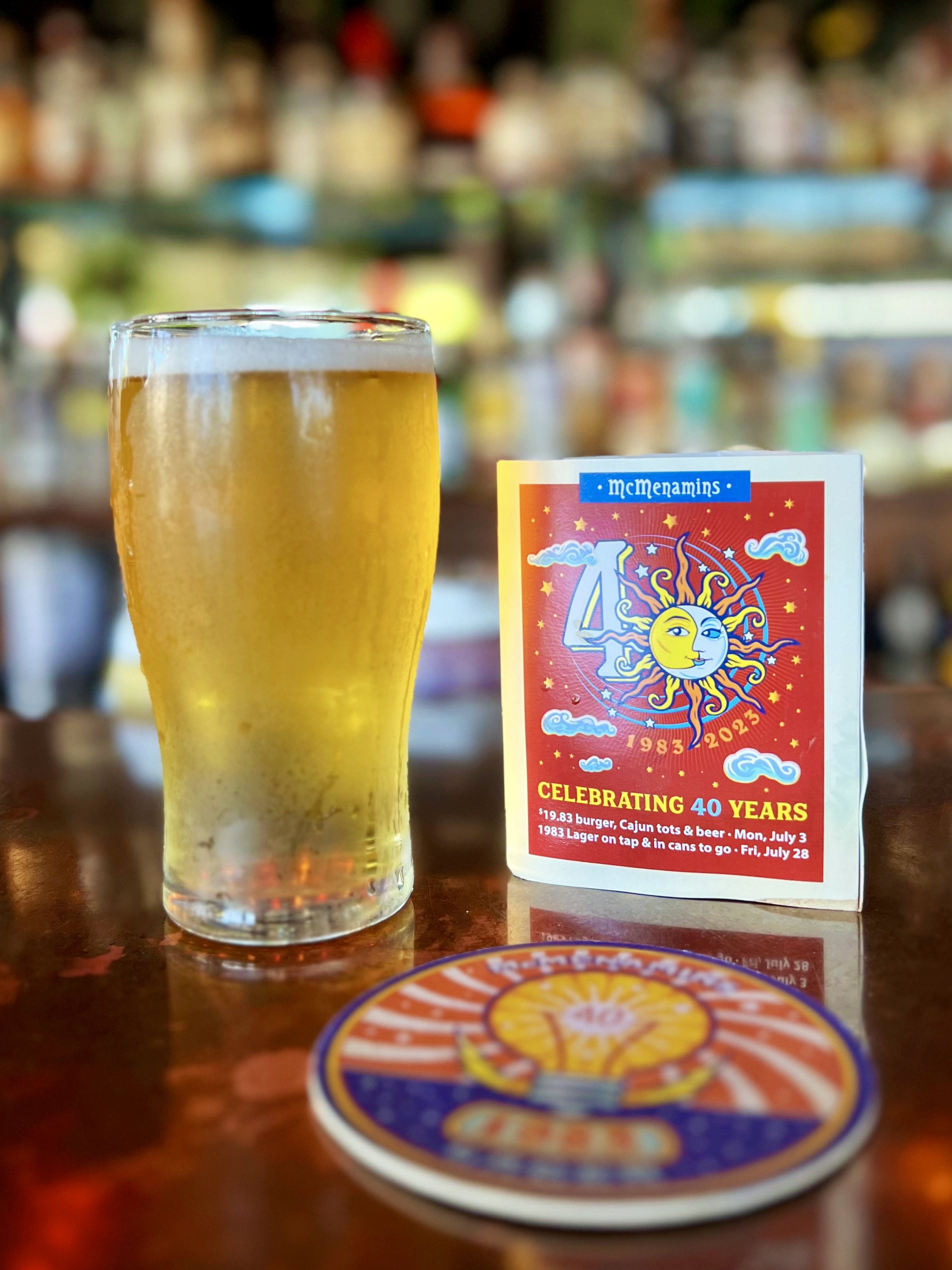 McMenamins, one of Oregon's original craft brewers, celebrates its 40tth anniversary this year. On Monday, August 14th, all McMenamins locations will be turning back the clock on its draft beer pricing as all pints will be 40% off!
To get ready for this special day, McMenamins has recently released a few new beers across its properties in Oregon and Washington! Take advantage of this special draft pricing on 1983 Lager, Imperial Purple Haze, Tropic Heat Guava Habanero Coconut Sour, and Egyptian Cotton Hazy IPA. Or, go for a standby like Hammerhead, Ruby or our favorite, Terminal Stout. No matter which beer you decide on, it'll be a bit more affordable on Monday!
Here's a rundown on the recent beer releases from McMenamins!
1983 Lager
1983, the year it all began for McMenamins. Our first pub, the Barley Mill, opened, with Greenway Pub close on its heels. Grateful Dead poured from the speakers as beer poured from the taps, and it wasn't long before we began brewing our own. Thousands of beers later, we landed at this: 1983, a lager to toast where we've been and where we're headed next. Cheers!
ABV: 5.03
Malts: 2-Row Flaked Corn
Hops: Tettnanger Cascade
Imperial Purple Haze
The original Purple Haze Ale was inspired by a Jimi Hendrix song — alongside our delicious Oregon boysenberries — and has been a favorite since its inception in the early 90s. Three decades on we figured it was time to give fans the royal treatment! Triple the boysenberries and double the malt produces a brilliantly purple and mouth-watering fruit-forward brew.
Special Ingredients: Lactose
Fruit: Oregon Boysenberry
ABV: 7.87
Tropic Heat Guava Habanero Coconut Sour
Tropic Heat is a kettle soured ale brewed with pink guava puree, coconut and habanero peppers. The heat contribution from the peppers is very minimal and creates a pleasant background quality that lingers. This slight spiciness accentuates the fruity, full guava taste that is this beer's foundation. Coconut was also added to pleasantly blend all of the fine flavors together.
Special Ingredients: Habanero, Coconut
Fruit: Pink Guava
ABV: 5.16
Egyption Cotton Hazy IPA
Egyptian Cotton was named after the soft, cozy companion that a blanket can provide. This beer is just that soft, like a basket full of clouds. Aromas of citrus and candied fruit float over a light hazy body comprised of silky rolled oats, full of hop-forward flavor but lacking an overly assertive bitterness. Enjoy the smooth mouthfeel of this New England-Style IPA!
Special Ingredients: Softness
ABV: 6.58