Gigantic & Baerlic Release Let the Sun Beat Down Upon My Face IPA
|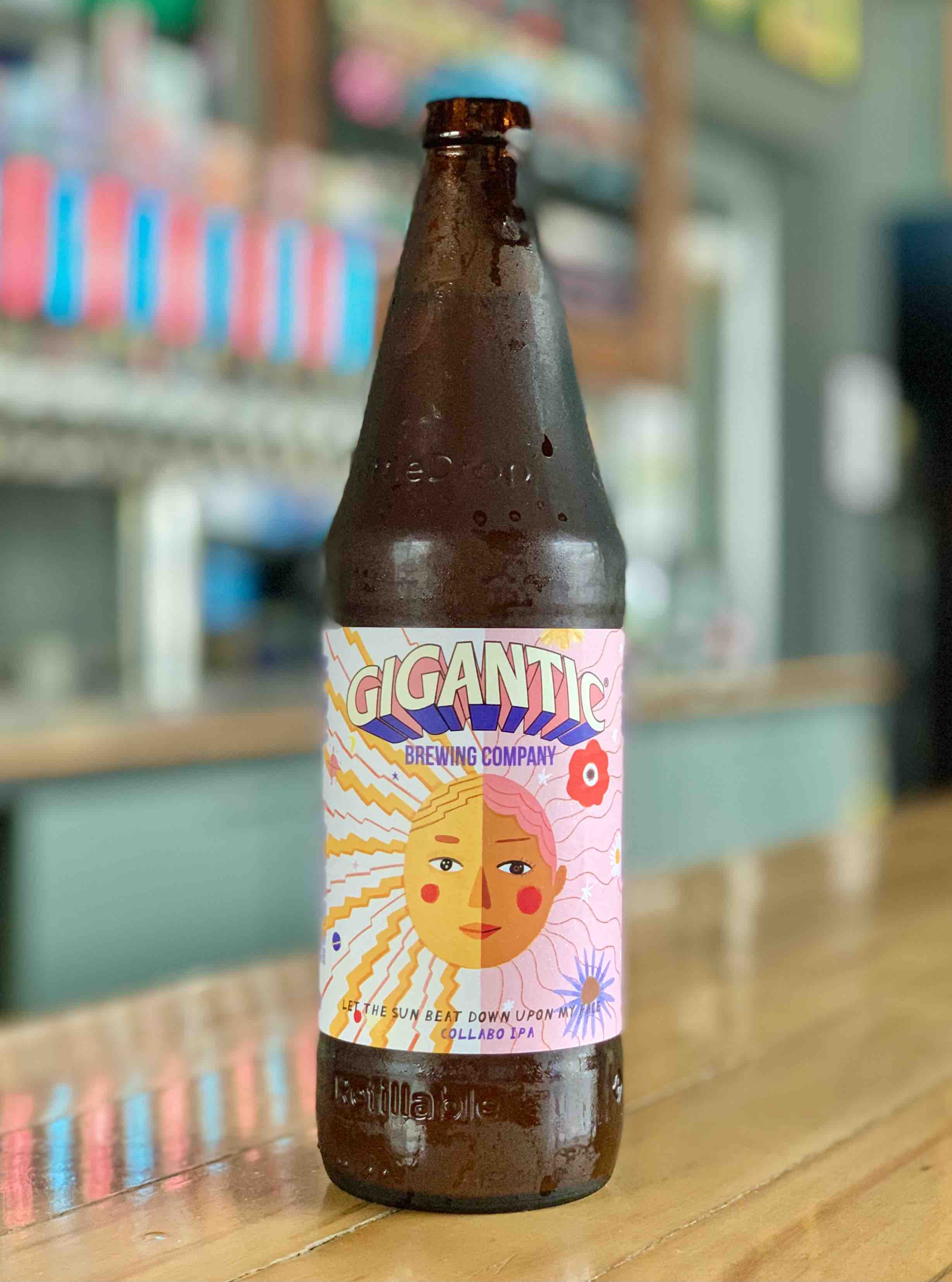 July 20th, 2021:  Gigantic Brewing, in conjunction with Baerlic Brewing, presents the release of Let the Sun Beat Down Upon My Face, a cosmic journey into IPA.  Inspired by Cashmere hops and Emily's Uncle Bob, this beer won't let you down like a lead balloon.  The four of us, Ben, Van, Rick and Other Ben, just started jamming together (much like Bob, Jimmy, JPJ, and Bonzo) and came up with the recipe.  This resulted in a bombastic beer with flavors of lemon, sweet orange, and lime.
"Sometimes four people just come together and form a super group that changes history," explains Van of Gigantic, "This beer is so good it makes me feel like I'm in my older brother's room, sitting on the floor with my back to the bed, rocking out to Presence, listening to songs about ancient battles, and doing my math homework."
Let the Sun Beat Down Upon My Face is a power foursome of ingredients, PNW malted barley, Cashmere, Citra, and Chinook hops all mixed together with Gigantic's own house yeast strain and pure Bull Run water. The result is a melody of fruity flavors such as peach, tangerine, watermelon and grapefruit.  When brewed by a talented quartet of brewers who didn't even need to retreat to a tiny Welsh farm to be inspired to hubristic heights, this simple recipe turned into a work of stereophonic beauty.  Destined to be an all time classic, you can enjoy Let the Sun Beat Down Upon My Face anywhere people know how to rock.
We had the pleasure of working with the talented Carolyn Suzuki as the artist on the label.  The narrative of her work, style and focus comes from a desire to support the independent spirit that comes through creative expression.  Carolyn feels privileged to be able to design products that represent the beautiful and rich humanity that surrounds us.  She's particularly proud of her collaborations with non-profits and brands like:  When We All Vote, Times Squares Arts, She Should Run, The National Resources Defense Council, Asian American Girls Club, and Planned Parenthood.
Join us for First Taste Tuesday featuring Let the Sun Beat Down Upon My Face on July 20th at both The Brewery and Champagne Lounge (5224 SE 26th Ave) and Robot Room at the Rocket Empire Machine (6935 NE Glisan).  You can also look for it on draft and in 16.9oz refillable bottles in the Portland metro area, and along the west coast in CA and WA!
As always, Gigantic beer is packaged in BottleDrop Refillable bottles. BottleDrop Refillables are sorted, washed, inspected, and delivered back to Oregon's craft beverage producers to be refilled.  By choosing beverages in refillable bottles, you help keep our air clean, our beaches, parks and roadsides litter-free, promote a circular economy, and set a model for future generations.