Gigantic Brewing & Weird Portland United Partner on Mike Bennett's Day Off IPA
|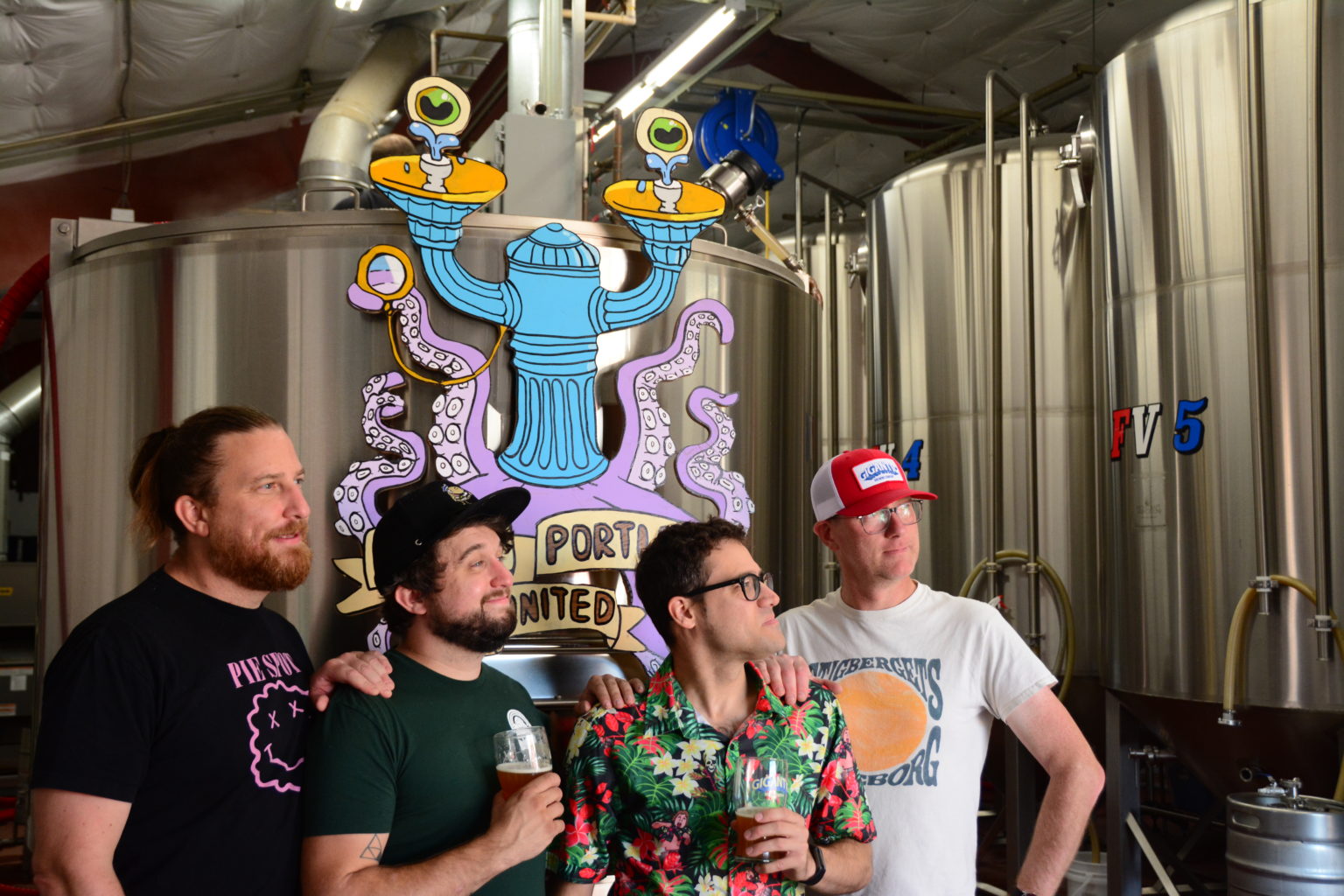 Portland, Ore., Sept 21st, 2022 – Gigantic Brewing Company's ongoing collaboration with 501(c)(3) nonprofit, Weird Portland United (WPU) returns for a 3rd round with a beer celebrating the work of one of the city's most prolific and high profile artists, Mike Bennett. From the now iconic 'Slow Down' critter signs, to the recent Dinolandia experience in downtown Portland, or any number of alphabet-themed front porch installations at his own house, Mike's art has woven itself into the fabric of daily life in Portland. Known for working incredibly long periods without break, Mike's newest project, an immersive fantasy adventure coffee house called Wonderwood Springs, is set to open mid-October. 'Mike Bennett's Day Off' honors Mike's industrious spirit, celebrates his accomplishments, and reminds us all to 'SLOW DOWN' every once in a while.
Mike's creations start as a piece of simple plywood, so our goal was to create a beer that evokes the lovely smell of cutting plywood, essentially the smell of warm sawdust and more specifically "toasty pine". To that end we've created an IPA that has an intense piney hop aroma, with citrus and subtle dank notes. Through the deft use of Chinook, Simcoe, Mosaic and Columbus hops, and the key addition of a ceremonial amount of sawdust by Mike Bennett, our new beer creation has come to life.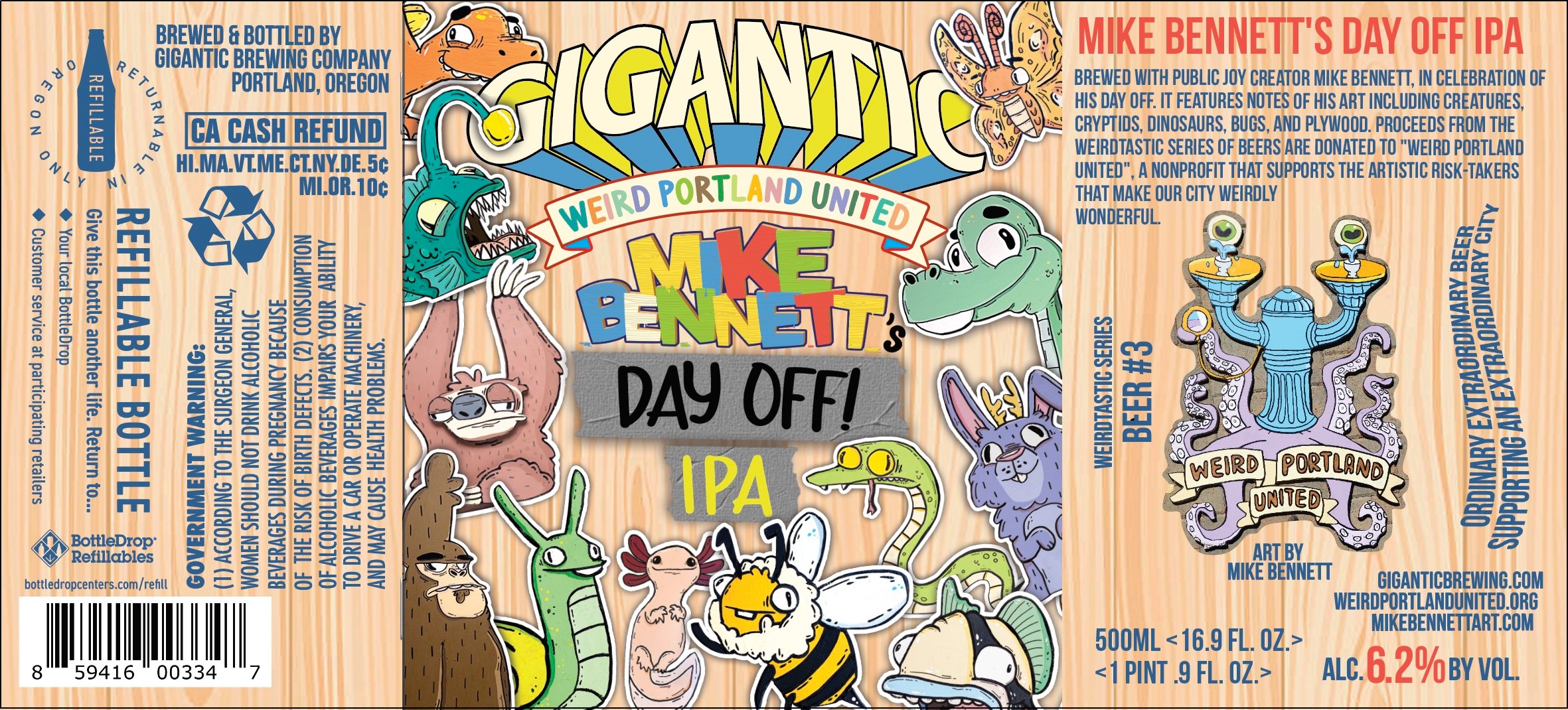 Craft beer enthusiast and president of WPU, The Unipiper, says of Mike's inclusion in the 'Weirdtastic' series, "No one in Portland is more deserving of their own beer at this moment than Mike Bennett. I can scarcely think of anyone else who kept the good vibes flowing throughout the pandemic more than him." According to Gigantic Brewmaster Ben Love, "Mike's work perfectly embodies the whimsical spirit of Portland that WPU seeks to promote. His cartoonish, over-the-top art speaks to all ages and feels as much at home on the side of a beer bottle as it does in a coloring book." "Designing a label for my very own beer has been a dream come true. And working with Gigantic to help support the mission of WPU seemed like such a natural fit. I am flattered to extend my creation of joy through the production of a delicious frothy beverage for the 21 and up crowd" Mike says.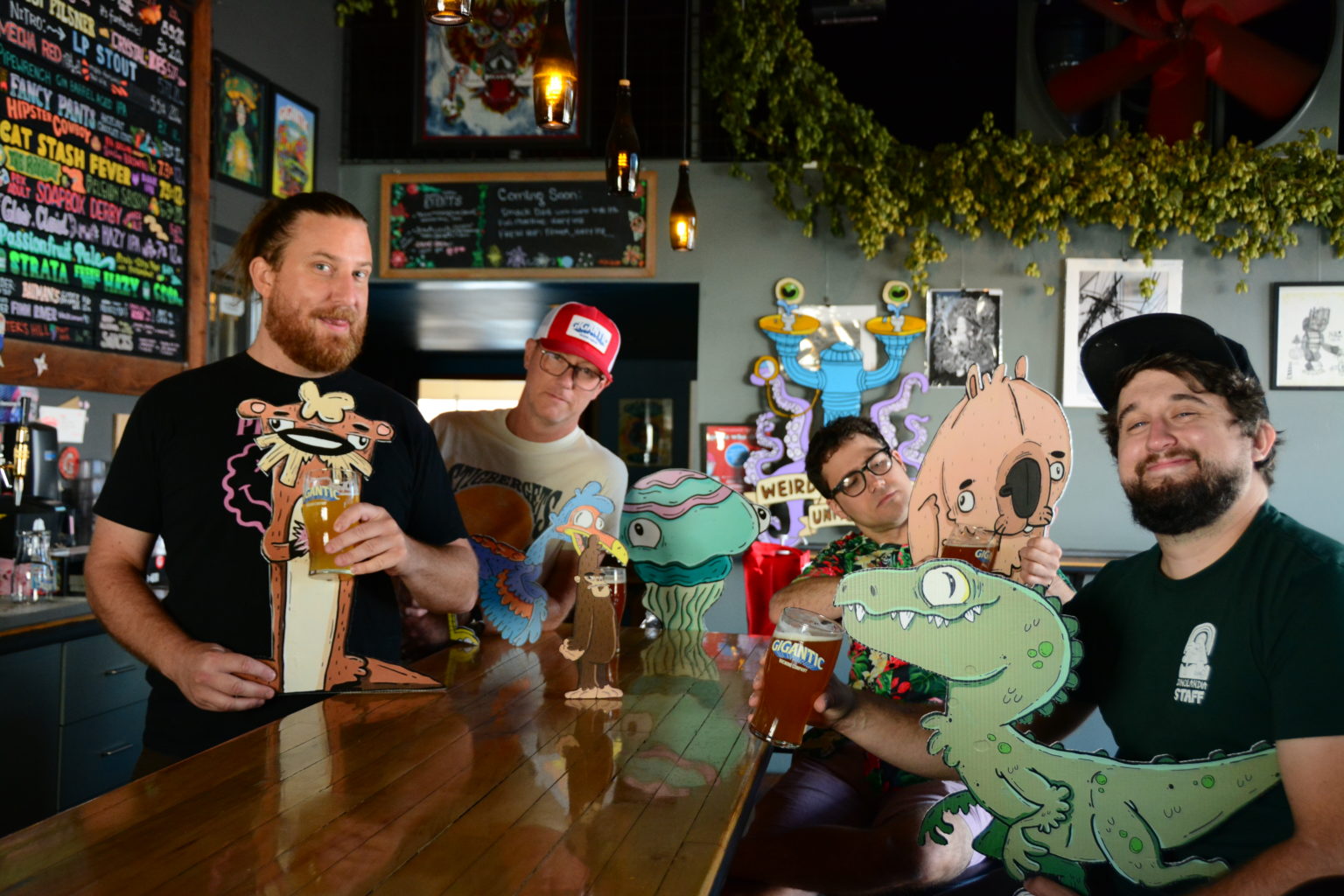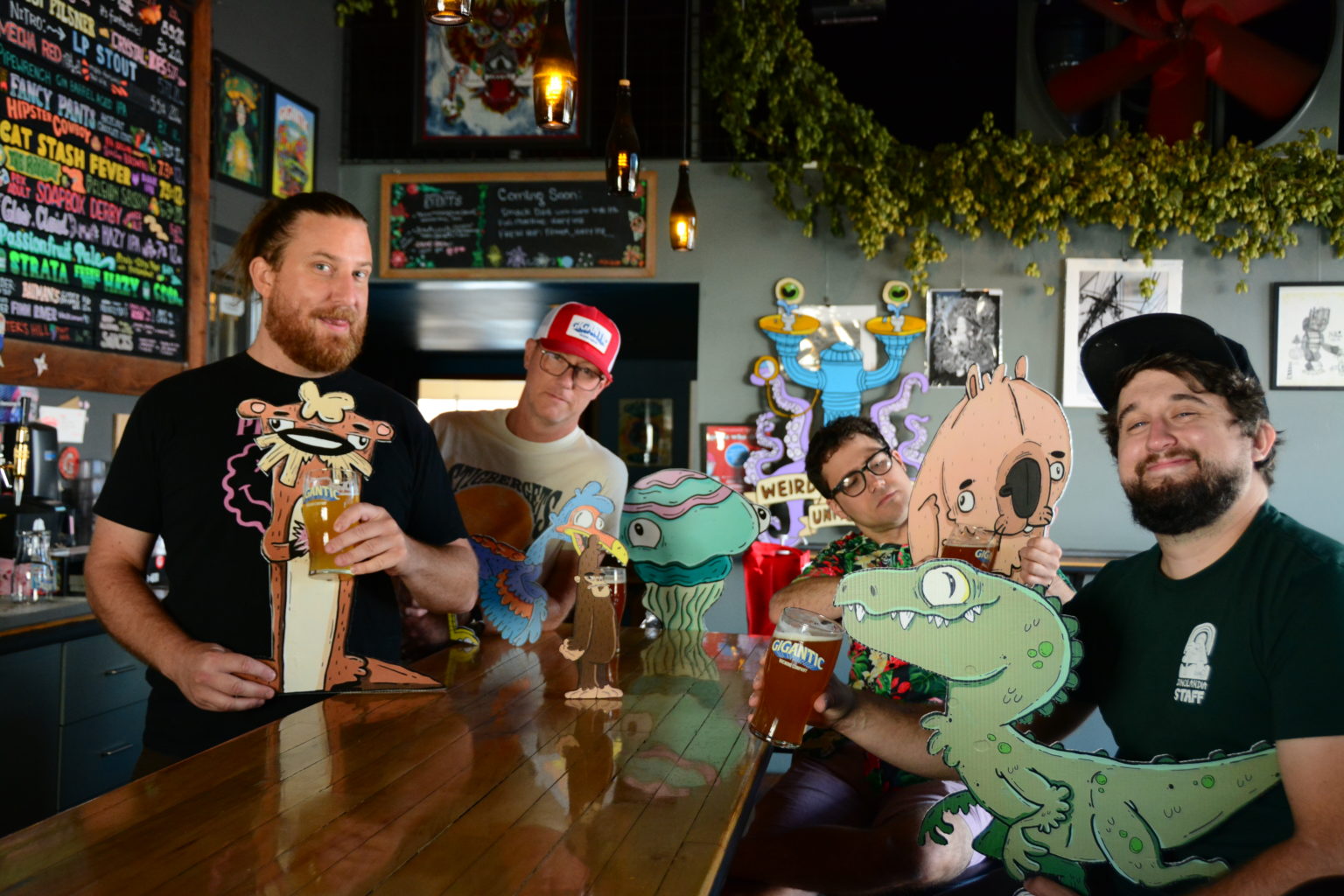 Mike Bennett's Day Off Release
As with previous releases in the 'Weirdtastic' series, a release party is planned at Gigantic's tap room. The 21 and up party is open to the public and admission is free. Not only will Mike himself be on hand for bottle signings, but he will be giving away some of his work as doorprizes and handing out passes to Wonderwood Springs. Stick around, because Mike will also be sitting down in conversation with the Unipiper to talk about his work – past, present, and future. Following release, 'Mike Bennett's Day Off' will be available on draft and on store shelves everywhere Gigantic is sold, including New Seasons Market. Home delivery is also available within 18 miles of Portland through the Gigantic website.
Mike Bennett's Day Off Release Party with Bottle Signings, and Conversation with The Unipiper 
October 07, 4-8pm | Gigantic Tap Room and Champagne Lounge, 5224 SE 26th Ave | Portland | Join the Facebook Event

About Gigantic Brewing Company
Gigantic Brewing Company is an independent, artisanal brewery located in the Southeast quadrant of Portland. We hold ourselves to a simple principle – Never Give an Inch. We vow to start small and (stubbornly) stay small, focusing our efforts on making exceptional beer, rather than a lot of beer. When you drink Gigantic, know that we didn't just put our names on the label – our effort, imagination, and dry wit are in every bottle. Enjoy Gigantic at the Gigantic Brewery (5224 SE 26th Ave), Gigantic Robot Room (6935 NE Glisan), on tap or in bottle at your favorite grocer, bottle shop, bar or restaurant in Oregon. As always, Gigantic beer is packaged in BottleDrop Refillable bottles. BottleDrop Refillables are sorted, washed, inspected, and delivered back to Oregon's craft beverage producers to be refilled. By choosing beverages in refillable bottles, you help keep our air clean, our beaches, parks and roadsides litter-free, promote a circular economy, and set a model for future generations.
www.GiganticBrewing.com
About Weird Portland United
Founded in 2019 by Portland's Unipiper in an effort to curb the growing homogenization and sanitization of the city's image, Weird Portland United exists to discover, promote, and nurture the dreamers, creators, and risk-takers that keep Portland weird. Current and past initiatives include the establishment of the Weird Portland Hall of Fame, organization of Portland Weird Week, and hosting of many events such as Weird Portland Creatives, the Weird Portland Gala, and the Portlandia Mermaid Parade. In 2020, WPU awarded over $5000 in grants to Portland creatives through the #KeepWeirdAlive campaign.
www.weirdportlandunited.org