Stone Brewing Debuts Dayfall Belgian White
|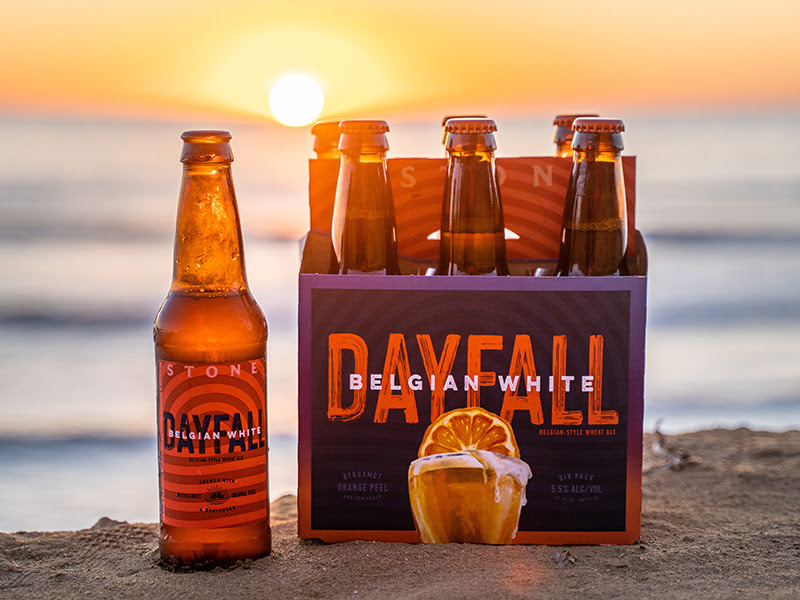 Based on the multiple award-winning Witty Moron recipe, Stone Brewing debuts Dayfall Belgian White for a nationwide release on draft and in 12oz bottles. This new Belgian White is part of the Stone Pilot Series of beers.
Dayfall Belgian White is brewed with Bergamot orange peel and coriander, similar to that of the top selling beer in this style, Blue Moon Belgian White, that uses Valencia orange peel instead. Brewed with a similar recipe to its popular Witty Moron from Stone Brewing Liberty Station, but with an updated malt bill. The original recipe won the Gold Medal at the Great American Beer Festival in 2014 and 2017 and the Bronze Medal in 2015.
Stone Brewing Dayfall Belgian White Description:
Stone Dayfall Belgian White pours an inviting deep gold with haze and a thin white head. The flavor is ripe with citrus up front followed by floral and light herbal notes. Orange, spice and honey are present in the aroma, alongside subtle notes of graham cracker. It's slightly tart with a smooth lingering citrus finish.
Appearance: Inviting deep gold with haze and a thin white head
Aroma: Integrated aromas of orange, citrus, floral, spice, honey, along with subtle notes of grain/graham cracker
Taste:  Up front citrus including orange, lemon, and lime, with floral and a light herbal component
Palate: Slight tartness, medium-body, and a smooth finish with lingering citrus
ABV: 5.5%
Stone Dayfall Belgian White is a limited release of the Stone Pilot Series, a series of unique, high-potential innovations for consideration in Stone's year-round lineup. The beer is now available nationwide on draft and in 12oz six-pack and 12-pack bottles.