Whiskey Wednesday – Whicked Pickle Whiskey
|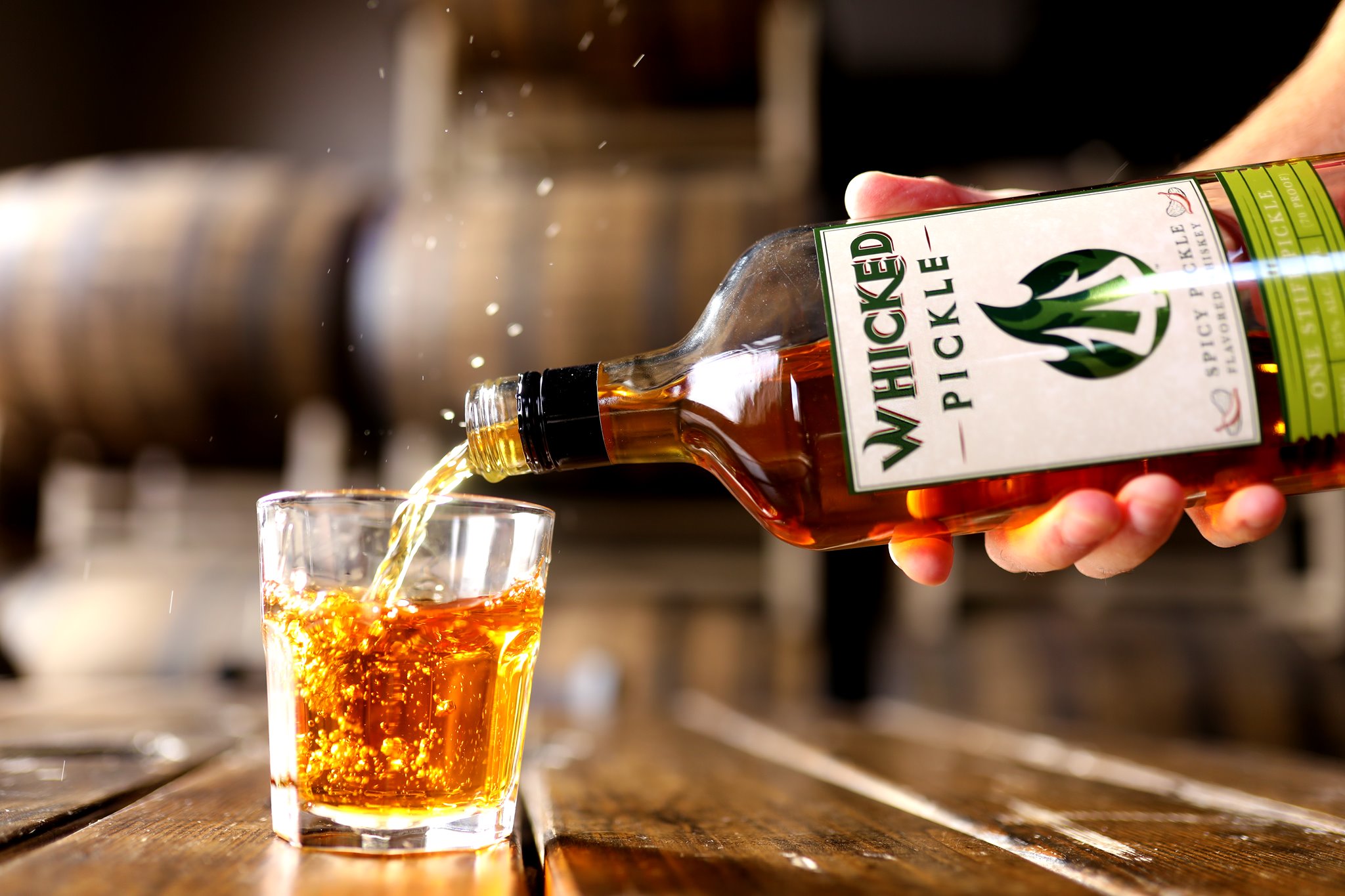 Flavored spirits are a trendy spirit these days and it seems as if there's now end in sight. In the whiskey category, Fireball is the one that solidified this trend as this cinnamon flavored whiskey reinvigorated this offshoot category of whiskey.
Now there's a new player on the flavored whiskey shelf. Inspired by the famous pickleback shot, Holladay Distillery brings together this flavor profile in Whicked Pickle, all packaged in one convenient bottle.
The popular whiskey shot accompanied by a pickleback has been around for decades but gained momentum about 15 years ago. Since this time it's not that uncommon to find a pickleback, and quite possibly a variety of them, on a whiskey list at a whiskey focused bar.
A few years ago Holladay Distillery decided to bring the flavors of whisky and pickle brine together with the addition of a bit of heat all together in one bottle. The result is Whicked Pickle, a dill pickle flavored whiskey with a peppery heat on the finish at 70 proof.
"This product went from concept to market in a matter of months," said Patrick Fee, the company's Vice President of Marketing, in a press release. "When the pandemic caused dips in other parts of our business, it allowed us to have some fun with product development."
Prior to sampling this flavored whiskey, our expectations were not very high, but nonetheless wanted to try it. Upon unscrewing the plastic cap, the nose of pickles and a peppery spice is very evident. Nothing too strong, but you definitely know what you're in for! When it comes to the flavor Whicked Pickle goes all in. It's full of fairly smooth whiskey alongside plenty of pickle brine and hot peppery spice. It then finishes with plenty of pickle essence.
There's definitely some truth in advertising going on here. Whicked Pickle is a novelty spirit that will likely gain some traction in certain bars but is one that we enjoyed best as a mixer. When it comes to a pickleback, we prefer the old fashioned method of a sipping on some pickle brine while shooting a shot of fine whiskey!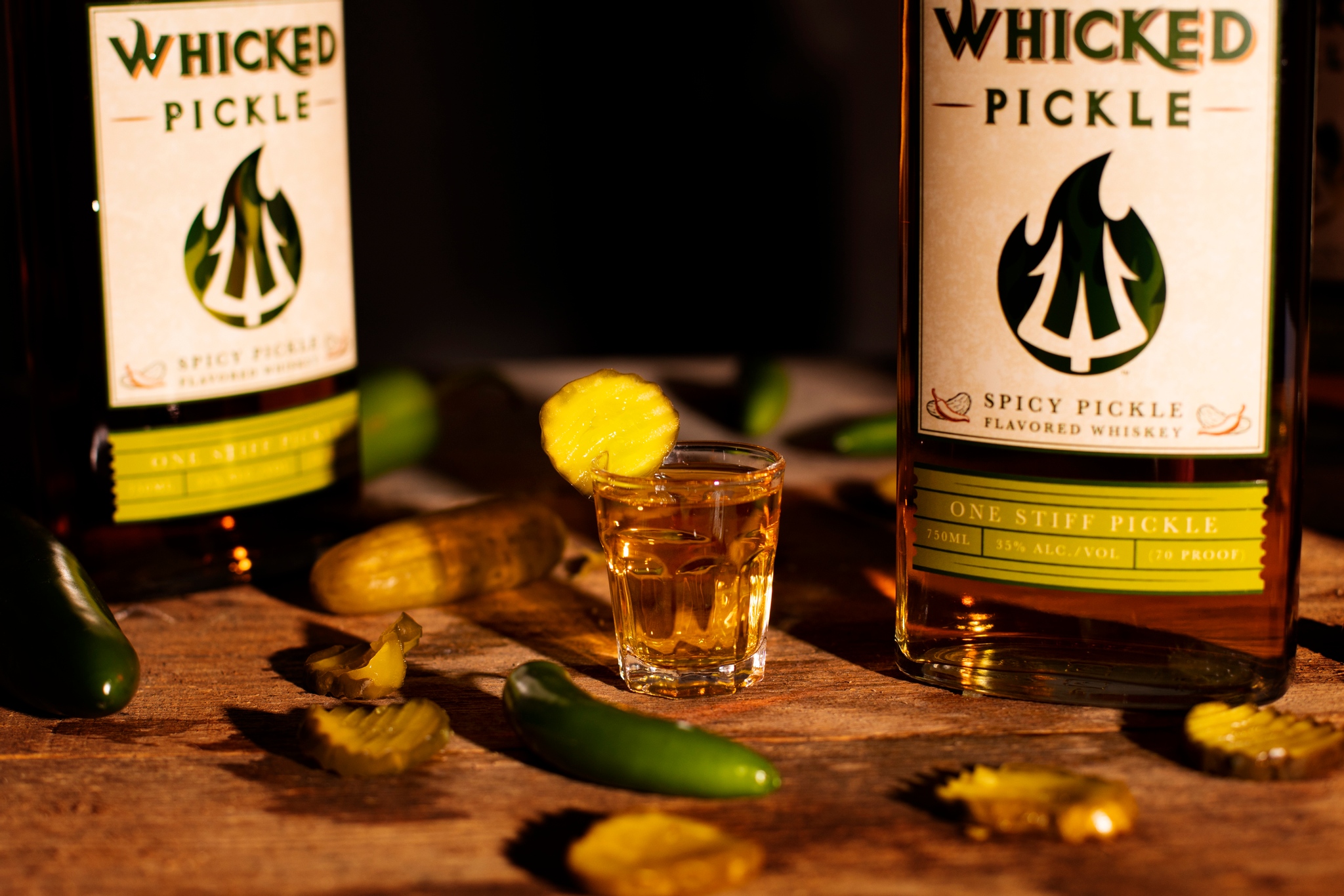 The best way we found to use Whicked Pickle is as a mixer, and most notably as a Whicked Mary! Add 2.0 oz of Whicked Pickle to 5.0 oz of Bloody Mary Mix. Then garnish with a pickle, tomato, jalapeño, celery stick, and lime wedge. Another option is the Whicked Mule that uses 2.0 oz of Whicked Pickle and 0.5 oz of Pickle Juice and then top it off with Ginger Beer.
The historic Holladay Distillery is the oldest business in the Kansas City area, founded by the Holladay Brothers in 1856 on land first charted by Lewis & Clark on their Expedition to the West in 1804. It remains a privately-owned American company and is the oldest distillery west of the Mississippi still operating on its original site. In 2015, the company underwent a $10 million renovation of its original 1856 stillhouse and started distilling bourbon on site again for the first time in 30 years. The distillery is best known for Tequila Rose Cream Liqueur, 360 Vodka, and Five Farms Irish Cream.
Whicked Pickle is available throughout Oregon at $19.95 per 750mL bottle or $1.75 per 50mL bottle and can be located by using the Oregon Liquor Search. For those outside of Oregon, use the Whicked Pickle Locator.