BeerAdvocate IPA Fest – Cyberspace Beer Boxes Are Now On Sale
|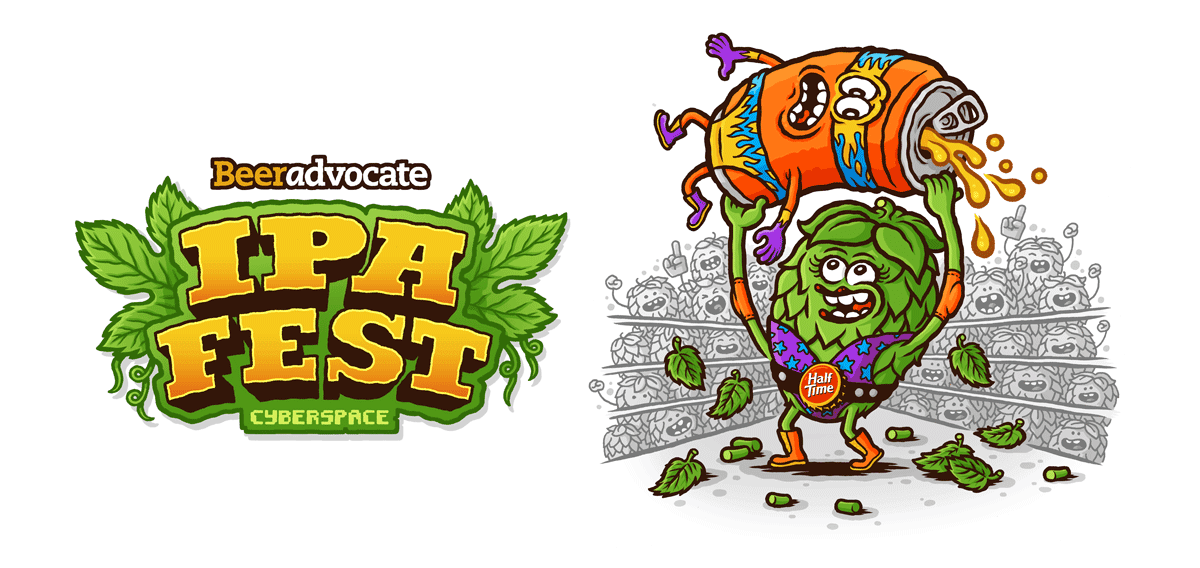 BeerAdvocate returns with another virtual beer festival as it is set to host BeerAdvocate IPA Fest – Cyberspace edition. This two-day festival will be streamed live online on Friday, April 30 and Saturday, May 1, 2021. As with their previous online event, Extreme Beer Fest – Cyberspace, this one will also partner up with Half Time Beverage.
IPA Fest- Cyberspace Packages are now on sale and are limited to only 2,000 in home tasting boxes. Attendees will receive a hand-curated box containing India Pale Ales from each geographic region in the United States, access to tastings hosted by Todd Alström (BeerAdvocate) and Edgar Preciado (BeerThugLife), and a chance to learn about the beers from participating brewers during two online sessions.
The BeerAdvocate IPA Fest will set you back a hefty $119.99 as the festival includes all 12 beers shipped to your door via BeerAdvocate's partner, Half Time Beverage. Purchase your package by clicking here. These beer boxes are available to ship to the following states (select zip codes in some states: AK, AZ, CA, CT, DC, DE, ID, IL, IN, LA, MA, NE, ND, NH, NM, NY, NJ, NV, OK, OR, PA, RI, TX, VA, WA, WI.
Each package includes:
A hand-curated box of IPAs from twelve (12) breweries shipped to your door from Half Time (perfect for couples or for sharing with your pod)
NEW- Beers will be packed in a freezer liner with cold packs
Two BeerAdvocate-branded Govino tasting cups (our standard fest cup to make you feel nostalgic for our in-person fests)
Shipping and handling
Access to view the live hangout sessions
Access to the private discussion forum
Discounts on exclusive fest merch while supplies last
Invites to the pre-Zoom and post-Zoom parties with Todd and Edgar (first come, first served)
The IPAs that will be part of this dozen beers include every style in the category from clear to hazy and bitter to juicy. BeerAdvocate reached out to its friends in each geographic region of the United States to join in the virtual fest, plus two other beer options.
BeerAdvocate IPA Fest Lineup:
Compton
BeerThugLife (Compton, California)
The Hop Boss (Triple IPA), 10%
Great Lakes
Hop Butcher for the World (Darien, Illinois)
Hop Butcher – I Want To Believe (Hazy Double IPA), 7.5%
Mid-Atlantic
DC Brau Brewing Co. (District of Columbia)
Sticky Fisted Find (DC Hazecore IPA); 8%; 16oz can
"A Hazy Double IPA, utilizing 5 different hop varieties at 3.5 lb per barrel."
Midwest
Drekker Brewing Co. (Fargo, North Dakota)
Clueless Wonder (Double IPA); 8.3%; 16oz can
"Clueless Wonder is a Double IPA brewed with Mosaic, Citra, Azacca, Cashmere, Lemon Drop, 007, and Huell Melon. It's super soft and smooth with big notes of melon, peach, and candied lemon."
Mountain
Revision Brewing (Sparks, Nevada)
Social Fermentation (Northeast IPA), 6.5%
New England
Lawson's Finest Liquids (Waitsfield, Vermont)
Little Sip (American IPA), 6.2%
Northwest
Breakside Brewery (Portland, Oregon)
West Coast, Best Coast (American IPA), 7.4%
Pacific
Russian River Brewing Co. (Windsor, California)
Double Dry-Hopped Pliny the Elder (Two Stage Double Dry Hopped Double IPA); 8%; 16oz can
"We took our regular Pliny the Elder recipe and doubled the dry hop amount and started the first dry hop during the middle of primary fermentation. DDH-PTE carries a firm bitterness along with notes of pine, citrus, and stone fruit with a lingering, dry finish."
South
Against the Grain Brewery (Louisville, Kentucky)
Citra Ass Down (Double IPA); 8.2%; 16oz can
"This iconic double IPA is not candy or mother's milk. It is not brewed by gypsies or aliens, nor does it contain any zombie dirt. This is a double IPA brewed with Citra Hops. It's sticky, hoppy and delicious. Simply drink it and enjoy it. Don't hoard this beer, Citra Ass Down and drink it now."
South-Atlantic
New Realm Brewing Co. (Atlanta, Georgia)
Jacked 'Squatch (West Coast Double IPA); 9%; 16oz can
"For our 2nd release in the Monsters & Myths DIPA Series, we celebrate the big-footed 'hide-and-seek world champion' with a mighty, hop-forward West Coast Double IPA. Jacked 'Squatch is packed with a beastly amount of Citra, Centennial, Simcoe & Vic Secret hops for an aromatic blend of citrus, peach, pine, and tropical fruit."
Southwest
Weathered Souls Brewing Co. (San Antonio, Texas)
West Coast IPA (American India Pale Ale); 7%; 16oz can
"The de facto flagship beer of our lineup, our West Coast IPA pays homage to Marcus' old school California origins with some Texas-persuaded adaptations. Abandoning the darker, sometimes egregiously sweet copper colored malt bombs that made up the gold standard of IPAs from the mid-to-late 90s to the early 2000s, our West Coast is leading the IPA reformation in San Antonio with a dry, crisp, and citrus forward profile, outselling all other craft IPAs in the region three-to-one. A bursting bouquet of tangerine, lemon, grapefruit, and other bright citrus aromatics leads the charge with just enough residual malt sugars to offer a modest body and balance out a moderate level of IBUs. A light cereal-like malt sweetness lifts the overall hop profile without getting in the way of the ballet of resinous, piney, and citrus characters that make up the bulk of the flavor profile. This modern classic is the archetype of the new age West Coast IPA."
New England
Lamplighter Brewing Co. (Cambridge, Massachusetts)
Rabbit Rabbit (New England Double IPA), 8.5%
For any additional questions regarding the BeerAdvocate IPA Fest, check out the FAQs by clicking here.