Aslan Brewing Portland Launch at Bailey's Taproom
|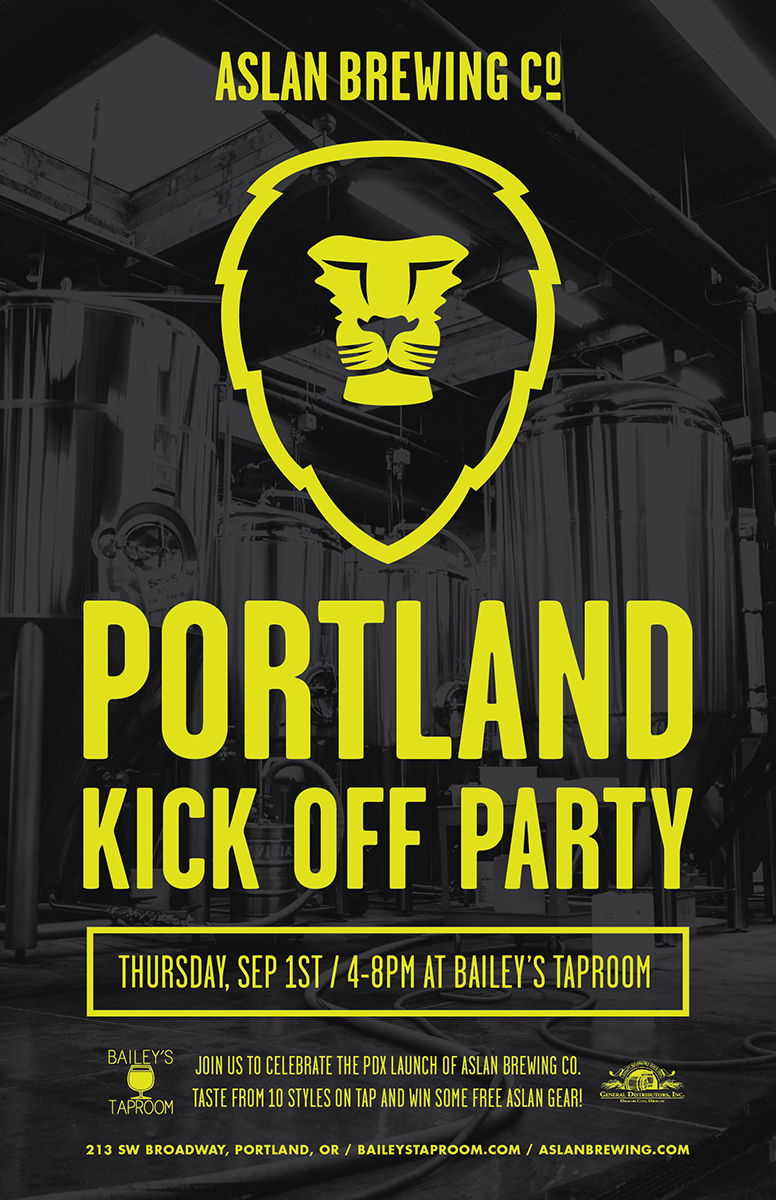 The craft brewing scene in the northern Washington college town of Bellingham, Washington has really taken off with a great variety of breweries producing quality beers. Aslan Brewing Company opened its doors a few years ago and has already made a name for itself in the Washington craft beer world. Now Aslan Brewing is set to officially launch its brand here in Portland.
Aslan Brewing exclusively brews organic beers and is a USDA Certified Organic beer along with being a Certified B Corporation, just as Portland's Hopworks Urban Brewery. The Bellingham brewer commits to preserving its triple bottom line, "People, Planet, Profit".
On Thursday, September 1, Aslan will be bringing 10 of its beers to Bailey's Taproom with its beers being all tapped at 4:00 to 8:00pm. There will be swag giveaways as well. Look for the following ten beers on tap with descriptions provided by the brewery.
Batch 15 IPA
This hazy, juicy IPA is hopped heavily with Citra and Simcoe, then paired with choice American wheat and two-row barley. Intentionally unfiltered to spotlight the rawness of organic hops, this IPA is less bitter but more flavorful and balanced than most West Coast versions.
HOPS: Bravo, Citra, Chinook, Simcoe
MALT: 2-Row Pale, Wheat
AWARDS: [2015] 1st Place / People's Choice / Yes, We CAN! Festival
7.0% ABV // 65 IBU // 1.060 OG
Dawn Patrol Pacific Ale
This beer is mild yet complex in its delivery. The hop presence is noticed by subtle flavors of pineapples that meld beautifully with the slightly spicy and minty character derived from the use of Rye malt. A somewhat recently pioneered style, this Pacific Ale is delivered unfiltered to accentuate its fresh farm to glass, unprocessed, organic qualities.
HOPS: Cascade, El Dorado
MALT: 2-Row Pale, Caramunich, Munich, Rye
5.3% ABV // 18 IBU // 1.054 OG
Disco Lemonade Berliner Weisse
This refreshingly sour wheat beer is brewed to style, which dates back to the Middle Ages and is often referred to as "The People's Champagne." The tartness of this beer will bring out hints of lemon, while the generous amount of wheat will round out the body lending a remarkable similarity to lemonade. Enjoy as is or add a shot of Raspberry syrup for a twist!
HOPS: Hallertau
MALT: Pilsner, Wheat
AWARD: [2016] Bronze / German Sour Beers / Washington Beer Awards
4.5% ABV // 4 IBU // 1.042 OG
Illmatic IPA
This IPA is a big citrus bomb of white grapefruit with hints of Meyer lemon zest. It's made with only the choicest of continental pilsner and wheat malts and pungent hops from Yakima Valley; an East meets West showdown of ingredients and styles. The bitterness lasts, but at a pleasant, well-balanced level.
HOPS: Azacca, El Dorado, Mosaic
MALT: Continental Pilsner, Wheat
6.3% ABV // 70 IBU // 1.060 OG
Summer Solar Ale
A special beer made in collaboration with Itek Energy and Western Solar to help raise funds for a solar panel system for Lydia Place. This zippy and bright wit-style beer is delicately hopped with a combination of Ahtanum, Chinook and Palisade hops, then conditioned with fresh, organic pink grapefruit for a subtle citrus addition. Its dry yet juicy body is complemented well by a complex, spicy finish.
HOPS: Ahtanum, Chinook, Palisade
MALT: 2-Row Pale, Acidulated, Wheat
5.9% ABV // 35 IBU // 1.051 OG
B'Ham Brown
True Brown Ales are light in body, but not light in flavor. This beer accomplishes that with generous amounts of Chocolate, Black, Carahell, and Roasted malts along with a complicated mash schedule that delivers a malt forward beer with a light, easy drinking quality that will keep you refreshed and intrigued.
HOPS: Cascade, Hallertau, Sterling
MALT: 2-Row Pale, Munich, Chocolate, Roasted Barley, Vienna
5.8% ABV // 24 IBU // 1.058 OG
Ginger Rye
This beer falls into the "specialty" category, but it's based off an American Pale Ale and inspired by a delicious cocktail called the "Moscow Moose". The ginger is present, yet subtle as is the rye. The wild card is the use of limes, which shine through on the finish. This is an adventurous beer and a staple of our brewery.
HOPS: Cascade, Nugget
MALT: 2-Row Pale, C-40, Carahell, Rye
AWARDS: [2014] 2nd Place / People's Choice / Yes, We CAN! Festival
5.4% ABV // 18 IBU // 1.054 OG
Frances Farmer Saison
Made in the Dupont style, this classic representation of a farmhouse ale is light in color, with a soft mouthfeel that is complemented with lots of carbonation. Faint notes of bubblegum are washed away with hints of naval oranges, making this beer quite refreshing.
HOPS: Czech Saaz
MALT: Pilsner, Wheat
5.8% ABV // 24 IBU // 1.048 OG
Cranberry Saison
I Am Gruit
Named for the lovable extraterrestrial tree giant, Groot, this unhopped herbed ale contains lemon peel, pink peppercorn, and rosemary paired with a blend of pilsner and wheat malt. Gruit is the mixture of herbs, spices, and roots used to flavor wort in the early years of brewing before hops were popularized. The ingredients augment the fruity fermentation profile, present a clean, dry, bready character, and emulate the spicy hop profile that may be often be found in a classic saison — though this brew is far from traditional.
HOPS: None
MALT: Acidulated, Pilsner, Wheat
6.0% ABV // N/A IBU // 1.050 OG
A few months ago one of our correspondents, Canal MacWhaler visited Aslan Brewing and had this review.
Bailey's Taproom
213 SW Broadway
Portland, OR 97205