Gigantic Brewing To Release Brain Damage Barrel Aged Belgian Style Quad
|
When it comes to barrel aging beer some beers hit the mark while others fizzle. Some live up to the hype while others do not. The latest Portland brewery to release a barrel aged beer is Gigantic Brewing. The brewery will host its release for Brain Damage on Thursday, September 3rd at its Southeast Portland Brewery. Brain Damage is a Belgian-Style Quadruple that was aged in both bourbon and pinot noir barrels for 28 months and will be available for sale in black wax dipped 22oz bottles.
Brain Damage debuted a few weeks ago to a sold out crowd and positive fanfare at The Culmination Festival that took place at Anchorage Brewing in Anchorage, Alaska. Now us locals here in Portland will be able to get out hands on this complex barrel aged beer on Thursday from 3:00 to 9:00pm, just in time for the start of the Labor Day Weekend.
After sampling Brain Damage this is one of the smoothest barrel aged beers that comes to mind in quite some time. From resting in both bourbon and pinot noir barrels for 28 months, this process has allowed the beer to age graciously over time. The barrels did some marvelous work on the Belgian-Style Quadruple as the base beer's sweetness has vanished into some various complex flavors of plum, chocolate, dark cherry and oak.
Brain Damage pours to a very dark brown with touches of red hues and sits at 13% ABV and 40 IBUs. The blending of the barrels was executed in a fine manor that makes for an enticing dessert beer after a nice dinner.
Bottles of Brain Damage are limited to 120 cases and will sell for $20.00 a bottle and will only be available at Gigantic Brewing. Fortunately Gigantic will have Brain Damage on tap during its release on Thursday so anyone that is considering purchasing a bottle will be able to try this decadent treat beforehand.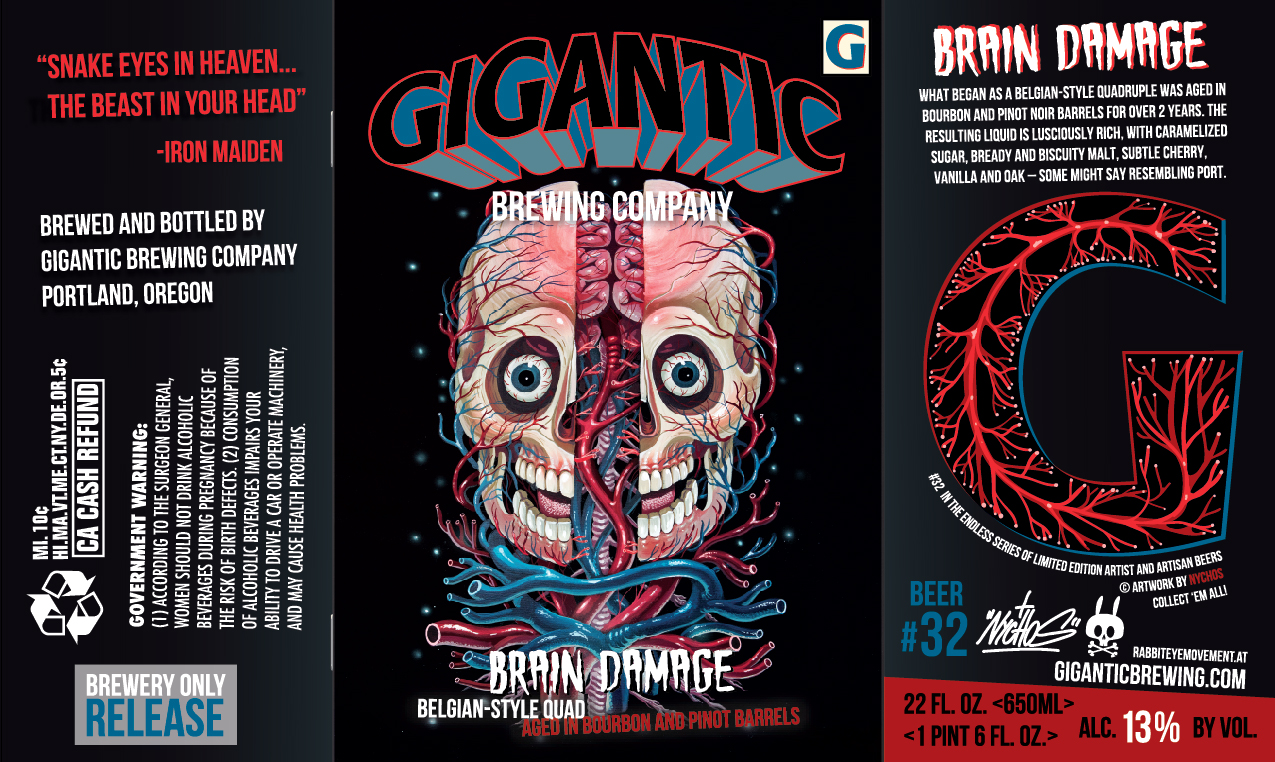 Nychos, an urban art and graffiti illustrator from Vienna, Austria did the label artwork for Brain Damage. Nychos began his foray in the art world 12 years ago. This Austrian urban art and graffiti illustrator has been an integral part of the international art scene. In addition to founding the art collective RABBIT EYE MOVEMENT in 2005, he is internationally recognized for his outstanding murals throughout the world, as well as solo gallery exhibitions. Nychos is also part of international graffiti and urban illustration "The Lords" and "The Weird" who have also received international acclaim for their signature styles. One can learn more about Nychos by visiting his website or following him on Instagram.
Also new from Gigantic is its collaboration beer, The Sun Never Sets India Wheat Lager, that was brewed with ParrotDog from New Zealand and Brouwerij Het Uiltje from the Netherlands. It's a refreshing India Wheat Lager brewed with New Zealand hops that is available both on tap and in 22oz bottles.
Gigantic Brewing Tap Room & Champagne Lounge
5224 SE 26th Ave.
Portland, OR 97202