Hopworks Urban Brewery Releases Mt. Angel Volksbier – Brewed For the 52nd Mount Angel Oktoberfest
|
Portland, Oregon, August 29, 2017 – Celebrating Bavarian culture at Mount Angel Oktoberfest is a tradition dating back more than a half-century. This year, a special collaboration with Hopworks Urban Brewery (HUB) means festival goers can enjoy a unique Pacific NW take on a Bavarian Session Ale with the limited edition release, Mt. Angel Volksbier. It is an easy-drinking session ale brewed with German ale yeast along with Hull Melon and NW hops. Mt. Angel Volksbier is one of five HUB beers poured at the four-day event (all other beer is imported from Germany).
Available for a limited time prior to the festival, Mt. Angel Volksbier officially releases on Thursday, August 31st at 6 pm at HUB's SE Powell  brewpub. Purchase a 22 oz. bottle for $5.99 at the beer release party and receive a coupon good for $2 off the festival admission, which can be redeemed at the Mount Angel Oktoberfest Biergarten admission gate between September 14-17. Mt. Angel Volksbier is expected to run out quickly at the HUB pubs and various Roth's Fresh Market stores; after that, it will be available exclusively on tap at the 52nd Annual Mount Angel Oktoberfest.
"Volksbier means 'the people's beer' and that's why we are excited to collaborate with our local Bavarian family for one of the greatest beer events in the country," said Christian Ettinger, HopworksBrewmaster and Founder. "I look forward to donning my lederhosen and proudly raising a stein as we celebrate harvest, this collaboration, and enjoy the best ingredients sourced from the Hallertau region of Germany and the foothills of Mt. Angel for this sessionable ale."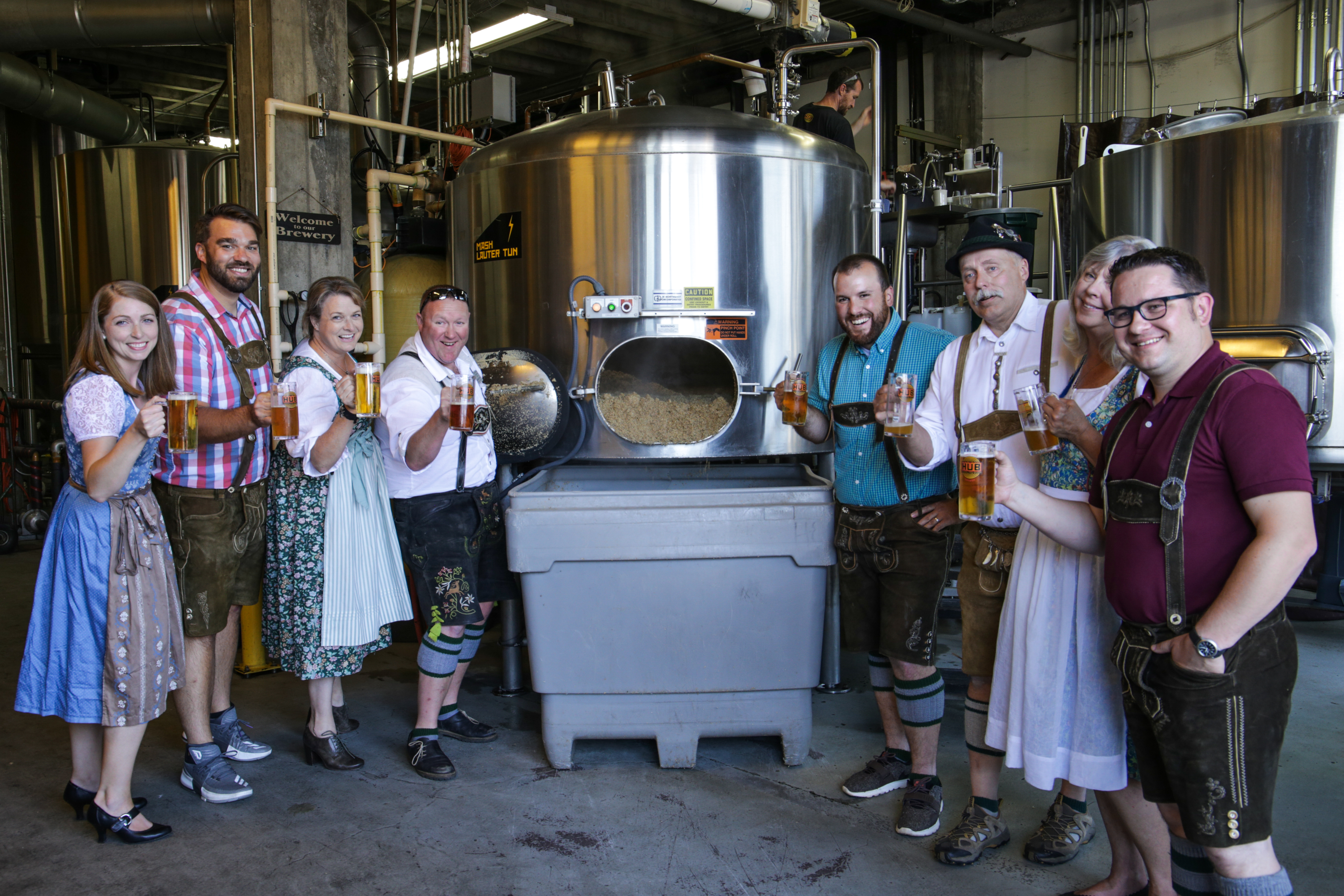 "Mount Angel Oktoberfest is pleased to partner with Hopworks Urban Brewery," said Monica Boschler, Mount Angel Director of Marketing and PR. "Giving back to our communities and supporting family are highly valued shared goals. Both groups work similarly; there is a shared mindset as we approach our labors with an attitude of fun, diligence, and a focus on high quality. Shared values as well as shared fun is moving this collaboration from a partnership to friendship."
Mt. Angel Volksbier Bavarian Session Ale
Mt. Angel Volksbier brings together hops sourced from the Hallertau region of Germany and the foothills of Mt. Angel in the Willamette Valley. Spicy, tropical and fruity aromas complement the honeydew and stone fruit flavors all derived from hops and traditional German Ale yeast. This beer is sure to delight the NW palate.
ABV 5% / IBU 40
Availability: Starting August 31, 22 oz. bottles for $5.99 and on tap at HUB locations until it runs out. Also available at various Roth's Fresh Market stores throughout the Willamette Valley. Find Mt. Angel Volksbier and five other HUB beers on draught at Mount Angel Oktoberfest, September 14-17.
Special Offer Only Available for the Beer Release on 8-31:
When purchasing a bottle at the beer release party on August 31st at the SE Powell location, receive a coupon for $2 off Mount Angel Oktoberfest admission. This offer is honored at the Biergartenadmission gate only.
About Hopworks Urban Brewery
Hopworks Urban Brewery strives to revolutionize and inspire the brewing industry with practises that drive quality, protect the environment and improve the community we live in. Utilizing organic malts and a combination of locally-sourced, organic and Salmon Safe hops, the company's 20-barrel brewery in Portland produces 13,500 barrels of beer and cider a year for HUB's brewpubs and for distribution throughout the West. Hopworks is a family-owned and operated business, the first Certified B Corporation brewery in the Pacific Northwest, a gold-level bike friendly business, and Long Root Ale received Brewbound's "Marketing Initiative Award of the Year" in 2016. More info at: hopworksbeer.com
About Mount Angel Oktoberfest
In the heart of Oregon's hop growing region, Mount Angel's Oktoberfest brings 350,000+ people to the Bavarian village every September. The Northwest's oldest and best loved Folk Festival – celebrates the fruits of the harvest, with a nice focus on hops! German style biers, Northwest craft brew favorites, lots of wine, and a bit of cider are served in 4 Biergartens, each showcasing different favorites. There is something for everyone at the Mount Angel Oktoberfest. For more information visit: http://www.oktoberfest.org