Lager Fest Returns from Buoy Beer in May 2023
|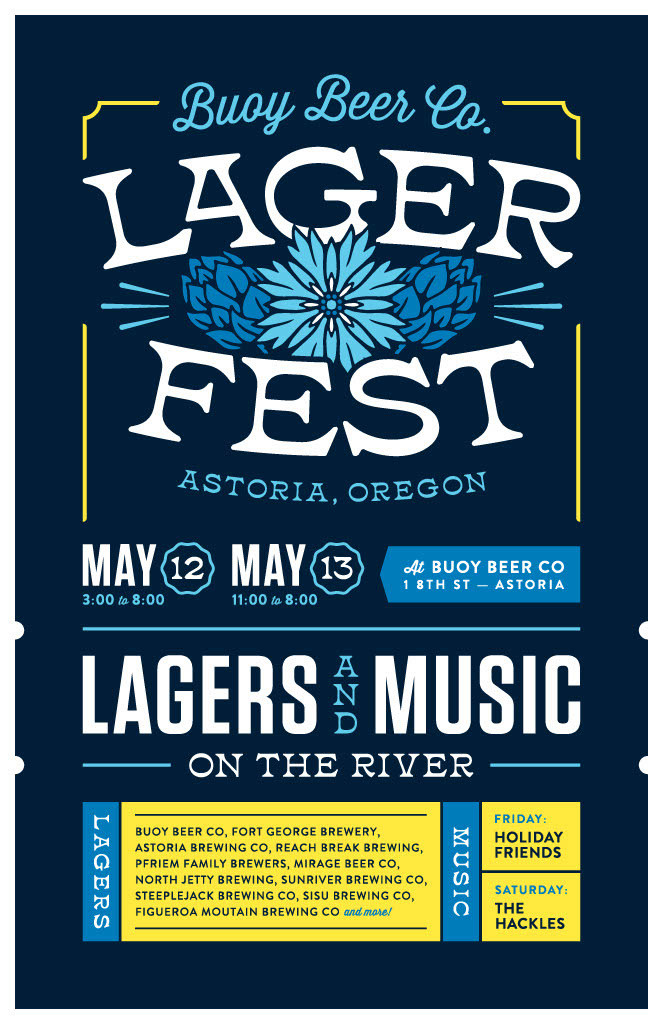 The diverse flavors of lager will be the highlight when Lager Fest returns overlooking the Columbia River at Buoy Beer Co. The 2023 Lager Fest will take place on Friday and Saturday, May 12th and 13th as Buoy Beer Co. celebrate the wonderful world of lagers with live music, food, and scenic river views.
For this year's Lager Fest, Buoy has partnered with more than a dozen West Coast breweries including Astoria Brewing, Block 15 Brewing, Fort George Brewery, Figueroa Mountain Brew Co., North Jetty Brewing, Sunriver Brewing, Obelisk Beer Co., pFriem Family Brewers, Reach Break Brewing, Steeplejack Brewing, Sisu Brewing, Mirage Beer Co., and more.
Festivities will begin Friday, May 12th at Buoy's original riverwalk location and will feature live music by Holiday Friends from 3-8pm. Lager Fest event mugs and tokens will be for sale on-site, giving lager lovers and beer lovers a chance to taste variations of the style's color, fermentation processes, hop profiles, and malt flavors.
On Saturday, May 13th, begin the day with Astoria's 10th annual Run on the River Half Marathon, 10k, and 5k. Sponsored by Buoy Beer, Run on the River is a fundraiser for Astoria Parks Recreation and Community Foundation which helps individuals and families access health and wellness opportunities through scholarships. Sign up today to participate or volunteer. Volunteers will receive a Lager Fest mug for dedicating their time to this awesome cause!
The fest continues on Saturday from 11am-8pm. This springtime day will be full of delicious lagers from a plethora of breweries, specialty lagers from Buoy, and live music all day from The Hackles and more.
During the festival you can also sign up for the Buoy Beer Club. The annual membership features perks like discounts on draft and packaged beer, discounts on merchandise (both at the brewery and online), invites to brewer social events, and more! Sign up during Lager Fest and your festival mug will be included in the membership price.
Pre-order your tokens to get your mug FREE here. 
Buoy Beer
1 8th Street
Astoria, OR 97103