Elysian Brewing 2023 Pumpkin Pack + Great Pumpkin Beer Fest
|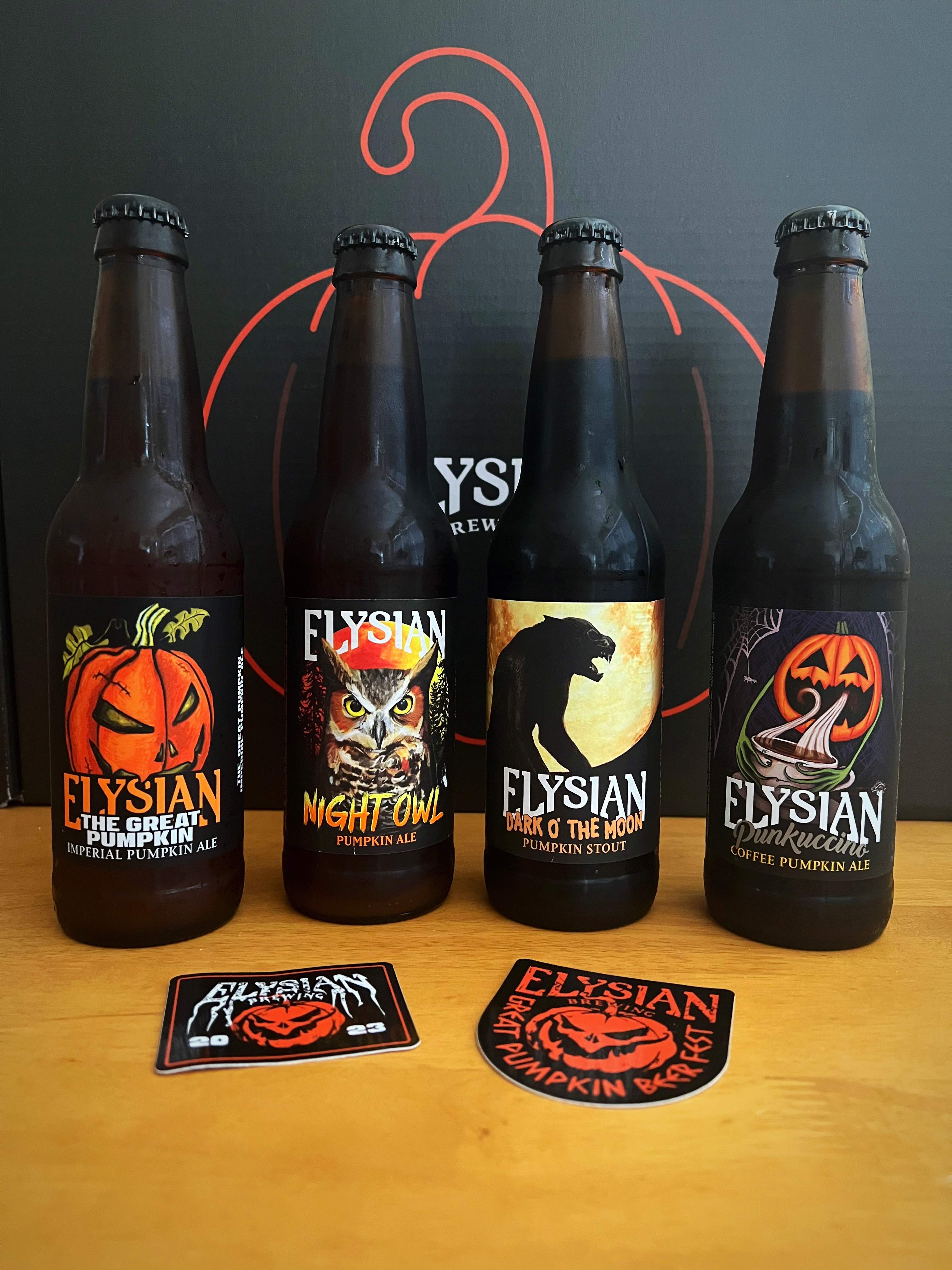 One brewery that continues to go all in on pumpkin beers is Elysian Brewing. The Seattle based brewer created Night Owl, its first pumpkin beer twenty-six years ago in 1997. In the years since then, the brewer has brewed hundreds of different pumpkin beers, some bottled, some draft, but each was unique and expanded this beer style.
Four of Elysian Brewing's fan favorites have once again been packaged in its Pumpkin Pack, a 12-pack that contains three beers each of four varieties. This variety pack includes Night Owl, Punkuccino, The Great Pumpkin, and Dark O' The Moon. It's a great way to enjoy four different pumpkin beers that all have their unique tasting profiles.
With four pumpkin beers to choose from, which one is the best? This is a challenging question to answer as from sampling through all four beers, each proves to be quite worthy.
Night Owl never fails as this is the O.G. Pumpkin Ale from Elysian that is a delight during these shorter days and cooler nights. If not Night Owl, Punkuccino is close second as it melds a shot of Stumptown Coffee and a bit of the spice from a Pumpkin Ale. But don't forget Dark O' The Moon that brings a Pumpkin Ale to the dark boldness of a Stout. And if you're looking for a bigger punch than what Night Owl can offer, reach for The Great Pumpkin, it won't disappoint at its 8.4% ABV!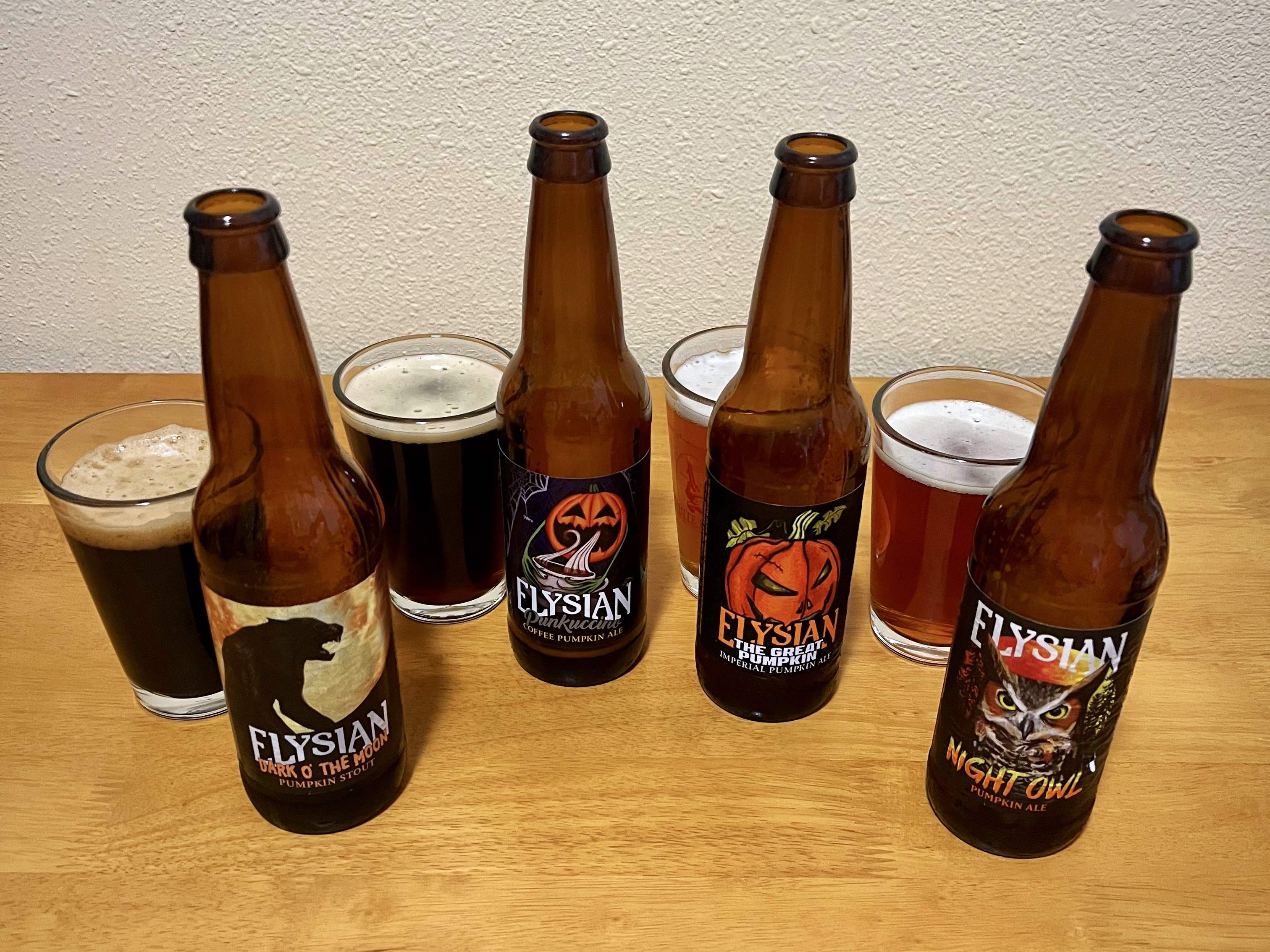 Here's a breakdown on the four Pumpkin Beers from Elysian Brewing.
Night Owl
Elysian's original pumpkin ale that was first brewed in 1997. Just last year this beer was awarded a Gold Medal at the 2022 Great American Beer Festival in the Pumpkin Beer category.
Night Owl is a very drinkable pumpkin ale at 6.7% ABV. It begins as an Amber Ale that's brewed with pumpkin puree and juice, and then spiced in conditioning with ginger, cinnamon, nutmeg, cloves and allspice. These spices give off a pleasant aroma and carry through to the beer's flavor. It's basically just fall in a glass! Up until this year, the beer had been brewed with pumpkin seeds but after sensory evaluation, this is no longer the case.
The Great Pumpkin
Making its debut in 2001, The Great Pumpkin is an imperial version of Night Owl minus one spice. There's no ginger in this one as it only spiced with cinnamon, nutmeg, cloves, and allspice. Boasting intense aromas of pumpkin with plenty of spice on the nose, The Great Pumpkin is a delectably smooth fall brew that pours a deep copper color with a ghostly white head.
At 8.4% ABV, The Great Pumpkin is one to be careful with. We recommend carving the pumpkin prior to imbibing in this one!
Dark O' The Moon
The darkest beer in the variety pack is Dark O' The Moon. This dark stout is a cinnamon showcase. But it's not overwhelming as the cinnamon adds nicely to the chocolate notes of the stout  and pumpkin.
Since its debut in 2010, this beer uses a ton of cinnamon. On this year's batch it used 77 pounds of cinnamon on just the finishing side for each batch. The result is a stout that's both bold and drinkable at 7.5% ABV.
Punkuccino
A touch of Portland is part of Punkuccino as it boasts a short shot of Stumptown coffee toddy in each pint. This one debuted in 2014 and has been a fan favorite ever since. It's our favorite of the pack for 2023!
Punkuccino is brewed with pumpkin puree, cinnamon, nutmeg and a touch of lactose. This lactose softens the palate that makes for a decadent pumpkin beer that sits at 6.0% ABV.
Then for those that truly enjoy pumpkin beers, Elysian Brewing returns with The Great Pumpkin Beer Fest for its 19th year on Friday, September 29 and Saturday, September 30. Each day from 4:00 – 10:00pm, over 80 pumpkin and seasonal beers from near and far will be poured, including twenty or so from Elysian Brewing's pumpkin-crazed brewers. Best of all, a portion of the proceeds benefits The Vera Project.
There are a couple of ticket options left as the Saturday only pass is now sold out. What is left is a two-day pass at $50.00 or the Friday pass at $30.00. To purchase tickets click here. More GPBF information can be found on the GPBF Website at theveraproject.org/greatpumpkin/ .