Rock Bottom Brewery to Host Barrel Aged Beer Festival
|
Located in the heart of downtown Portland, Rock Bottom Brewery is set to host its Barrel Aged Beer Festival on Saturday, January 26th. One of Portland's oldest brewpubs will feature a dozen or so barrel aged beers all brewed and barrel aged at the brewery.
The Barrel Aged Beer Festival will take place in the second level mezzanine from 1:00-5:00pm. Tickets are $35.00 ($37.40 after fees) for 10 (4 oz) tastings of the lineup of Barrel Aged Beer, a souvenir glass, and complementary appetizers. Advanced tickets can be purchased by clicking here, or they can also be purchased in person at the brewery.
Todd Britt, Brewmaster at Rock Bottom will also host brewery tours of his multilevel brewery. And when it comes to the appetizers, these will be served throughout the afternoon and will include charcuterie plate, chicken skewers smoked over used barrels, meatballs, pub sliders, veggie quesadillas, and a chocolate fountain.
Here's a preview of the beers that will be pouring during the event.
Barrel Aged Beer Festival Beer List:
Reckless Rabbit (Barleywine) Aged in a Port Barrel
Portchata (Porter) Aged in a Jim Beam Barrel
Wild Child (Sour) Aged in a Neutral Oak Barrel
Naughty Scot (Scotch Ale) Aged in a Whiskey Barrel
Head Over Heels (Belgian Tripel) Aged in a Chardonnay Barrel
Pagan Love (Doppelbock) Aged in a Whiskey Barrel
Smoked Baltic Porter (Porter) Aged in a Corn Whiskey Barrel
5th Dimension (Belgian Quad) Aged in a Pinot Noir Barrel
Great Comet (Imperial Stout) Aged in a Rye Whiskey Barrel
End of Summer Days (Cream Ale) Aged in a blend of a Whiskey Barrel and a Malbec Barrel
In addition to these 10 barrel-aged beers, Rock Bottom will also pour a couple of beers that will be officially released in the coming weeks after the festival.
Reckless Rabbit 2019 Barleywine aged in Whiskey Barrels. This will be tapped to the general public on January 31st.
Demon Sweat Double Dry Hopped Double Red Ale aged in Whiskey Barrels. This will be tapped to the general public on February 7th.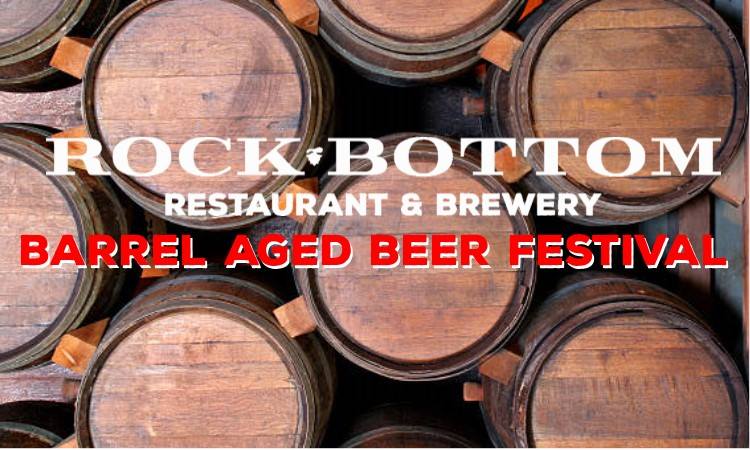 Rock Bottom Restaurant & Brewery
206 Southwest Morrison Street
Portland, OR 97204