Von Ebert Brewing Raises Funds For Wildfire Response & Recovery with 33 Stars for Oregon Initiative
|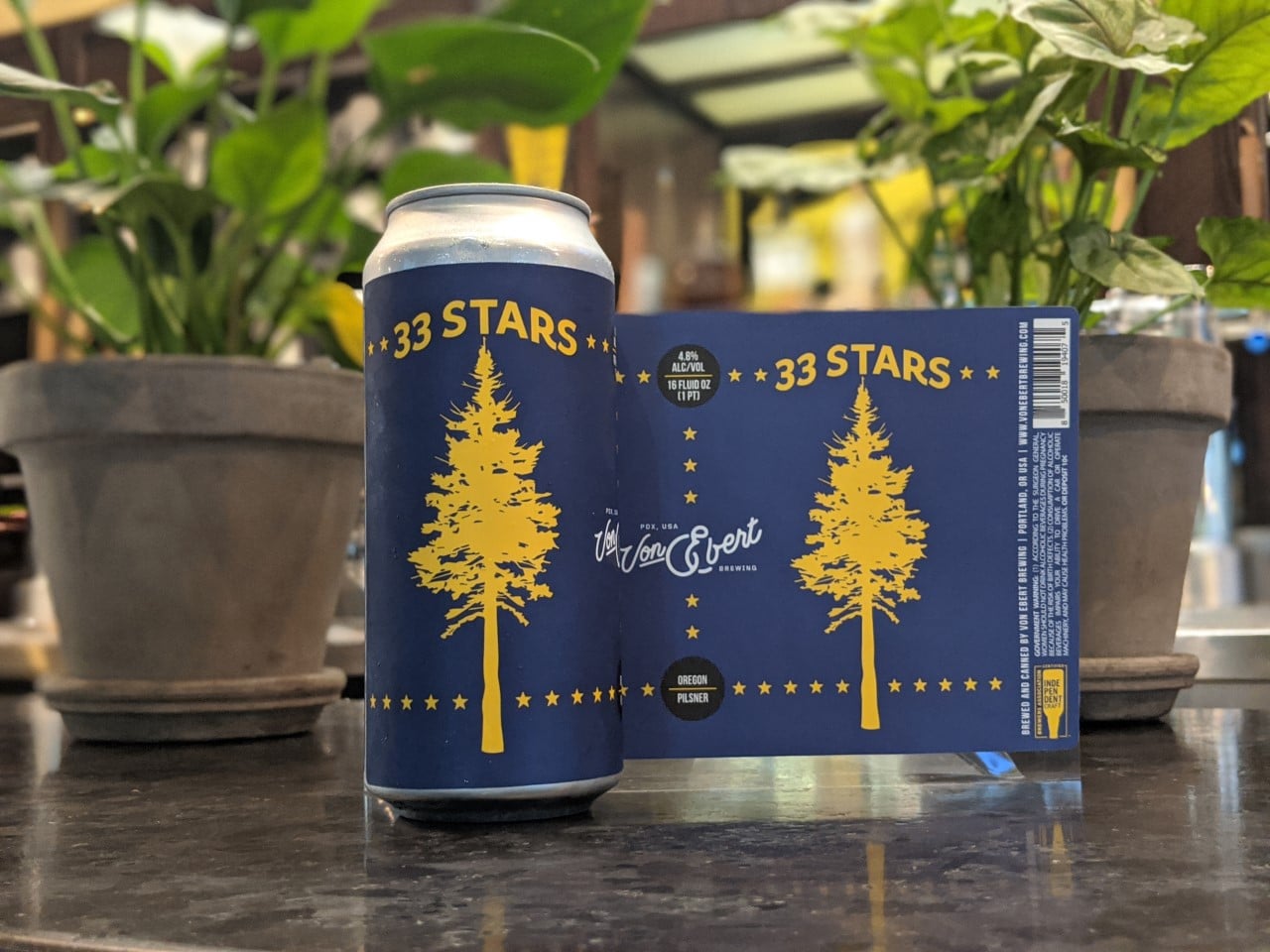 Originally brewed earlier this year as a draft only offering, Von Ebert Brewing returns with 33 Stars, an Oregon grown pilsner, in 16oz cans as a charitable beer for Oregonians impacted by the wildfires burning throughout the state.
Von Ebert Brewing will donate proceeds from its sales of 33 Stars to the Wildfire Response and Recovery Fund set up by the United Way of the Columbia-Willamette. The fund will help provide displaced families with access to food, shelter, childcare, healthcare, and other critical needs during these challenging times.
In order to expand this charitable effort, Von Ebert Brewing is offering up its recipe for 33 Stars to any other interested brewery willing to brew this beer as a charitable beer. Von Ebert only asks that Oregon ingredients are used as much as possible to help support the state's farms as many of them are also suffering as a result of the wildfires. The brewery's hope is that additional breweries will read this and inquire about joining this great cause!
All that Von Ebert asks is that participating breweries, as well as bars selling the beer on draft, donate at least $1 per pint or can sold to one of the 14 United Way chapters throughout Oregon.
This is similar to the offer that Baerlic Brewing made earlier this month with the release of its Keep Oregon Green IPA. As of this posting, we are not aware of any other breweries joining either of these charitable campaigns.
"Right now Oregon is experiencing the worst fire season in recorded history," said Tom S. Cook, owner of Von Ebert Brewing, in a statement. "More than half a million Oregonians have been displaced and many of them will lose everything. We wanted to do something to bring the beer community together to help these people who are facing unexpected challenges."
Von Ebert brewed 33 Stars to honor the rich brewing agriculture that is grown here in the Beaver State. 33 Stars only uses hops and malts that were grown at Goschie Farms in Silverton, Oregon. The beer's name comes from the 33 stars that adorn the state's flag, recognizing its status as the 33rd state to join the Union.
"This is such a great state – the people, farms, businesses, landscape, wildlife," continued Cook, in a statement. "All of those attributes that make it such a great state are being impacted by the wildfires. We couldn't think of a better way to help the state than brewing a beer that honors and celebrates its rich agriculture. We hope all participating breweries go a similar route, choosing as many Oregon-grown ingredients as possible."
To help support the Oregon wildfire response and recovery efforts and brew your own version of 33 Stars, send an email to kwhite@vonebertbrewing.com.