Binary Brewing Cans 8-Bitte Helles Lager + Motherboard Milk Stout
|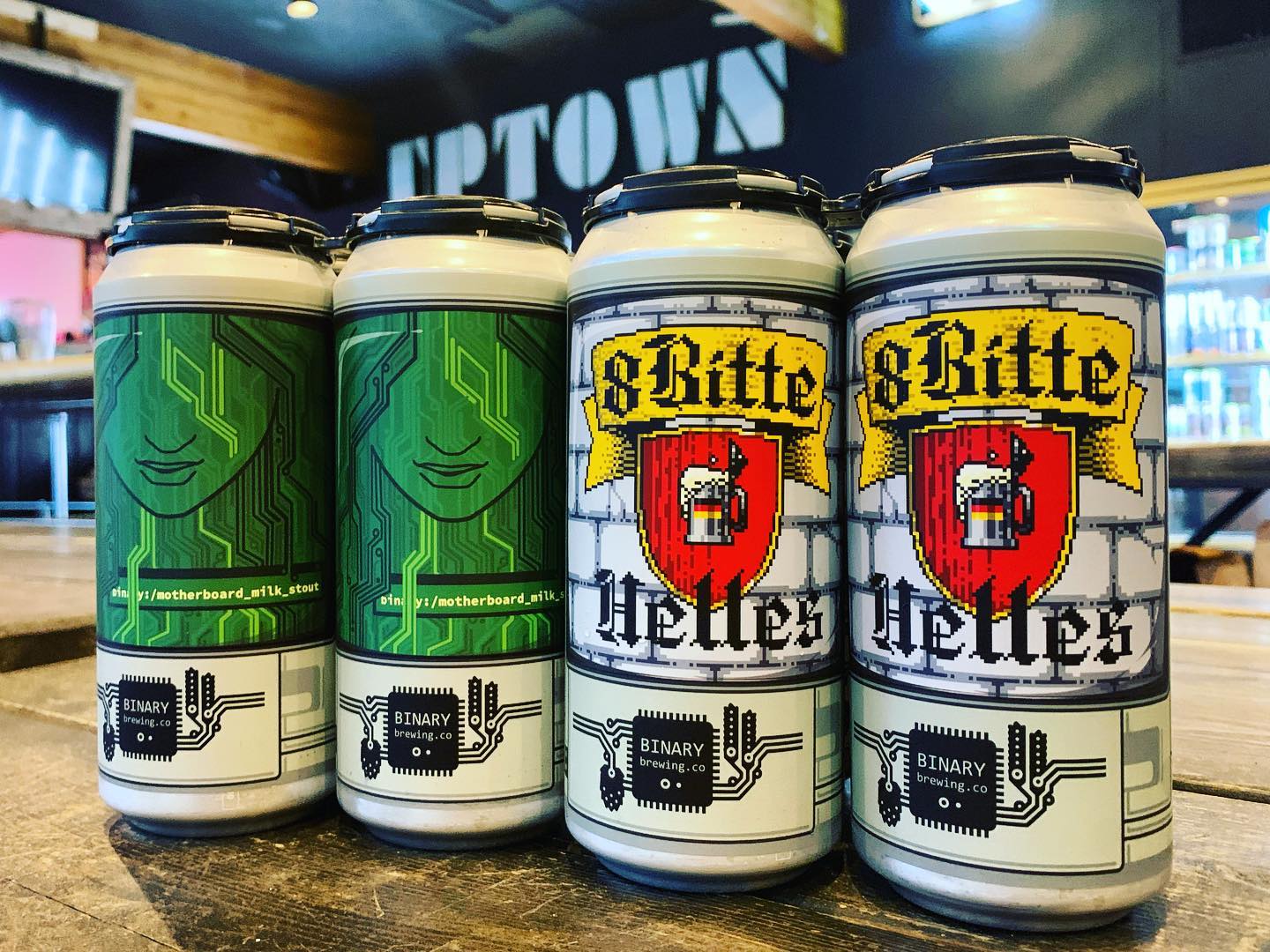 PORTLAND, Oregon – BinaryBrewing.co is expanding their small-batch run of brewery fresh cans to include two of their core brews: 8-Bitte Helles Lager and Motherboard Milk Stout. The release is set for Monday, January 18th. These cans will be available directly through BinaryBrewing.co's taproom, on their website and Running Man Distributing. This run of canning production finally brings a cult neighborhood brewery to beer coolers across the Portland area. These two new canned beers are crafted from two recipes that have been perfected since the brewery's beginnings.
BinaryBrewing.co celebrates the building blocks of craft brewing: the 1's and 0's. Initial small canning runs of The Big Lebrewski Kolsch and the 404 Nut Brown (which were brewed offsite) allowed Binary to introduce some specialty custom beers to the market. With the release of 8-Bitte Helles Lager and Motherboard Milk Stout, Binary is finally introducing their Portland-inspired brewing philosophy to the area at a time when Portlanders are thirsty for a taste of something comfortably classic, but new to their beer checklist.
"It's great to finally get to can in our own brewery two beers we took pride in and have become staples on draft at our taproom and around town," noted co-owner Joshua Johnson.  "The 8 Bitte helles has that perfect honey richness and cracker finish I look for in a helles, while the Motherboard stout has the creamiest mouthfeel while still being dry and crisp," said Johnson.
8-Bitte Helles Lager is a respectful interpretation of the quintessential Munich style with a local stamp from gentle additions of Mt. Hood hops. It's an easy-drinking light lager that presents balanced hops and malt, and thus flavor. Motherboard Milk Stout enriches a dark-chocolatey stout base with additions of lactose to create a robust, and dangerously drinkable, silky dark beer. This award-winning brew regularly sells out on tap, but with this new canning run will be readily available to the Portland market.
BinaryBrewing.co emerged from owners Roger Wood and Joshua Johnson as an idea. The idea was to get back to the basics of what originally made craft beer an appealing alternative to mass-marketed additive-laden beer. Many craft breweries have forgotten this time, and have fallen into the trap of gimmicky flavored brews that taste more like "flavored" than beer. At a time when hard seltzer and canned cocktails are eating up shelf space once reserved for craft beer, this old school mentality remains relevant. Classic beer styles remain an essential part of Portland's beverage legacy.