Cascade Lakes Releases Red Haze – Red Hazy Ale
|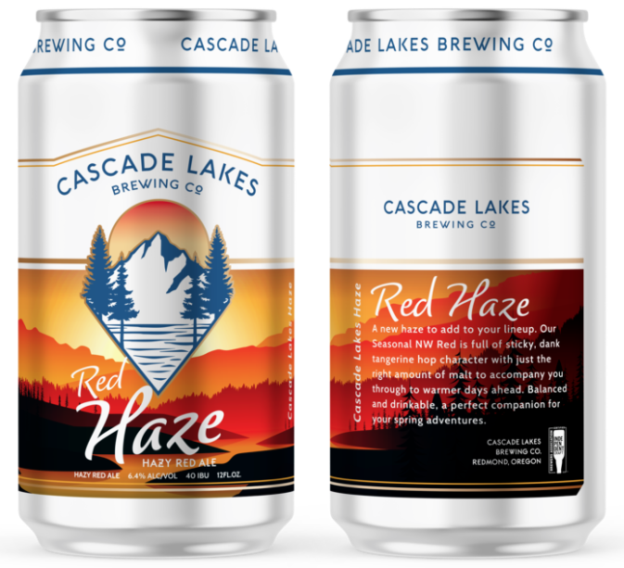 (BEND, Ore.) — Finding a beer that strikes just the right balance is not always easy as the Pacific Northwest winter winds down and the dream of sunnier spring days grows brighter. But the seasonal release of Red Haze from Cascade Lakes Brewing Co. — due out on Friday, Feb. 3 — offers a versatile exception meant to be a perfect pour whether it's a cold late-winter day or a warm, bluebird spring adventure.
In a world where hazy IPAs have become a core style for most breweries, and many offer a traditional red ale, a "hazy red" is still something of rarity. First released in 2022, Red Haze combines the rich color and malt-forward flavor of a traditional red ale with the opaque hoppiness of a hazy — all while pushing the boundaries of both styles.
Red Haze is brewed with Cascade and Altus hops and weighs in at a balanced 6.4% ABV and 40 IBU. The result is a uniquely shoulder-season brew, and one greeted warmly by beer lovers.
"Malt-forward winter warmers are among my favorites, but Red Haze was brewed to balance the best of two worlds and offer your palate a subtle transition as the season shifts to spring," said Ryan Schmiege, Cascade Lakes Brewing Co. director of brewing operations. "The sticky, dank tangerine hop character and balance of malt and hops struck just the right chord. For this reason, we are eager to offer it again."
Red Haze will be available on tap at Cascade Lakes' two Central Oregon pub locations and in six-pack, 12-oz. cans at grocery stores in California, Idaho, Montana, Oregon, and Washington.
Red Haze Hazy Red Ale Profile
Grain:   2-Row, Malted White Wheat, Crystal, Roasted Barley
Hops:   Altus & Cascade
Brewmaster:  Ryan Schmiege
IBU:   40
ABV:   6.4%
Availability: Draft & six-pack 12 oz. cans
About Cascade Lakes Brewing Co.
Founded in 1994, Cascade Lakes Brewing Co. is Central Oregon's only not-for-profit brewery and among the region's pioneering breweries. Locally owned and operated by the Rhine family, Cascade Lakes is a bold, genuine, and innovative brewing and eatery company that remains true to its deep local roots. As a not-for-profit, Cascade Lakes donates its entire net profit to a wide range of causes, many focused on stewardship, conservation, and animal welfare efforts. Cascade Lakes can be found in stores across six states (WA, OR, CA, ID, MT, and NV), on select bar and restaurant taps, and at the brewery's brick-and-mortar pubs in Redmond and Bend. A third Cascade Lakes pub is set to debut in Bend in early 2023. For more information visit www.cascadelakes.com.