Double Mountain Releases Sweet Nothings Blonde Coffee Stout
|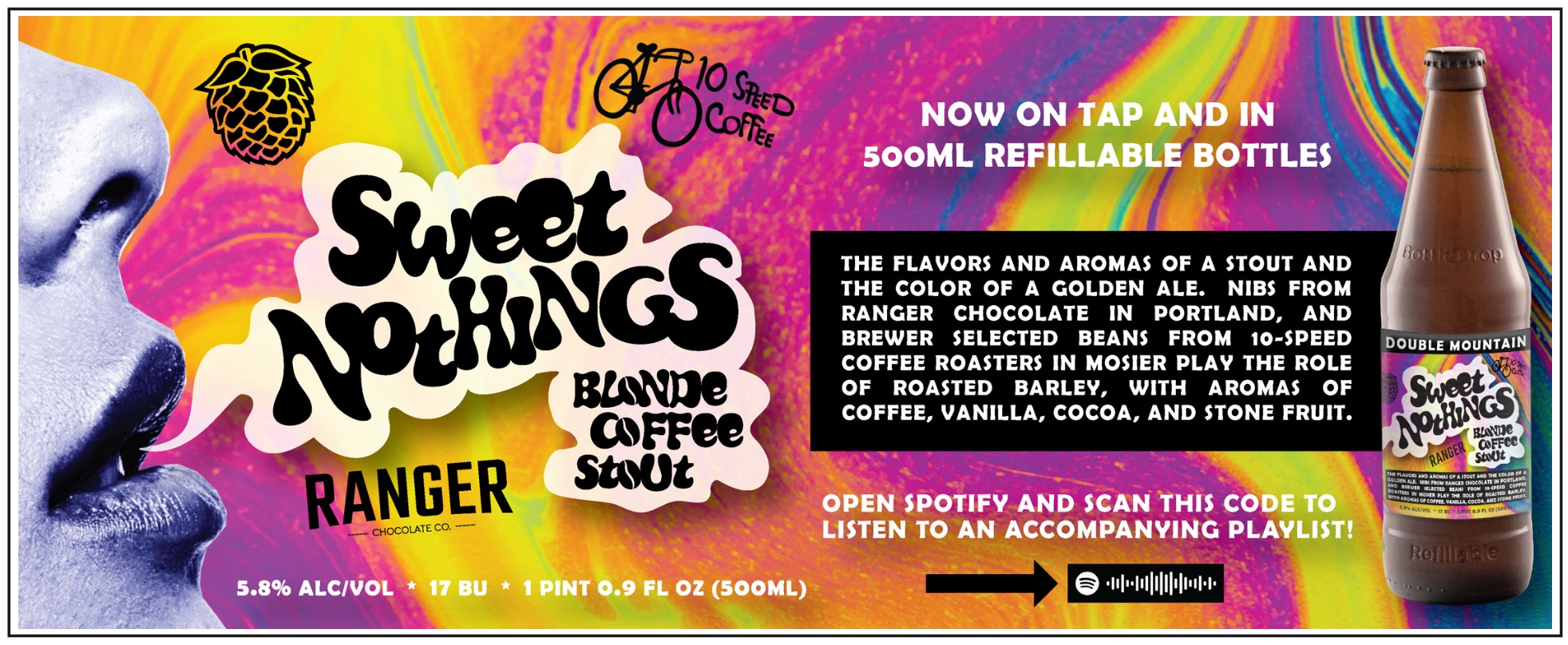 Be prepared for one unique sensory exploration on the latest release from Double Mountain Brewery & Cidery. On Sweet Nothings Blonde Coffee Stout, the Hood River, Oregon brewer has collaborated with our favorite Hood River coffee roaster, 10 Speed Coffee and Portland's Ranger Chocolate.
Sweet Nothings Blonde Coffee Stout is a beer that'll play tricks on your mind. The beer pours a yellow-blonde color but with aromas of graham cracker, biscuit, coffee, and cocoa. The journey doesn't stop there; hidden beneath the surface are delicate notes of light vanilla, orange, and raspberry, ready to surprise and delight your taste buds.
It's the use of the coffee from 10 Speed Coffee that's roasted in Mosier and cocoa nibs from Ranger Chocolate that sets Sweet Nothings Blonde Coffee Stout from its normal stout counterparts. These two ingredients were added at the end and after fermentation to provide a flavorful experience!
Though its appearance will cause some confusion, Sweet Nothings Blonde Coffee Stout will please any fan of coffee stout. It's also a beer that is bit more approachable as it sits at just 5.8% ABV and 17 IBUs.
While enjoying a Sweet Nothings Blonde Coffee Stout, the brewers at Double Mountain have once again curated an accompanying Spotify playlist that is printed on each bottle. This curated playlist is said to be thoughtfully designed to complement the beer's flavor and profile, creating a multisensory journey that engages both your taste and auditory senses.
Sweet Nothings Blonde Coffee Stout is now available at all Double Mountain Taprooms on tap and in 500mL refillable bottles.