Little Beast Brewing to Release Wolf Camp Hoppy Saison + Hot Break Dry-Hopped Sour Ale in 16oz Cans
|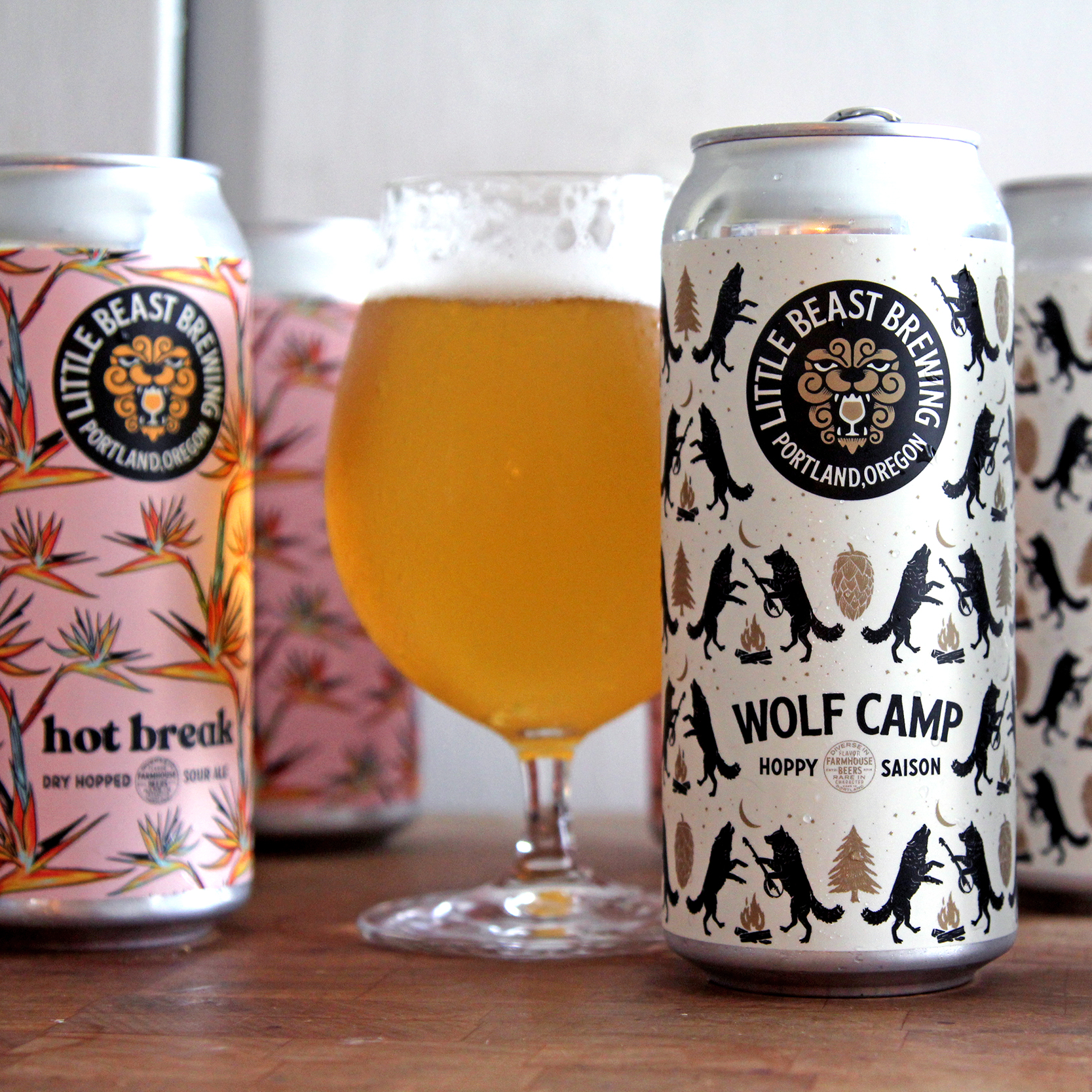 When Little Beast Brewing releases its next two seasonal beers on Wednesday, April 10th, both will be hitting the market in 16-ounce cans. Be one of the first to try both Wolf Camp Hoppy Saison and Hot Break Dry-Hopped Sour Ale on Wednesday beginning at 5:00pm at Little Beast Brewing Beer Garden in Southeast Portland. Try it on draft and take home a 4-pack.
"These beers represent one of our brewery's most formidable challenges to date–to make beers that are more approachable than anything we've previously released, while maintaining the complexities in flavor, and depth in process that we cherish when making beautiful mixed-culture and Belgian-style beers," said Charles Porter, Little Beast Brewmaster and Co-Founder in a statement.  "We are extremely pleased with the profile on these beers and can't wait to introduce them to the world."
Here are descriptions on each of the beers provided by Little Beast Brewing…
Hot Break Dry-Hopped Sour Ale:
Hot Break is an easy drinking ale for sour beer lovers. A combination of two distinct fermentations, both base beers are similar in that they are made with American Pilsner malt, German pale wheat, and oats. The first base beer is naturally soured during fermentation with lactobacillus, while the second base beer begins fermentation with saccharomyces and is racked into the first beer during high krausen. The beer is unfiltered and unpasteurized when it is canned. The result is a thirst-quenching, clean, and crushable tart ale with a bright, lemony and passionfruit character, with distinct notes of mandarin zest and lime from dry hopping with Mandarina Bavaria hops.
Wolf Camp Hoppy Saison:
Wolf Camp introduces a subtle and playful spin to a classic Belgian-style Saison. The profile of the base beer is traditional for the style with a bold Pilsner malt character. The beer finishes dry from fermentation with two saccharomyces yeast strains. The hop schedule also matches a traditional style except that with each new batch, Little Beast will dry hop the beer with a different American hop variety. The first Wolf Camp cans released on April 10th feature Chinook hops for a piney, resinous, and deep-seated grapefruit character, however the version on draft that day at the Little Beast Taproom makes use of El Dorado hops. With subsequent batches, drinkers can check the bottom of the can to see which hop variety was used in their beer.
Both Wolf Camp and Hot Break will be served on draft and in cans at the Little Beast Brewing Beer Garden beginning at 5:00pm on April 10th. Over the coming weeks both beers will be distributed throughout Little Beast's distribution network in Oregon, Washington and parts of California.
Little Beast Brewing Beer Garden
3412 SE Division St.
Portland, OR