Oakshire Brewing Celebrates 17 Years with New Beer Releases
|
Seventeen years ago, Jeff and Chris Althouse founded Oakshire Brewing and this month the Eugene, Oregon based brewer will celebrate this milestone with four beer releases, three of which are barrel-aged beers. These beer releases includes Seventeen, Goatshire, The Fear That Lies Before Us, and The Fear That Lies Behind.
These beers can be pre-ordered beginning on Tuesday, October 3, 2023 at 11:00am for pickup and draft pours beginning on Friday, October 6 at either Oakshire location. To place your order for Eugene pick up, visit oakbrew.square.site and for Portland pick up, visit oakbrewpdx.square.site.
From October 6 – 8, 2023, Oakshire Brewing will host its 17th Anniversary Party at its locations in Eugene and Portland. You can join the fun at either Oakshire taproom location for Vintage and Pilot beer releases, live music, plus food specials. Additionally, Oakshire will be opening its Vintage Library for in-house consumption all weekend long! With a pre-order of the Seventeen and one Fear bottle, purchasers will enjoy 20% off any additional, previously released Vintage bottles at taprooms.
When it comes to the live music schedule this weekend, both pubs have it covered! Eugene's live music begins at 6:00pm each day and includes Jackie Jae and Jason on Friday, Storm Tipton on Saturday and Ky Burt on Sunday. Portland's live music for the weekend includes The Larks on Friday at 6:00pm, Tabor Mountain Boys on Saturday at 6:00pm and Gus Smith on Sunday at 5:00pm.
October 2023 marks 17 years of Oakshire Brewing. Thank you for supporting us, gathering with us, and drinking with us – particularly these past few years! We couldn't be more thrilled to be able to continue creating and sharing great beer experiences with you every day. – Oakshire Brewing
If you're interested in these special beer releases but aren't located near one of our taprooms, you'll be able to find the Oakshire crew and all four beers and more at our anniversary events throughout Oregon and Washington in the coming weeks. The Oakshire 17th Anniversary Tour will be visiting the following four cities.
Bridge & Tunnel · Astoria, OR · Monday, October 9, 2023 · 5-8pm
Chuck's Seward Park · Seattle, WA · Wednesday, October 11, 2023 · 5-8pm
The BeerMongers · Portland, OR · Thursday, October 12, 2023 · 5-8pm
Beerworks · Medford, OR · Friday, October 13, 2023 · 5-8pm
To learn more about all four beer releases, here are the descriptions on each of the beers as provided by Oakshire Brewing.
Seventeen
Bourbon Barrel-aged Imperial Stout
Seventeen is a triple mash, fourteen-hour boil imperial stout. If you're a loyal Oakshire stout drinker, you might recognize the base beer as Free Your Soul. In 2021, we laid this beer to rest in Barton 1792 High Rye Whiskey and Wild Turkey Rare Breed bourbon barrels. After aging for 30 months, our brewers created a blend highlighting the best of the barrels and base beer. The beer pours jet black with intense brown lacing. Notes of baker's chocolate, vanilla, coconut, and a subtle rye spiciness waft from the glass. Seventeen is a celebration of all the people, places, and moments that have gotten us to where we are today. For that, we raise our glass and say thank you. 13% ABV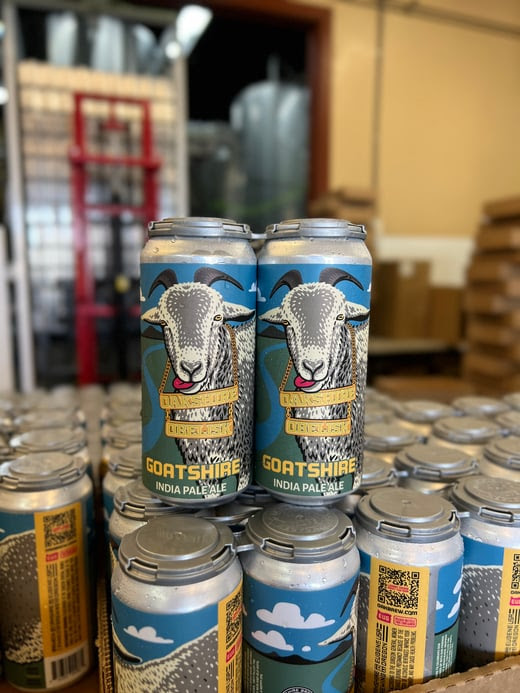 Goatshire
American IPA Collaboration with Obelisk Beer Co.
The Great Oakshire Anniversary Tour returns to celebrate our seventeenth anniversary! This year we teamed up with our friends at Obelisk Beer Co to create an IPA worthy of a road show. Inspired by some of Dan and Dave's favorite hoppy brews, they filled the kettle to the brim with some of their favorite new and old hops. This American IPA is everything you want from a hoppy IPA. 7.3% ABV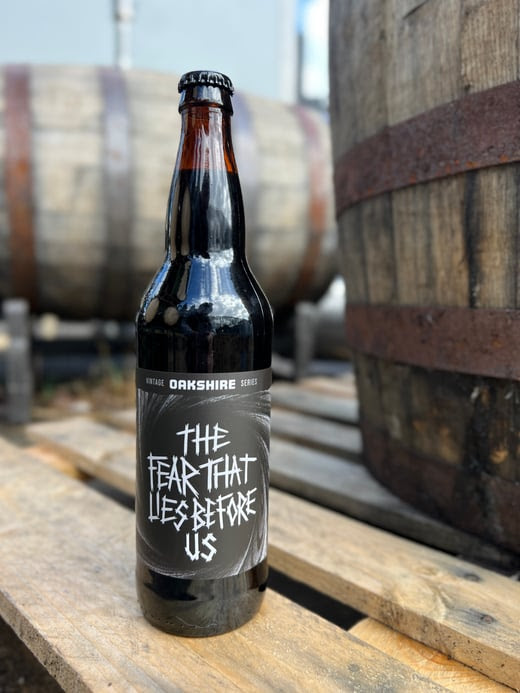 The Fear That Lies Before Us
Double Barrel-aged English-style Barleywine
The Fear that Lies Before Us is the newest offering from our barrel-aged barleywine series. This beer spent nearly two and a half years in two different barrels. First, it spent 19 months in bourbon barrels from some of our favorite Kentucky distilleries. Then we moved it to an exceptional lot of Elijah Craig 18-year bourbon barrels for another ten months. After 29 months of total aging, The Fear that Lies Before Us emerged in its final form. An entity unbound by the surroundings and structure by which it was cast. Maple syrup, toffee, caramel, and a deep oak-laden tannic character build upon each Fear that has preceded while creating a path for those yet to come. 15.9% ABV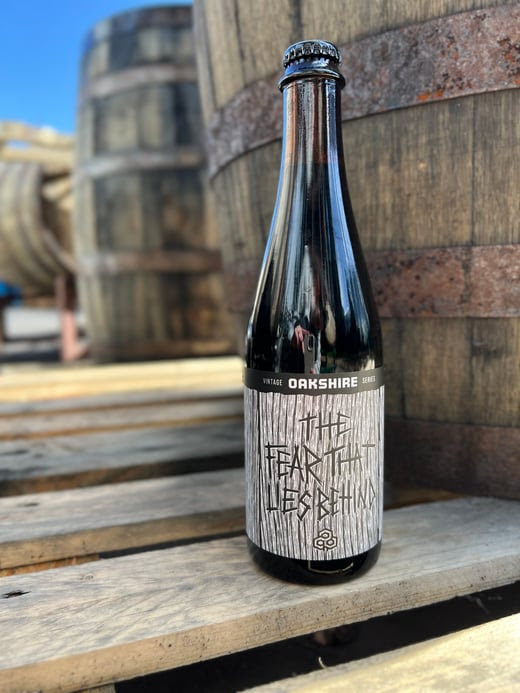 The Fear That Lies Behind
Double Barrel-aged English-style Barleywine
The Fear that Lies Behind is a rare double-barrel expression of an English barleywine. After 19 months, we transferred a single barrel to rest in a Jamaican rum cask for ten months. After 29 months, The Fear the Lies Behind emerged. An entity and expression of barleywine unlike anything that has ever left our cellar. Balanced notes of molasses, toffee, and oak give a retrospective vision of the intention and creation of our barrel-aged beer. What lies behind us is transformative, while the before is unknown. 15.9% ABV