Rogue Creamery and Crux Fermentation Release Limited-Edition Ale Brewed with Blue Cheese
|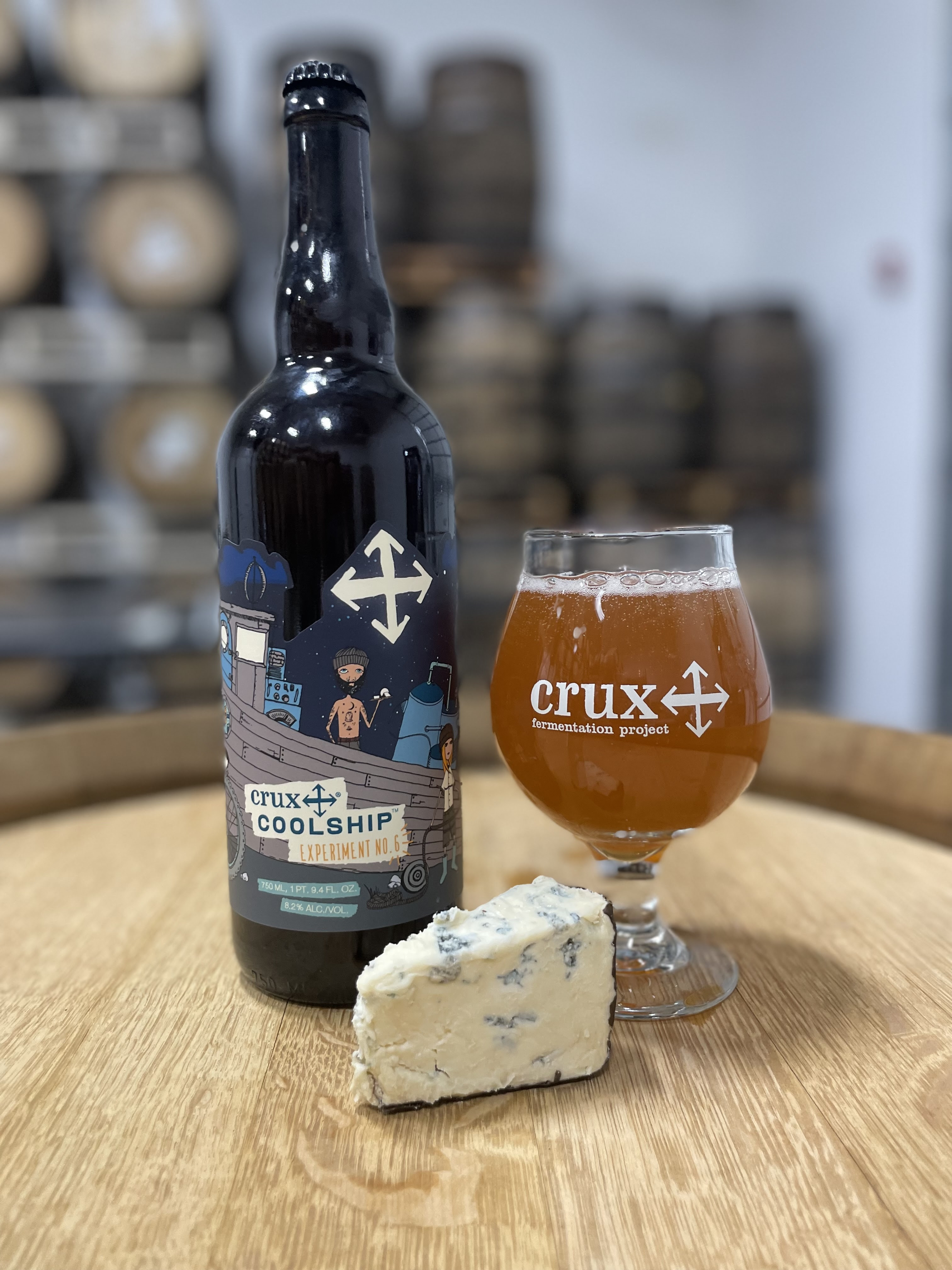 Central Point, OR – Crux Fermentation Project and Rogue Creamery are delighted to announce the debut of a new, limited-edition, lambic-style ale brewed at Rogue Creamery's cheesemaking facility using the yeast and flora of the cheesemaker's world champion blue cheese, Rogue River Blue.
Two years ago, Crux Fermentation Project, a craft brewery in Bend, Oregon, approached the Southern Oregon artisan cheesemaker to invite it to take part in the 6th rendition of Crux's "Coolship" fermentation program. The brewers and cheesemakers devised a plan to brew a beer inoculated with Rogue Creamery's famous Rogue River Blue cheese. On the weekend of November 25, 2023, that creation will be released to the public.
The "Coolship" is a trailer-like portable tank that can be driven anywhere, allowing the Crux team to brew beer on the road, in the open air, embracing the natural flora occurring in various locations. Previous experimental beers made with the Coolship have taken place all over Central Oregon: at DD Ranch near Smith Rock State Park, in the fields at Rainshadow Organics Farm, and beneath the pines of the Metolius Preserve in partnership with the Deschutes Land Trust.
After filling their Coolship portable vat with uninoculated beer wort, the Crux team drove the Coolship 200 miles to Rogue Creamery in January 2022. They added Rogue River Blue cheese to the beer wort and let it sit overnight inside Rogue's facility as the yeast and flora in both the cheese and aging environment worked its magic. Then the Crux team drove the Coolship back to its brewing facility in Bend to age it in oak barrels for almost two years.
"Beer and cheese are a natural pair, and this Rogue Creamery Crux Coolship made with their iconic blue cheese is no exception. The Crux Coolship project is all about experimentation with wild yeasts and unique ingredients – don't let the blue cheese scare you away from this slightly sweet and oaky lambic ale that is the perfect pair with your holiday roast," commented Founding Brewmaster of Crux, Larry Sidor.
"What a fun project and partnership this has been! We've been eagerly awaiting the moment when we can release this beer for nearly two years, so we're delighted to have it available in bottle and on tap just in time for the holiday season," reflected Rogue Creamery Retail Manager, Tom VanVoorhees.
What the Rogue Creamery team has referred to as a, "botanical elixir," this beer exhibits notes of caramel, dried fig, and tawny port. It has a tart, gently sour finish. While the "blue" flavor of the cheese is not necessarily detectable in the beer, the teams have noted that this wild fermentation did develop Rogue River Blue cheese's distinctive savory-sweet and herbaceous character.
The beer is exclusive to Crux Fermentation Project and Rogue Creamery, and guests can only taste it at the Crux tasting rooms in Bend and Portland, as well as at the Rogue Creamery Cheese Shop in Central Point. The beer will be available in 750 ml bottles and on tap at these three locations starting Saturday, November 25 and while supplies last.
In honor of Small Business Saturday and the ale's debut, on November 25, the two Oregon businesses will be joining forces in Central Point at Rogue Creamery's Cheese Shop for a free sampling event, where guests can sample the Coolship beer alongside Rogue Creamery cheese pairings from  1 – 4pm. A representative of Crux will join Tom VanVoorhees to lead the informal tasting and answer customer questions.
A similar tasting event will take place on Saturday, December 16 at Crux tasting room in Portland. Rogue Creamery's much-coveted Rogue River Blue cheese, as well as several other Rogue Creamery cheeses, will be available for sampling and purchase.
Visit the Crux Tasting Room in Bend at 50 SW Division St, the Crux tasting room in Portland at 2715 SE 8th Ave #175, or the Rogue Creamery Cheese Shop at 311 N Front St in Central Point, Oregon to taste the Crux Coolship Beer No. 6.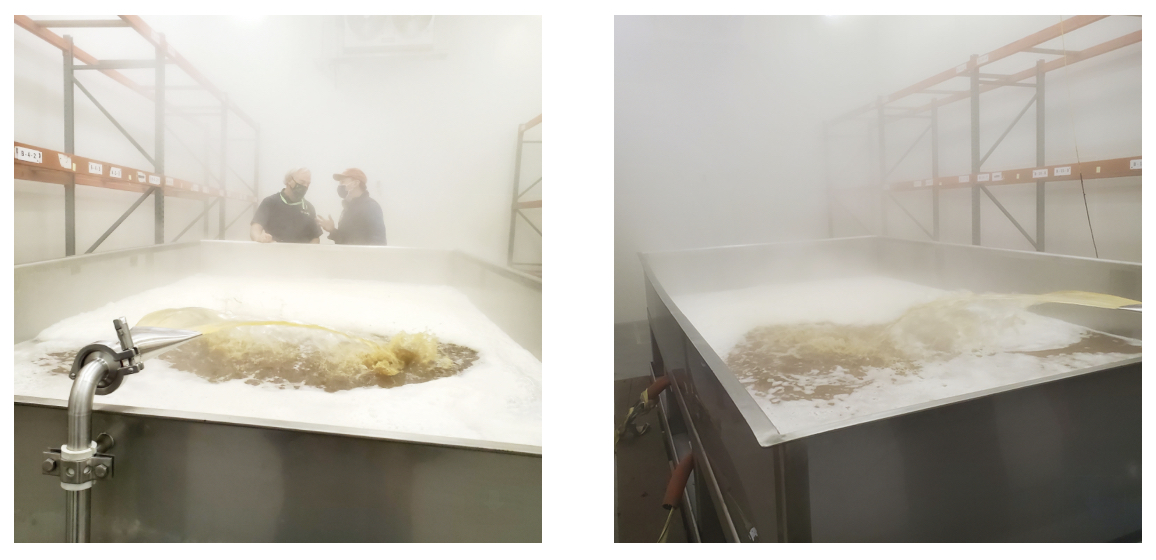 About Rogue Creamery: Rogue Creamery is a USDA certified organic cheese maker located in Central Point, Oregon. For 90 years, Rogue Creamery has drawn from the beauty and flavors of Southern Oregon's Rogue River Valley to create organic, handcrafted cheeses that have won international acclaim. But creating the world's best cheese is only part of Rogue's mission. They know that business – and in their case, cheese – can be used as a force for good. That's why they became Oregon's first public benefit corporation, "B Corp" for short, joining a global movement of companies that are committed to making the world a better place. Rogue Creamery is committed to making a difference socially, economically, and environmentally. Learn more at roguecreamery.com.
About Crux Fermentation Project: Founded in 2012, Crux Fermentation Project is a brewer-owned and operated community of craft beer lovers. Fermentation is our passion & after 10+ years of experimentation, we make beer, non-alcoholic beer, wine, whiskey and cider with more on the horizon. We invite you to try our latest releases at our flagship tasting room in Bend, Oregon while taking in views of the Cascade Mountains and enjoying food from our kitchen or food carts. In 2023, we opened our second pub in Portland, Oregon's historic Dairy District, with a new food menu and the same great beers from Bend.