Father's Day Beer Dinner with Oregon City Brewing at Olympia Provisions Public House
|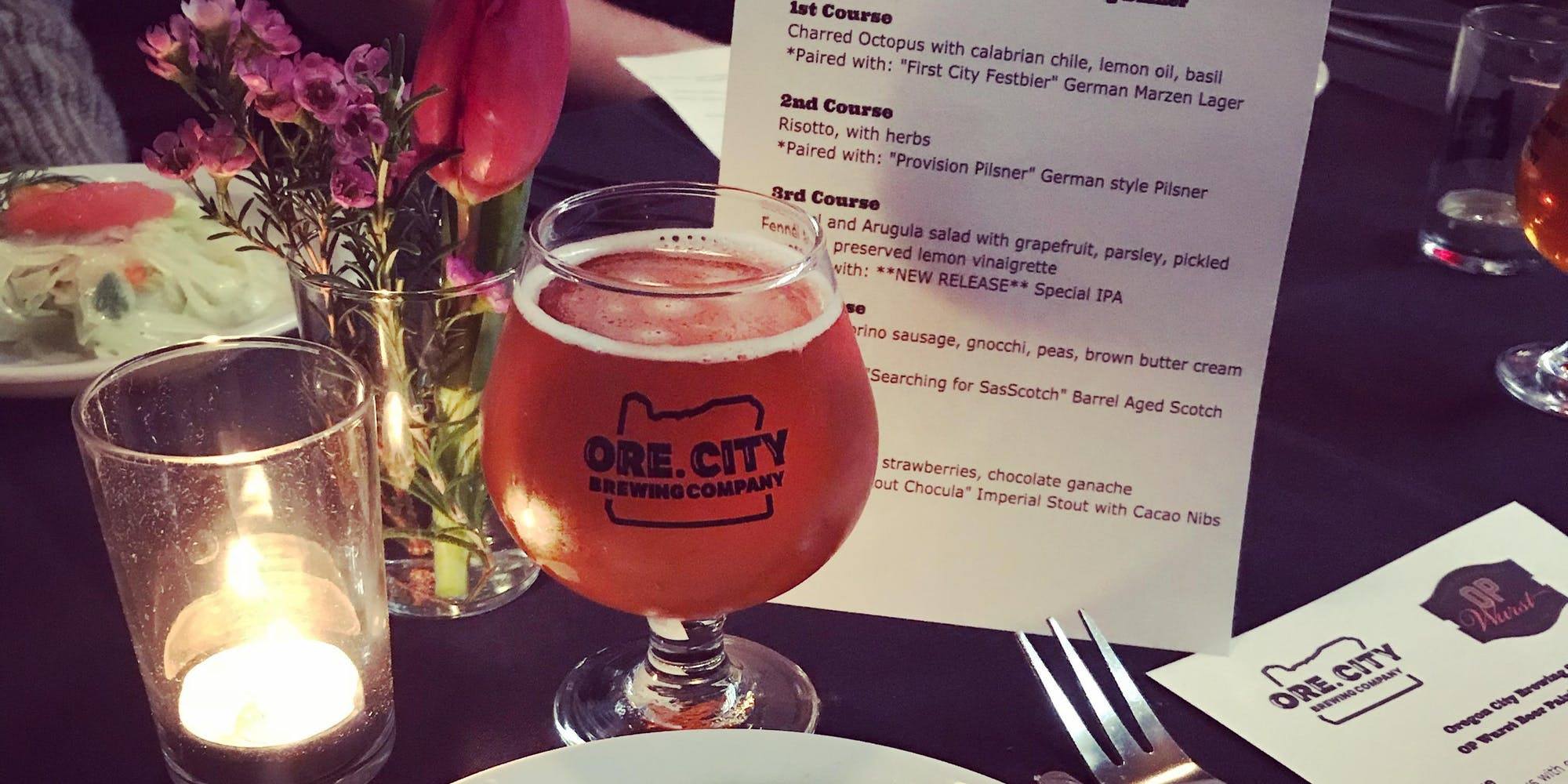 The fifth installment of its quarterly beer dinner will bring together Oregon City Brewing and Olympia Provisions for a Father's Day evening food and beer! Taking place on Sunday, June 17th from 7:00-9:00pm, the newly rebranded Olympia Provisions Public House in Southeast Portland will be the host.
Olympia Provisions Public House executive chef Victor Deras and Oregon City Brewing head brewer David Vohden worked together to get the five-course meal paired just right. Anticipate Olympia Provisions' world-class meats and charcuterie alongside local, fresh, seasonal produce to create a delicious, one-of-a-kind beer dinner.
Vohden and his brew team release a new beer at each beer pairing dinner. And for this Father's Day dinner, it's the 2018 version of Blonde on Blonde, a Belgian blonde aged in Lemelson Vineyards pinot noir barrels for over three months.
Food & Beer Pairing Menu:
1st Course –-B.B.Q Spot Prawns
Sweet BBQ Sauce, Spicy BBQ Sauce, Charred Green Onion relish
Served with "First City Festbier" (German Marzen)
2nd Ccourse – Steak Tartare
Red onion, capers, radish, chives, egg yolk, toasted rye bread
Served with "Provision Pilsner" (German Pilsner)
3rd Course – Little Gem Salad
Black olives, red onion, croutons, roasted peppers, bleu cheese dressing
Served with "Blonde on Blonde" (Barrel Aged Belgian Blonde Ale) **BEER RELEASE**
4th course – Grilled mix Plate
Bratwurst, italian sausage, chicken thigh, asparagus, fingerling potatoes, chimichurri
Served with "The Bryce is Right" (Hazy NE IPA)
5th Course – Strawberry ShortCake
Sponge cake, bourbon strawberries, whipped cream
Served with "Coming to Fruition: Cherry" (Barrel Aged Sour with Tart Cherries)
Tickets are $55.00 per person age 21 and over, and are available at Eventbrite.com at $60.12 after fees, or in the taproom at Oregon City Brewing with no service fees.
Olympia Provisions Public House
3384 SE Division Street
Portland, OR