Design Week Portland Presents Rough Draught – A Live Beer Design Brouhaha
|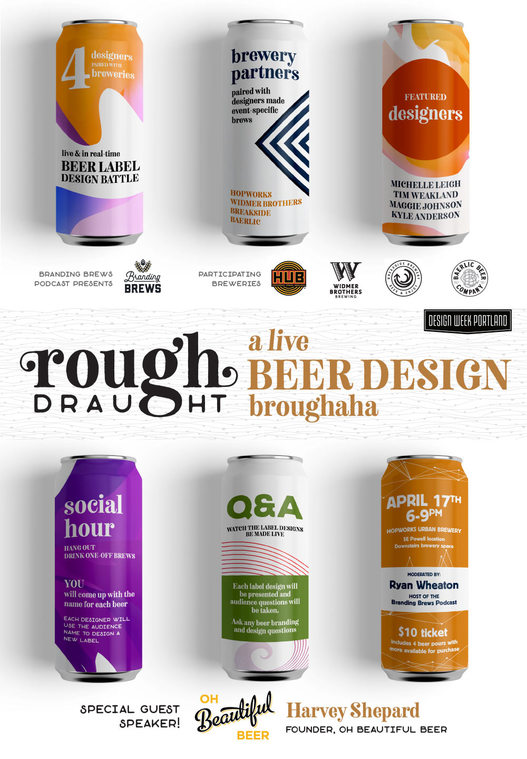 As the Design Week Portland 2018 schedule comes together there is another event this year focuses on the design work that goes into craft beer marketing. Rough Draught – A Live Beer Design Brouhaha will take place on Tuesday, April 17, 2018 at Hopworks Urban Brewery from 6:00-9:00pm.
Rough Draught – A Live Beer Design Brouhaha will bring together four designers all paired with four local breweries. Each pair has brewed a special beer just for this DWP event. During the evening's social hour guests will be able to sample all four beers and submit a name for each beer. After the name of each beer is selected the designer will then have a set time to design a beer label from scratch, live in front of the audience.
Harvey Shepard, founder of Oh Beautiful Beer, will moderate the evening's event. Shepard is a Massachusetts-born, Seattle-based designer with a beer label obsession. What started as a hobby grew out of control in 2011 when Harvey launched ohbeautifulbeer.com. Since the launch, Harvey has been curating craft beer design on his blog. In 2015, Harvey published a book by the same name, where we profiled here on Brewpublic.
Read More: Oh Beautiful Beer – The Evolution of Craft Beer Design by Harvey Shepard
Tickets to Rough Draught – A Live Beer Design Brouhaha are now on sale for $10.00 each ($11.53 after fees) by clicking HERE.
Participating Breweries:
Hopworks Urban Brewery
Widmer Brothers
Breakside Brewery
Baerlic Brewing
Featured Designers:
Michelle Leigh
Tim Weakland
Maggie Johnson
Kyle Anderson
Following the live design session, there will be a Q&A session with the designers and moderator.
Hopworks Urban Brewery
2944 SE Powell Boulevard
Portland, OR 97202