Deschutes Brewery Wins Gold at 2023 Honey Beer Competition
|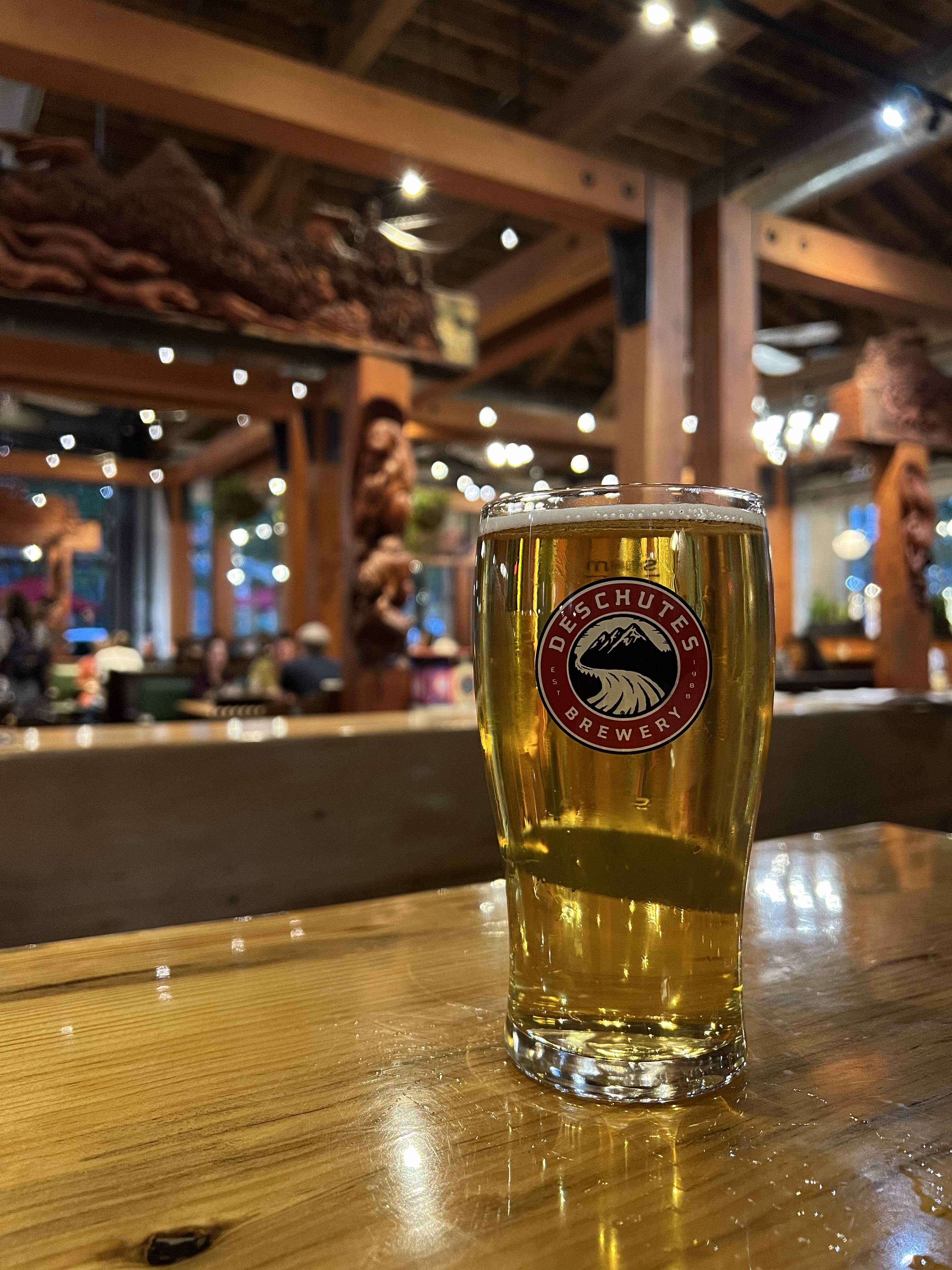 This past week the winners were announced in the 2023 Honey Beer Competition that takes place annually in conjunction with the National Honey Board. At these awards, two Oregon breweries received Best of Show honors as three other Pacific Northwest breweries took home awards.
The Honey Beer Competition was judged by BJCP-certified judges and featured 12 beer style categories, a cider, hard seltzer and design category. The submitted beers were judged on their aroma, appearance, flavor, mouthfeel and the role honey played in the beer.
For the 2023 Honey Beer Competition, over 300 beers were entered, and Deschutes Brewery Portland Public House's Hachimitsu Mai took home Best of Show – Gold at the National Honey Board's ninth annual Honey Beer Competition. Fellow Oregon brewery, Alesong Brewing & Blending took home the Best of Show – Bronze for its Raspberry Parliament.
When it comes to the Best of Show – Gold winning beer, Hachimitsu Mai, Deschutes Brewery Portland Public House's Head Brewer Jake Harper enjoys the floral aromatics of this honey jump right out of the jar with warming complexity.
"To showcase the ulmo flavor and aroma in a beer, we decided to brew a clean, crisp Japanese Style Rice Lager with almost no hops," said Harper in a statement. "All the complex floral aromatics in this beer come from the honey. The rice component lightens the body and accentuates the jasmine, mint and subtle citrus notes of the honey."
Co-founder of Aleson Brewing & Blending, Matt Van Wyk, stated that his brewery is  honored to earn Best of Show Bronze in the Honey Beer Competition. Alesong has crafted beers with honey several times throughout the years, but it was the first time entering the Honey Beer Competition.
"In Raspberry Parliament, we used the honey primarily to back sweeten this mixed culture flanders-style red ale because we knew it would add depth and complexity that we couldn't get from other sugar sources," said Van Wyk in a statement. "This honey addition allowed us to balance the sour flavors from the mixed culture and the sweet tart flavors of the raspberries with the malt character in the beer without letting it ferment out dry."
Other Pacific Northwest winners include Art Bop Beer Co. from Talent, Oregon for its Fruited Soiree, Silver City Brewery from Bremerton, Washington for its design on Honey Stix and Rogue Ales and Spirits for its design of Rogue Honey.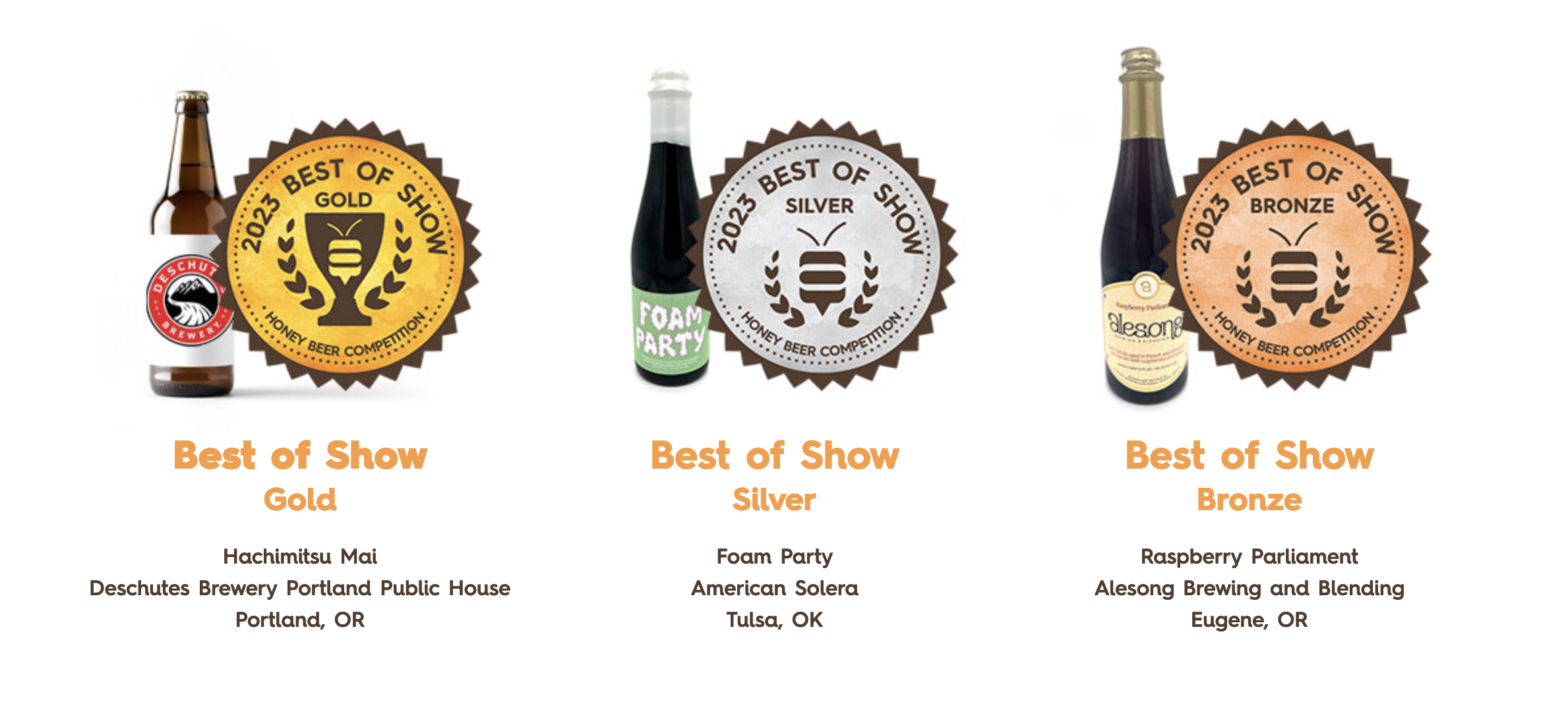 2023 WINNERS
BEST OF SHOW – GOLD
Hachimitsu Mai Lager
Deschutes Brewery Portland Public House
Portland, OR
BEST OF SHOW – SILVER
Foam Party
American Solera
Tulsa, OK
BEST OF SHOW – BRONZE
Raspberry Parliament
Alesong Brewing and Blending
Eugene, OR
GENERAL LAGER
GOLD — Hachimitsu Mai, Deschutes Brewery Portland Public House, Portland, OR
SILVER — The BUZZ Honey Lager, Mudshark Brewing, Lake Havasu City, AZ
BRONZE — Tiny Bomb, WISEACRE Brewing Company, Memphis, TN
GENERAL ALE
GOLD — Gwen, Protagonist Beer , Charlotte, NC
SILVER — Butters' Bottom B@tch, Inside the Five Brewing Company, Sylvania, OH
BRONZE — Happy Days Honey Blonde, Malibu Brewing Company, Malibu, CA
AMBER / BROWN ALES
GOLD — Downton Abbee, Twisted Hippo, Chicago, IL
SILVER — Bumble Bear, Lakefront Brewery, Milwaukee, WI
BRONZE — Chomolungma, Jackie O's Brewery, Athens, OH
BELGIAN-STYLE ALES
GOLD — Dulcette, Oxbow Brewing Company, Newcastle, ME
SILVER — Hachimitsu Saison, Arcana Brewing Company, Carlsbad, CA
BRONZE — Field & Oak – Apiary, Kane Brewing Company, Ocean Township, NJ
FRUIT, VEGETABLE AND SPICE BEER
GOLD — Belgian Brick Road, Third Wheel Brewing, St Peters, MO
SILVER — Hot Box of Cornbread, Friendship Brewing Co., Wentzville, MO
BRONZE — Fruited Soiree, Art Bop Beer Co, Talent, OR
IPA
GOLD — Inch Wide, Mile Deep, Noon Whistle Brewing, Lombard, IL
SILVER — White Reaper, Evil Czech Brewery, Mishawaka, IN
BRONZE — How Bee's Fly, Obscurity Brewing, Elburn, IL
BRAGGOTS
GOLD — Dark Magician, Arcana Brewing Company, Carlsbad, CA
SILVER — Sick Brag!, East Nashville Beer Works, Nashville, TN
BRONZE — The Trojan Horse, Niles Brewing Company, Niles, MI
STOUTS / PORTERS
GOLD — Second Helping, Mathews Brewing Company, Lake Worth, FL
SILVER — Chocolate Covered Pecan Porter, Georgia Beer Company, Valdosta, GA
BRONZE — Baklava Imperial Pastry Stout, Whistle Hop Brewing Company, Fairview, NC
WHEAT BEER
GOLD — Orange Ave Wit, Coronado Brewing, Coronado, CA
SILVER — Citrus Buzz, Thirsty Eye Brewing Company, Albuquerque, NM
BRONZE — Orange Pollinator, St Boniface Craft Brewing Co, Ephrata, PA
SOURS
GOLD — Raspberry Parliament, Alesong Brewing and Blending, Eugene, OR
SILVER — Tim Tam, Artesia Brewing, Thawville, IL
BRONZE — Lemon Meringue Hop Tart, Bluewood Brewing, St. Louis, MO
BARREL AGED
GOLD — Foam Party, American Solera, Tulsa, OK
SILVER — Brewers' Reserve Bourbon Barrel-Aged Honey Bock, Lakefront Brewery, Milwaukee, WI
BRONZE — B'ourbon Barrel Aged Caliente Gingerbread Stout, Hardywood Park Craft Brewery, Richmond, VA
OTHER
GOLD — Heat Waves Ginger Beer, Sahale Ale Works, Grafton, WI
SILVER — The Floor is BakLAVA, Inside the Five Brewing Company, Sylvania, OH
BRONZE — All Night Honey, Honeybee Coffee & Brewery, Knoxville, TN
HARD-SELTZER
GOLD — Blackberry Mojito Hydromel, Whistle Hop Brewing Company, Fairview, NC
SILVER — Strawberry Sumac Hydromel, Whistle Hop Brewing Company, Fairview, NC
BRONZE — Bee's Knee's Hard Seltzer, Dangerous Man Brewing, Minneapolis, MN
CIDER
GOLD — Texas Honey Cider, Austin Eastciders, Austin, TX
DESIGN
GOLD — Nectar Collector, The Explorium Brewpub, Greendale, WI
SILVER — Honey Stix, Silver City Brewery, Bremerton, WA
BRONZE — Rogue Honey, Rogue Ales and Spirits, Portland, OR