2023 Portland Craft Beer Festival Returns June 30 – July 2
|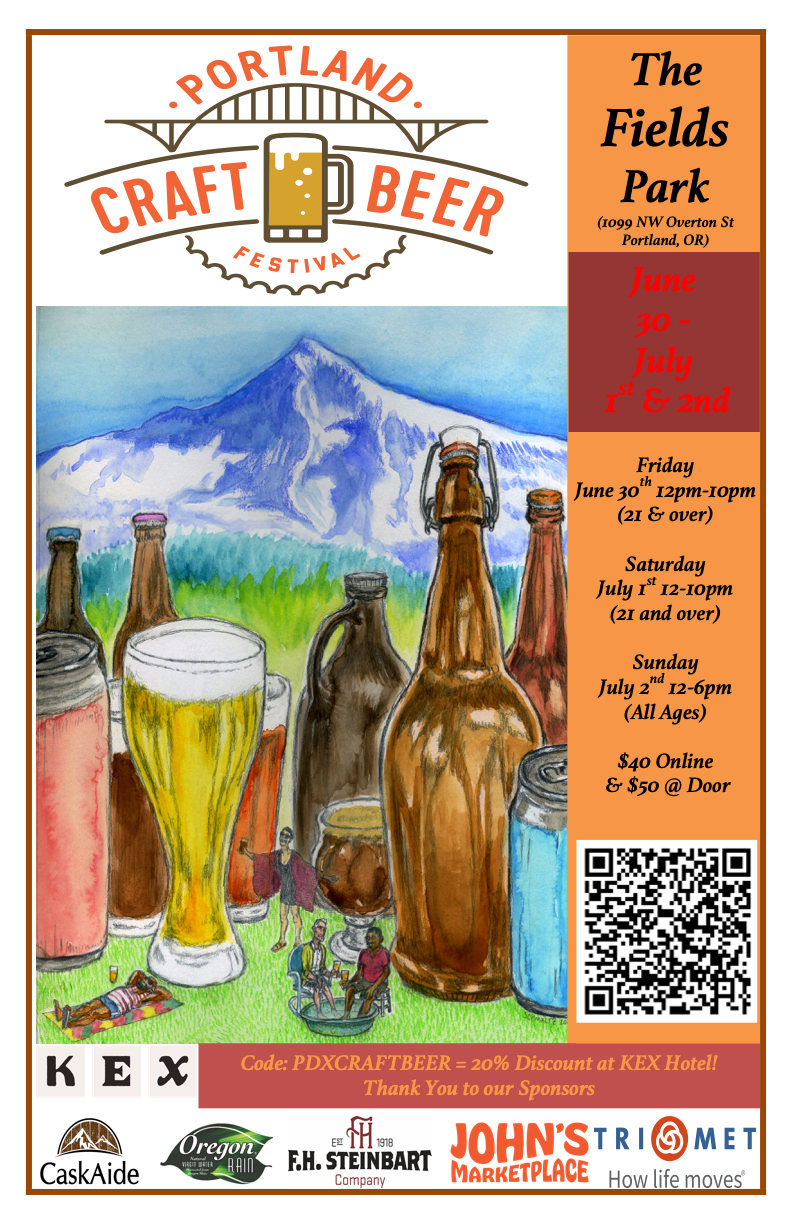 Portland's Pearl District will be all about local craft beer this weekend as the 2023 Portland Craft Beer Festival returns from Friday, June 30 – Sunday, July 2. Once again, The Fields Park, with its expansive grass lawn, will be host to over 40 Portland area beverage makers for three days.
"The park has become our home over the years and we wouldn't want it anywhere else," said festival founder Chris Rhodes in an email. "The neighborhood has greeted us with open arms and we appreciate the people that help put this great festival together. With the decline and cancellation of some of Oregon's premiere festivals, the Portland Craft Beer Festival became one of the largest festivals dedicated to the craft beer industry."
The festival is an excellent way to enjoy local craft beer, a few local ciders, wine-based cocktails and some non-alcoholic options. Beers include seasonal beers, flagship beers and new debuting beers you won't be able to get elsewhere until after the festival ends.
The first two days of the festival, Friday and Saturday, is only open to those of legal drinking age. Then on Sunday, it's Family Day with the return of the Children's Market for the little entrepreneurs to share their crafts as well with the public. Family Day will also include activities for children, free NA beverages and the Voodoo Doughnut truck will make an appearance that'll get all ages excited!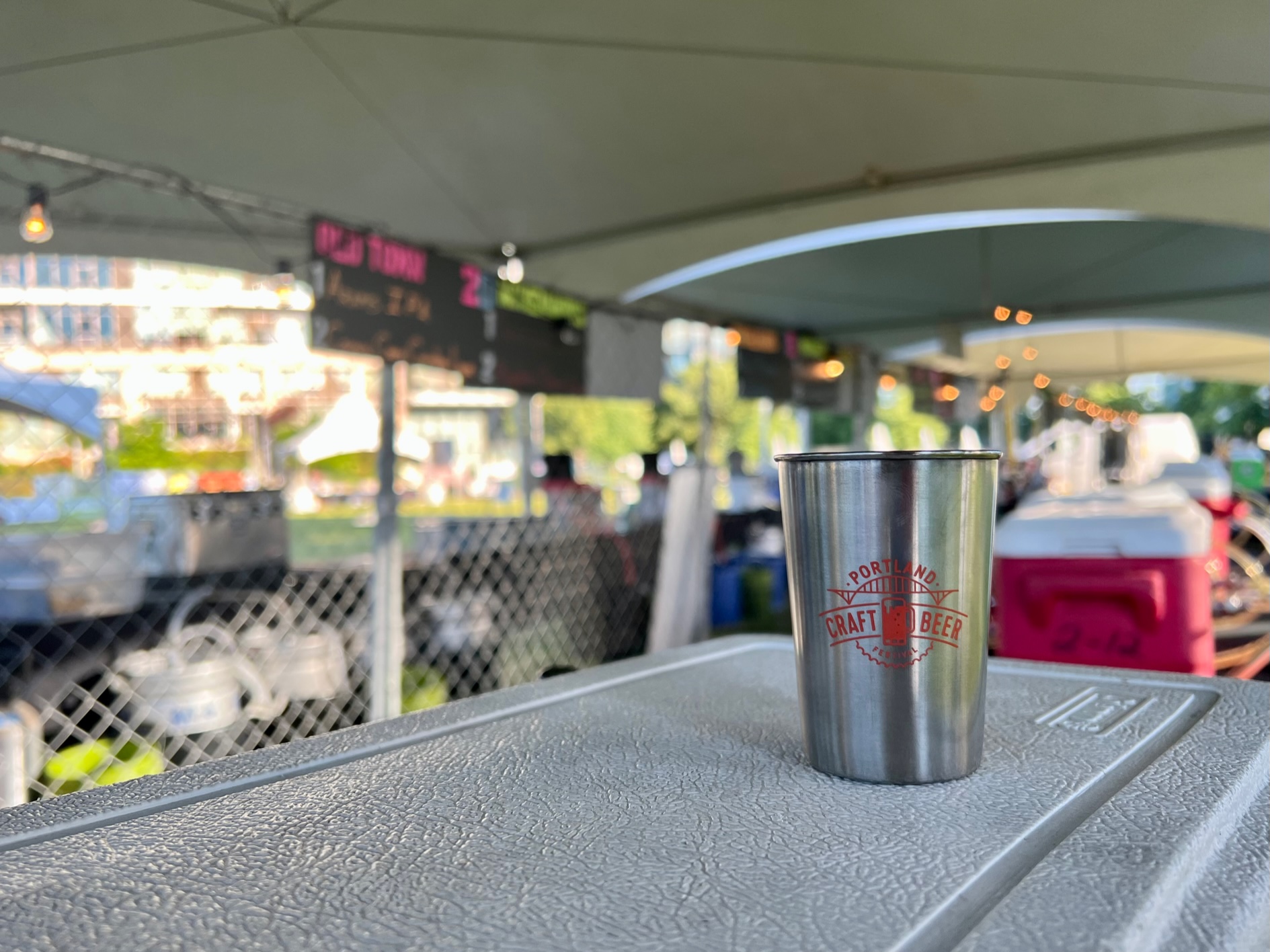 Tickets can be purchased through Bold Type Tickets via Portland Craft Beer Tickets. Ticket prices are at a premium as its $40 in advance, including fees. Once 12:00pm rolls around on Friday, advance discounted tickets end and admission increases to $50 at the gate. Admission includes a keepsake tin drink vessel, ten drink tickets, each good for a four ounce pour and a Hop Passport. Each additional ticket is priced at a more reasonable $1.00 per 4oz pour.
Full 12oz pours will be 5 tickets and select specialty items will have a ticket price next to their sign. Speaking of full pours, the festival will have a rotating list as the festival continues on. There will have a minimum of three full pours options and at peak times there will be more. Be on the lookout for the red full pour signs next to the beer sign to see if you can get a 12oz pour.
Here's a list of what will be served at the 2023 Portland Craft Beer Festival.
10 Barrel – Cerveza Negra Dark Lager
Ascendent – Awesome Sauce Hazy IPA
Assembly – Diego Mexican Lager
Baerlic – Chill Helles Lager
Binary – Ducking Autocorrect West Coast IPA
Breakside – West Coast Best Coast West Coast IPA
Cascadia Coffee Roasters – Effervescent Orange Coldbrew Spritzer (Non-Alcoholic)
Cerveceria Norte – Gallo Mexican Lager
Crater Lake Soda – Root Beer (Non-Alcoholic)
Crater Lake Soda – Orange Cream (Non-Alcoholic)
Deschutes – None More Blue Light Blueberry Lager
Ecliptic – LIGO West Coast IPA
Fracture – West Coast Pilsner
Gigantic – Cloudberries Hazy IPA
Grand Fir – Blonde Rye WC IPA
Great Notion – Juice Invader New England Hazy IPA
Ground Breaker – By The Sea Teff Gose (Gluten-Free)
Ground Breaker – 99 Light Lager (Gluten-Free)
Hopworks – Overland IPA
Labyrinth Forge – Kings Stone Schwarzbier
Leikum – Janis Hoplin IPA (Certified Kosher)
Level – Ready Player One Saison
Mad Cow – Pineapple Peppercorn Saison
McMenamins – Surprise On 13th Cold IPA
Migration – Migration IPA
Migration – Dry Day Hop Tea (Non-Alcoholic)
Montavilla – Jerry Cherry Berry Sour
Montavilla – Körabräu Helles Lager
Moonshrimp – Blood Orange Hazy IPA (Gluten-Free)
Mt. Tabor – Sack Lunch Dark Mexican Lager
Mutantis – Sour Guava Habanero Chica (Gluten-Free)
Old Town – Peach Fuzzy Belgium Saison
Pono – That's My Yam! Purple Ube Sour Smoothie
Portland Cider – Grapefruit Gimlet Cider (Gluten-Free) Portland Cider – True Brut Cider (Gluten-Free)
Rogue – Dead Guy Pilsner
Rosenstadt– Export Gold Dortmund-Style Lager
Steeplejack – Lager
StormBreaker – Chair Raiser IPA
Straightaway – Fiore Spritz Wine Based Cocktail
Straightaway – Apico Spritz Wine Based Cocktail
Swift – Swift Blueberry Cider (Gluten-Free)
Swift – Peach Blossom Cider (Gluten-Free)
Threshold – Comments Section NW-Style Pilsner
Upright – Table Flipper Lager
Von Ebert – Clubhaus Lager
Wayfinder – Animal Beer Lager
Widmer Brothers – Imperial Hefe
Zoiglhaus – Zoigl Pils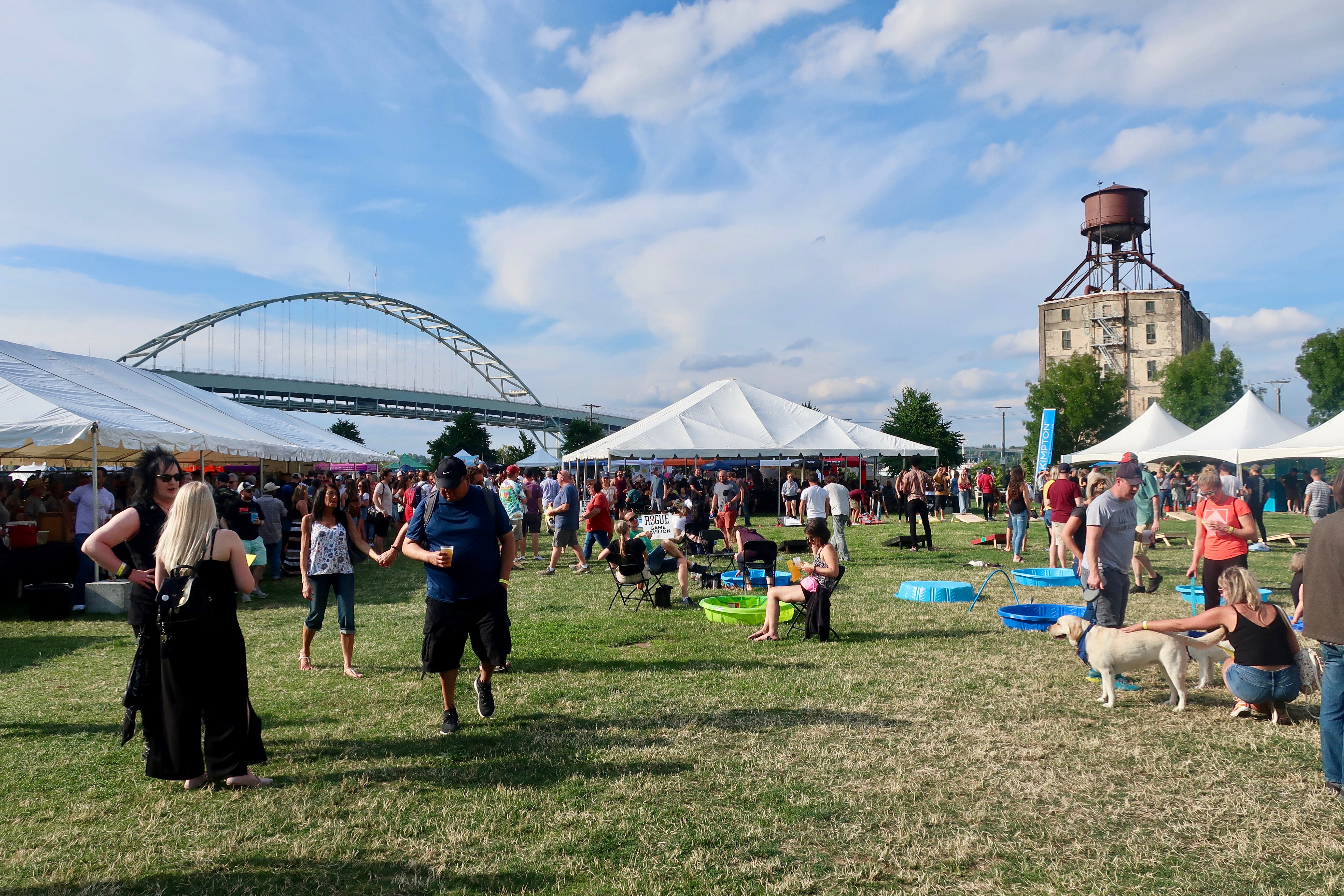 To help aid your hunger, this year's Portland Craft Beer Festival features PDX based food carts and restaurants. This list includes Urban German, Yoonique Pho & Grill, Spice Of Africa, and Boiled Pdxnuts. And if these are not enough, check out the many restaurants and bars in the area that would enjoy your business!
The Portland Craft Beer Festival opens each day at Noon and ends at 10:00pm on Friday and Saturday while closing at 6:00pm on Sunday that also happens to be Family Day.
To learn more, visit portlandcraftbeerfestival.com.
The Fields Park
1099 NW Overton St.
Portland, OR