24th Annual Holiday Ale Festival Returns December 4-8, 2019
|
PORTLAND, Ore. (Sep. 6, 2019)–– The 24th annual Holiday Ale Festival will take place Dec. 4 through Dec. 8 at Pioneer Courthouse Square, located in Portland's Living Room at 701 SW Sixth Ave. Event hours are 11am to 9pm Wednesday through Saturday, and 11am to 5pm Sunday. The Northwest's longest-running outdoor winter beer festival will feature at least 50 craft beers, ciders and meads in the main lineup, as well as a number of meet the brewer events and dozens more specialty and rare beer tappings.
The Holiday Ale Festival has been referred to as one of the most influential and successful beer festivals in the country. Its requirement that participating breweries and cideries serve a product that has either been made or blended specifically for the event, or is a rare or vintage beer or cider that isn't commonly tapped in the state, creates a tap list that can't be found anywhere else in the nation.
The festival's atmosphere has also made it a must-attend event. Despite being held outdoors during one of the coldest months of the year, more than 10,000 attendees stay cozy and warm under clear-topped tents fueled by gas heaters. A second level above the main floor, dubbed the Sky Bar, serves additional taps and provides ample elbow room for attendees to relax, spread out and peek at the revelers below. Portland's lighted Christmas tree serves as a festive and colorful centerpiece for the holiday event.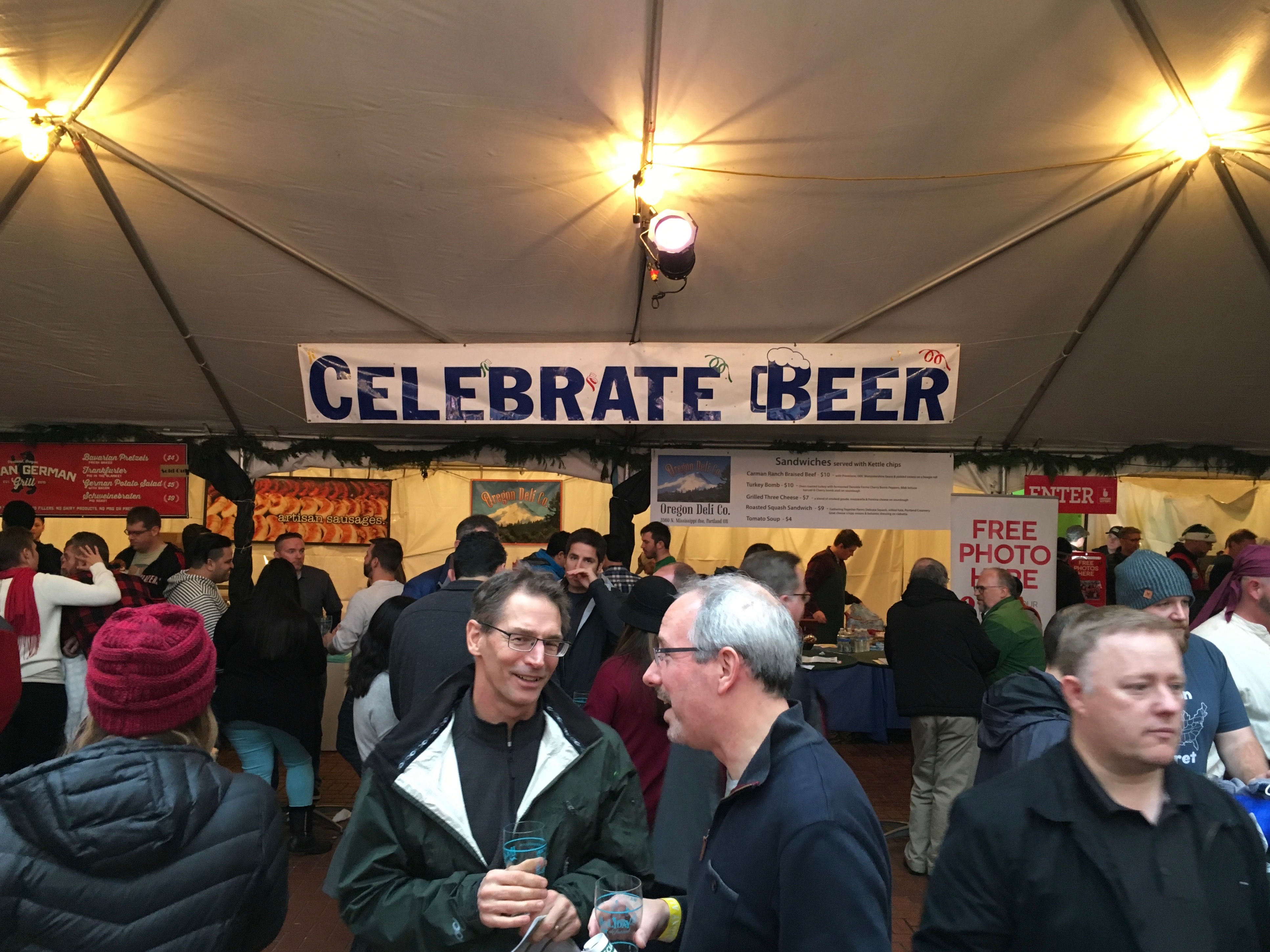 The purchase of an entry package is required to enter the venue. Advance general admission for one person costs $40 and includes the 2019 tasting glass and 12 taster tickets, plus express re-entry all five days (express re-entry requires a wristband and the 2019 tasting glass and is subject to festival capacity). Advance general admission for two costs $80 for two tasting glasses and 28 tasting tickets (an additional four tasting tickets). Advance VIP packages cost $100 and include the tasting glass, 30 taster tickets, special VIP beer lines with little to no waiting, exclusive VIP only vintage beers, bottled water, and express entry all five days. Advance tickets are on sale now at www.holidayale.com.
General admission at the door costs $40 and includes the 2019 tasting cup and 12 taster tickets but does not allow for expedited entry. Beers and ciders cost one ticket for a four-ounce taste, or four tickets for a full pour. Certain limited release and special tappings may not be available in full pours or may cost extra tickets. Additional taster tickets can be purchased for $1 apiece. Previous years' mugs/glasses will not be filled.  There are no designated driver tickets available; the festival is located along TriMet MAX Light Rail Blue and Red lines and is easily accessible to rideshare companies.
An onsite coat and bag check and the Crater Lake Soda Garden raises funds for the Children's Cancer Association MyMusicRx Program, which delivers the healing power of music to the bedsides of children and teens facing cancer and other serious illnesses. The Holiday Ale Festival matches and doubles all funds raised. The festival offers two food vendors and self-guided cheese and beer pairings. The event is for ages 21 and over.
For more information, visit www.holidayale.com and follow the event @HolidayAleFest on Facebook, Twitter and Instagram using hashtag #HolidayAleFest.
About the Holiday Ale Festival
The Holiday Ale Festival started as the Winter Ale Festival in 1995 and continued in 1996, then took a year off in 1997. It returned as the Holiday Ale Festival in 1998 and is now regarded as presenting one of the best lineups of beers and ciders anywhere in the nation.