Alesong Celebrates 5th Anniversary with Canned IPA Release
|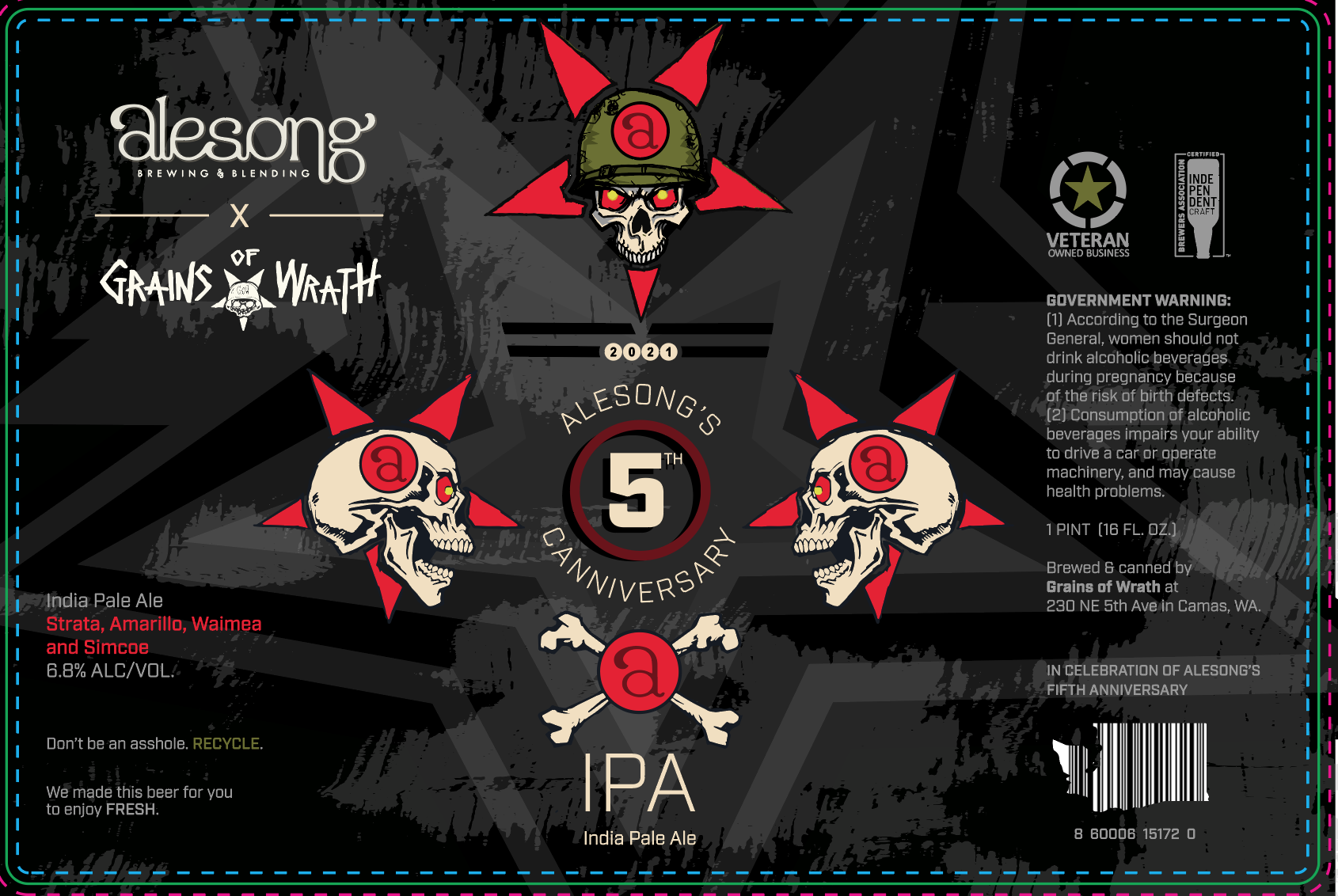 FOR IMMEDIATE RELEASE: 5/20/2021 – Eugene's Alesong Brewing and Blending will open its normally member- and by appointment- only countryside brewery (80848 Territorial Hwy) to the public and release its annual "Canniversary" IPA on June 5th from 1-8pm to celebrate half a decade of barrel-aging beer. Adding to the celebration, the brewery will have complimentary bites of a custom-made ice cream from Eugene's own Prince Pücklers, live music from Inner Limits, 4-packs of their annual Canniversary Collaboration IPA available to-go, and Oregon Wood Fired Pizza slinging pies for guests throughout the day!
One of Alesong's three co-founders, Matt Van Wyk says the celebration is meaningful to him because it's a way to give thanks to everyone who has embraced the brewery and allowed them to flourish in Eugene. "When I think about where we were 5 years ago, I could not have imagined the number of friends we would make and the support we would have in this community," says Van Wyk. "This party is a thank you to everyone who tried barrel-aged beer for the first time and loved it, to those who supported us as we opened a second location in downtown Eugene, and to everyone who has joined our membership and makes the drive out to our countryside brewery because they know how magical of a spot it can be!"
As a tongue in cheek nod to the common practice of breweries releasing once-a-year anniversary beers outside of their normal area of expertise, Alesong releases a collaboration IPA in cans every year for their anniversary, this time working with Vancouver, Washington's Grains of Wrath Brewing. "5th Canniversary" is an unfiltered West Coast IPA that will be on draft for a limited time at both Alesong tasting rooms and available in cans to-go in limited supply at their release party as well as at Grains of Wrath's Camas and Portland locations. Tropical, resinous, and crushable, the beer shows that even founders of barrel-aged breweries enjoy the crisp and hoppy beers that really defined West Coast brewing over the past 10-15 years.
With plenty of space on their patio, bocce and lawn games, ice cream, live music, pizza and cold beer, this event also kicks off Eugene Beer Week, a celebration of the city's thriving craft beer scene and community of beer fans. Normally only open to club members and their guests or through a private guided tasting, everyone is welcome to head to Alesong on June 5th to celebrate Alesong's 5th birthday and toast to many more years of barrel-aged beer. No reservations necessary (or accepted).