Double Mountain Brewery & Cidery's 13th Anniversary Party
|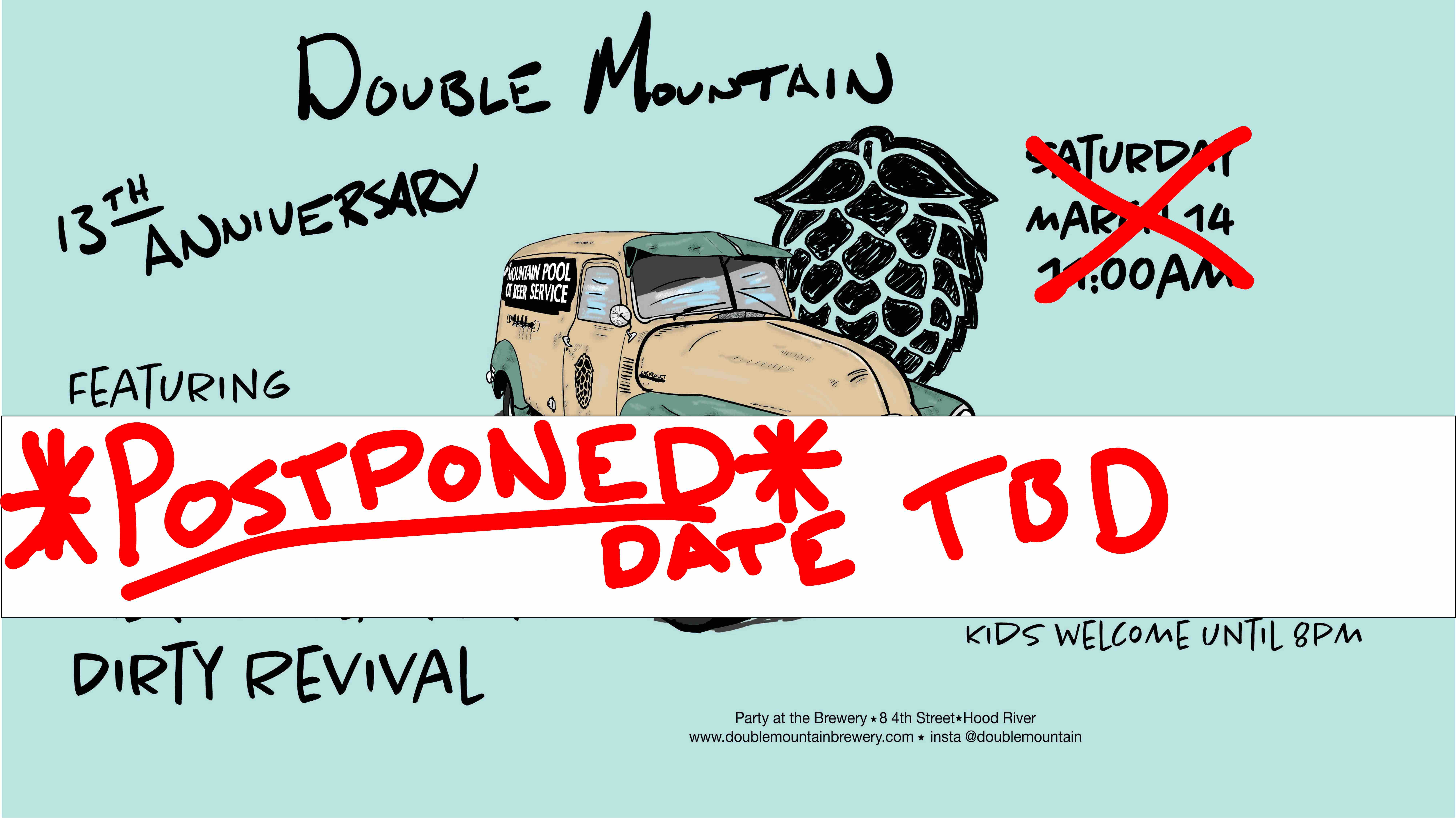 Hood River, OR -March, 2020
As you know, we are overly excited, as always, to celebrate our Anniversary. After a lot of thought and discussion, we have decided to postpone our Anniversary Party and have set a tentative date of June 27th. We do not take the decision lightly, but considering the number of people that attends and the current situation with COVID-19, we do think it is in the best health interests for everyone. This situation will pass and the time will soon be upon us to celebrate, just with warmer temperatures than usual. We look forward to June and taking this annual event to another level of fun, leaving vague yet vivid notions of an amazing time. Should anyone decide to show up, we will be open for normal hours, unless things change over the next week. We apologize for the inconvenience and hope to see even more people in June.
Hood River, OR -March, 2019 – Yet again, the time has come to set up the circus tent, fill the taps with tasty brews, and host a heck of a party to thank all our friends for another amazing year. The Double Mountain Anniversary Party has become a Hood River tradition that we look forward to every year. This year's 13th Anniversary will carry this annual event to another level of fun, leaving vague yet vivid notions of an amazing time.
Double Mountain is very excited to announce that Dirty Revival will be headlining the 13th anniversary party, being held on Saturday, March 14th. Beginning at 11:00 AM, the all-day party will climax with their amazing soul/rock music. Dirty Revival will be supported by a strong roster of local and touring acts including, The Quick and Easy Boys, Cascade Crescendo, Ashleigh Flynn & the Riveters, and opening with The Night Farmers, featuring our very own lead brewer Matt Coughlin.
Four bars will be serving up a total of twenty eight different Double Mountain beers and ciders, with many of them from the brewers' reserve. The souvenir mugs will be filled with half and full pours, creating a variety tasting options. Additionally, pizza by-the-slice will be available for quick eats. $5 admission for adults includes the souvenir mug; kids are welcome with a parent/ guardian until 9pm.